Displaying present location in the site.
NEC Australia's upgrade to ISO14001:2015 certification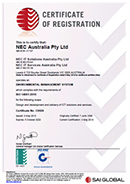 Following on from 2016 when NEC Australia received a 20-years continual ISO14001 certification award from its certification body SAI Global Pty Ltd., the company has successfully upgraded its Environmental Management System to the new ISO 14001:2015 version in May 2018.

Since NEC Australia has seven offices with nominated EMS representatives across the various states in the country, we believe that this successful result is a culmination of a great deal of efforts and team work from all the employees.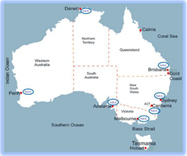 For NEC Australia, the significance of this achievement includes being able to:
a) Fulfil and maintain compliance with all their customer contracts that have requirements for an Environmental Management systems;
b) Maintain their competitive position to bid for new businesses especially with major organisations and Australian government's agencies;
c) Satisfy our NEC Global Management's policy requirement and commitment towards environmental stewardship;
d) Monitor, review and ensure ongoing environmental regulatory compliance for their products, services and organisational activities.

By actively promoting environmental friendly practices in every aspect of its business lifecycle, NEC Australia will continue to take an important role in contributing to the reduction of its environmental impact for the community and its customers.
Websites introducing environmental activities of overseas group companies(APAC)