Intelligent and Customized Displays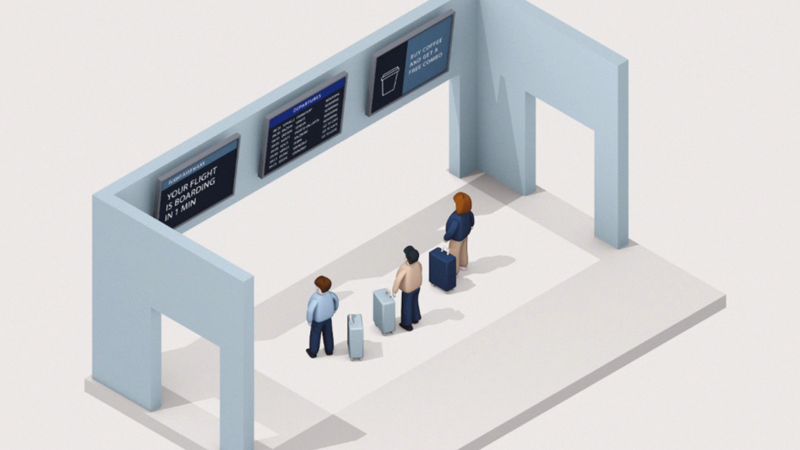 Personal Displays for Every Passenger
As today's airports become increasingly large and congested, it is also becoming increasingly difficult for passengers to keep track of flight information and to obtain information about an airport which may be personally relevant. In extreme cases, certain critical information such as flight disruptions and gate changes might not be updated in a timely fashion and there are even some cases in airports which have not embraced digital technologies where critical information is still physically written on whiteboards and passenger instructions are announced in a language which may be unknown to a passenger, which results in a very impersonal experience at best and may even result in missing a flight.
NEC offers a full suite of intelligent and customizable airport display solutions, which can create a better user experience for an air travel customer. NEC's latest display technology incorporates biometric technology which is able to provide tailored advertisements to travelers who are registered with an airline's frequent customer program. Intelligent displays are even able to target passengers who are unregistered with a loyalty program, and for example are able to recognize the age and gender of a screen viewer which can then be used for sales and marketing purposes and can deliver a much more individualized travel experience to each passenger.

Using intelligent displays can offer significant benefits to airlines and airports. Individual users who have registered their facial biometric data are able to enjoy customized gate information and directions will even be customized with the passenger's language preference. These displays will also be able to provide further useful and targeted information to individual passengers such as tourist information about their final destination. Furthermore, users of a specific age or gender group can be identified by using an intelligent display and this information can then be matched with specific goods and services which may be particularly popular with that demographic group.