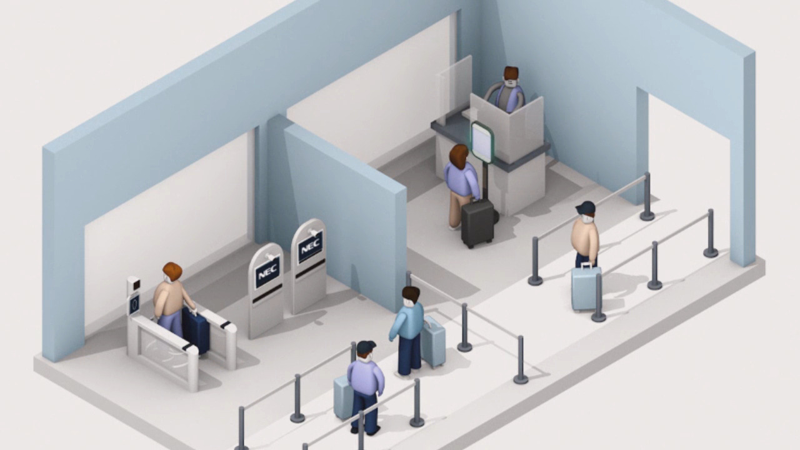 Clear Immigration in Minutes
Border Control & Immigration is one of the main pain points for air travelers as the 2019 International Air Traffic Association Global Passenger Survey found that 20% of respondents were dissatisfied with current immigration procedures, the highest level of any category. Furthermore, 79% of respondents felt that the immigration processing time should be less than 10 minutes, while 25% felt it should be less than 5 minutes. Airport authorities increasingly need to balance passenger needs with rising passenger volumes and ongoing security concerns, and are therefore seeking new technology solutions, such as automated border control systems to solve this issue.
NEC offers better alternative to traditional air passenger processing by leveraging its biometric authentication technology. The system quickly verifies passengers and their travel details by using biometric technology, which is then compared with a government database which is stored and managed in a secure environment. The system also eliminates the need for border control agents to manually examine travel documents and ask passengers questions, essentially allowing passengers to walk through the entire immigration process. This in turn can significantly help to speed up passenger flows at border control checkpoints while improving security and resource management.

Many of the world's largest airports have implemented NEC's automated border control solution and the system has yielded significant benefits to early adopters. The system has significantly sped up the immigration process, resulting in a better overall customer experience, and has also largely increased the onsite needs of manual inspections. Removing the need for passengers to fill out several forms on paper, often in several different languages, also saves significant time for immigration officials and makes the overall logistics system simpler. Using biometric services can also greatly increase immigration security as fraud detection can often be more accurately determined using a biometric ID.