Features
Links seamlessly with other systems
This service links seamlessly with other systems and features an excellent translation engine that supports and can convert a large variety of protocols, formats, and character codes, making data exchanges smooth and easy.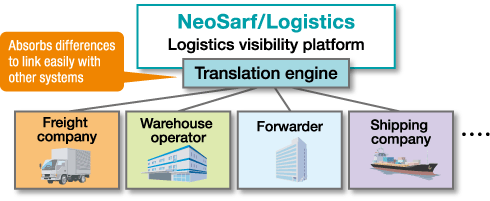 Sets up easily and lowers TCO
This service uses cloud services, so you don't need to have or build your own systems. Introduce logistics visibility quickly and with low upfront costs while reducing your total cost of ownership.
Start small
You can start implementing logistics visibility by linking with just a few select logistics partners. The scale can then be gradually increased while minimizing the setup burden.
Multilingual support available 24/7
To meet the needs of globally expanding businesses, this service provides services 24/7 and in Japanese, English, and Chinese, with support for other languages planned.
Total support starting from purchase
NEC leverages its expertise in IT and network technologies to provide a comprehensive support system that covers setup, running and maintenance.