Digital Government
KMD & NPS Solutions


Digital Government Strategies using KMD & Northgate Public Services Solutions
NEC joining hands with KMD and NPS has strengthened the technological capabilities for all parties and broadened the support available for government bodies around the world.

KMD and NPS bring unique benefits to NEC's strategic capabilities. The digital service offering in particular has been extended significantly, bringing sector- and region-specific expertise.
KMD
KMD is dedicated to help public organizations and private companies work more efficiently, develop their business and create better experiences for their customers.

Being a leading supplier of mission-critical software, solutions and IT services primarily to Denmark's public sector, KMD has a growing footprint in the private sector both domestically and in Sweden and Norway.

KMD HQ is located in Copenhagen with other offices in Denmark, Oslo, Stockholm and it's development centers in Poland and India.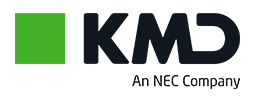 Northgate Public Services
Northgate Public Services (NPS) has a proven history in the public sector, delivering vital information when and where it's needed for central and local governments, healthcare organisations, emergency services and the police.

More than half of police officers in England work in forces that are deploying the CONNECT software to help improve decision-making, and its screening solutions are helping to screen every baby in England for hearing loss.

Based in the UK and working around the world, its 2,300 employees are helping to improve the services that matter most.
By combining the assets and technologies of KMD and NPS, NEC is promoting the digitization of government services globally. The business model is based on three platforms – the Common Business Platform, Analysis Platform, and Data Platform.

NEC aims to pursue an even more friendly and secure digitized world through widespread deployment of software that supports the public and governments.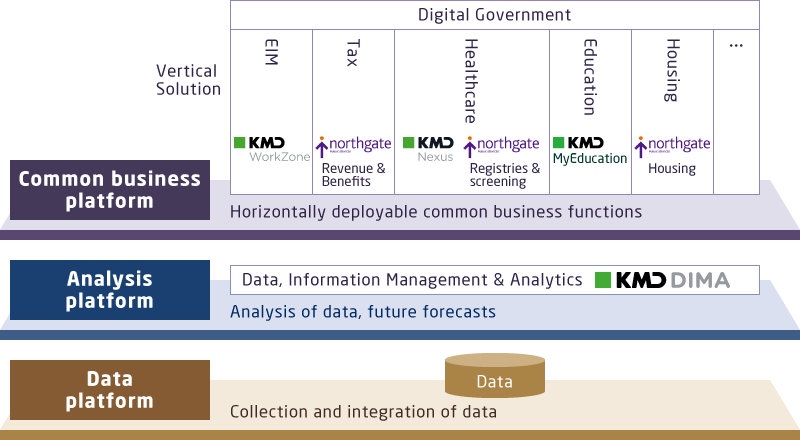 Introduced as being the 3 crucial platforms in further exploring the potential of the numerous digital government services, below are some of the key solutions categorized under the "Common Business Platform" introducing you to some of the product and services provided by both KMD and NPS to date.
EIM: Enterprise Information Management
WorkZone
Providing an increased overview of case handling and compliance
Tax
Revenues and Benefits
Tax collection and social security benefit payment solutions
Healthcare
Nexus
Digital healthcare solution for citizen care providing value and results
Health Registries
Data registries that provide insight into long-term patient outcomes
Health Screening
Secure and efficient screening solutions and services
Education
My Education Video
My Education

※Danish only


Communication tool connecting teachers, students and families
Housing
Housing
Digital solutions that engage tenants, manage assets and reduce risk
Analysis Platform
DIMA

※Danish only


Consultation and business transformation by using advanced analytics