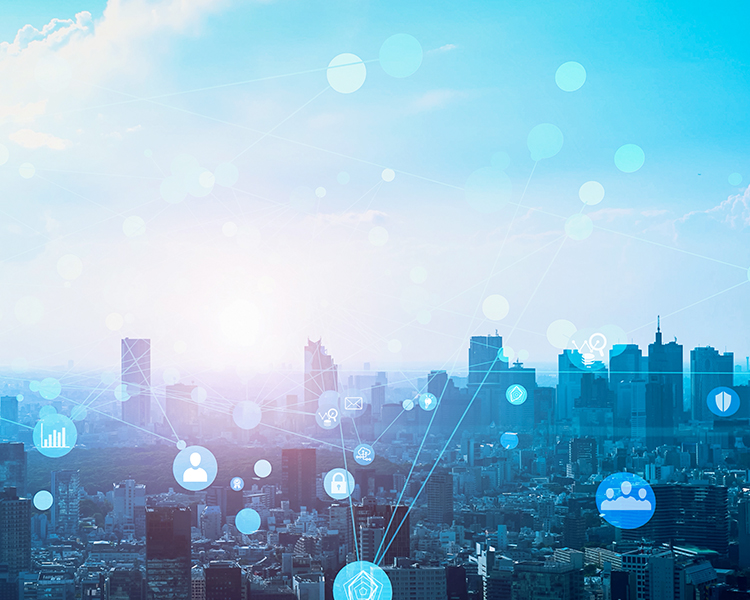 NEC's Cybersecurity Strategy
By leveraging the collective strength of the entire Group to provide safe, secure, and comfortable social infrastructure and combat cyberattacks, which are a growing problem for the global community, NEC will help achieve an information society that is friendly to humans and the earth.

With recent advances in DX*1 spurring drastic changes in the way people work, such as an increasing number of people choosing to telework, almost all things are getting connected to one another. In a world like this, it is possible that security risks are everywhere. To do business safely, cybersecurity is crucial more than ever. NEC has accumulated and makes use of many technologies that have supported those parts of infrastructure that are vital to society, from domestic traffic control systems, disaster management and firefighting systems, production management and water management systems, ATMs, and logistics systems to those systems used on the ocean floor and in outer space. By doing so, we deliver total security solutions that fuse the physical and cyber worlds to the global market. Building on these achievements and know-how, NEC will contribute to the realization of a safe and secure society through cybersecurity.
*1

DX: Digital Transformation
Collaboration with Related Organizations
Contribution to the Government's Initiatives
Framework Enhancement for the Provision of Advanced Services
Development of In-House Human Resources
Investments in the Development of Domestic Security Human Resources
Provision of Education Programs for Customers
Thoroughly Secure Development and Operations
Support for Strengthening Security Based on In-House Operational Expertise
Development and Global Deployment of a Zero Trust Security Platform
A rapid increase in the number of people who work remotely is making zero trust security more important than ever. NEC has expanded the scope of zero trust security to cover not just its internal and external business environments but its global operation sites as well in pursuit of thorough risk mitigation and security.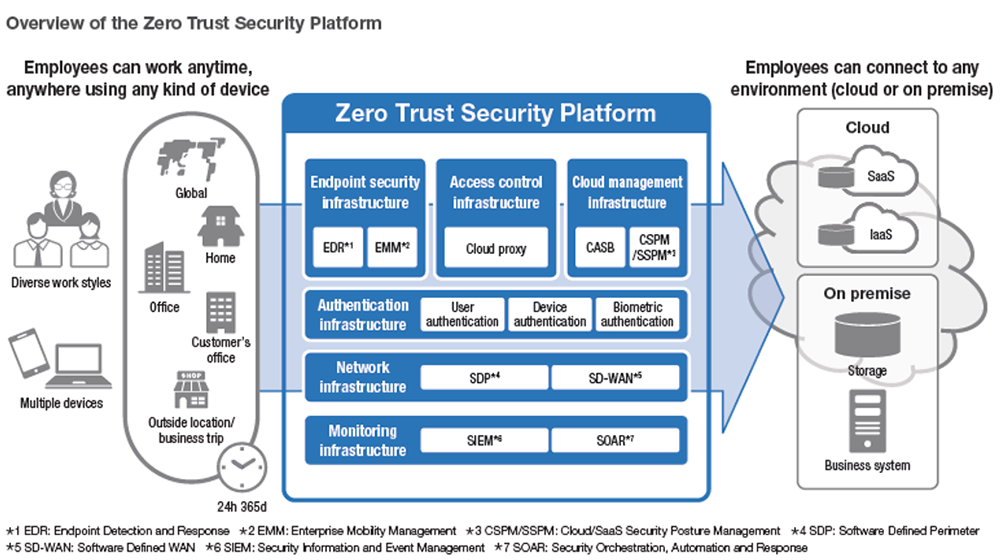 We also provide products, systems, and services that meet the various needs of these customers seeking to implement zero trust. In order to quickly deliver the zero trust security platform to customers, NEC is offering a suite of security solutions in collaboration with internationally renowned vendors. If you are concerned about your remote working environment or want to learn more about robust zero trust solutions, please feel free to contact us.
Cases of R&D of the Leading-edge Cybersecurity Technology
NEC protects the social infrastructure and organizations from cyber threats by driving its R&D efforts on both system security and data security based on the Security by Design (SBD) concept.
In the field of system security, we have developed some leading-edge technologies. These include the automatic cyberattack risk assessment technology to visualize security risks from increasingly sophisticated and advanced cyberattacks and the lightweight tamper detection technology designed for IoT devices that cannot have antivirus software installed in them.
The technologies we have developed for data security are lightweight cryptography for implementing cryptographic functionality in IoT devices to eradicate information leaks and the secure computation technology to process data in encrypted form.
To learn more about NEC's approach to cyber security, please download "Information Security Report 2021"
NEC's Approach to Information Security
On the Publication of "Information Security Report 2021"
NEC's Information Security Report
Information Security Promotion Framework
Information Security Governance
Information Security Management
Information Security Infrastructure
Information Security Personnel
Measures Against Cyberattacks
Information Security in Cooperation with Business Partners
Providing Secure Products, Systems, and Services
Leading Edge of NEC's Information Security
Development and Global Deployment of a Zero Trust Security Platform
NEC's Cybersecurity Strategy
Cases of R&D of the Leading-edge Cybersecurity Technology
Third-party Evaluations and Certifications
NEC Group Profile