Displaying present location in the site.
ADS/CPDLC
Automatic Dependent Surveillance (ADS) & Controller-Pilot Data Link Communications (CPDLC)
The ADS/CPDLC system indicates the location of an aircraft in flight based on an ADS report from the pilot and CPDLC messages on a screen.


FANS-1/A

| Function | Standard Number |
| --- | --- |
| AFN | Complies with ARINC622-2 |
| ADS | Complies with ARINC745-2 |
| CPDLC | Complies with RTCA DO-219 |
The NEC ADS/CPDLC system works on a PC basis in compliance with FANS-1/A standards.
Alert Function (AFN)
CDPLC Uplink Message Input
CPDLC Downlink Message Display
Data Link Transfer
ADS Request Input
ADS Report Display
Map Display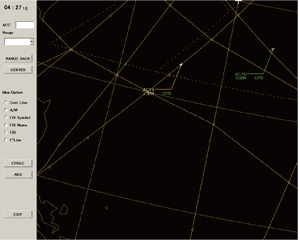 ADS:
Automatic Dependent Surveillance
An aircraft automatically transmits a report on its current and planned position to ground control.
CPDLC Message Display Screen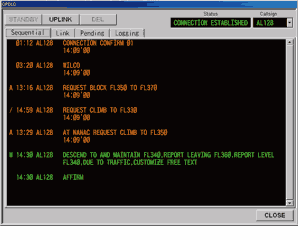 CPDLC:
Controller – Pilot Data Link Communications
Position reports and clearance requests are communicated using a template format (140 formats for uplinks and 80 for downlinks).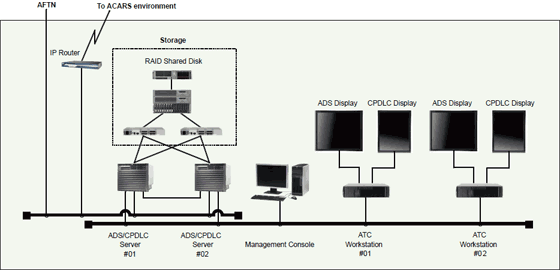 ADS/CPDLC Training System
NEC's ADS/CPDLC training system has been developed to ensure a thorough understanding of ADS/CPDLC operation for both pilots and controllers.
Aircraft information (including passing position and estimated passing time) is displayed on the ADS/CPDLC Workstation.
The Playback function records training data and can recreate any situation using data recorded on the ADS/CPDLC Workstation.
The ADS/CPDLC Workstation monitors the potential for conflict among aircraft and displays an alert if the workstation detects conflict. The conflict alert indicator can be turned on and off.
By using two ADS/CPDLC Workstations, ATS* Interfacility Data Communications(AIDC) training can be conducted. AIDC messages for advisories, coordination, and handoffs are exchanged between ATS units.
*Air traffic service