NEC Cloud System (OSS Building Model)
Features
As the core developer of OpenStack, we provide a safe, secure and highly reliable cloud infrastructure.
Provides an open cloud platform
Based on NEC's technological strength in both IT and networking, we have integrated open standard technologies (e.g., OpenStack, SDN, etc.) and NEC's technology to implement a mission critical system. We offer a cloud platform that has high reliability and scalability for telecommunication companies, data center operators and enterprise information systems.
As a development member of OpenStack, we support continued development of OpenStack.
In order for customers to continuously leverage and utilize the cloud infrastructure based on OpenStack, we contribute to improve and enhance OpenStack functionality and quality through the following community activities.
22 developers from NEC are contributing to 9 components
1 project team leader (PTL) and 8 core developers from NEC work on 8 components
NEC has been the No. 1 contributor in Japan for three and a half consecutive years (7 versions)
(As of April 2016)
We provide system integration using OpenStack tailored to your requirements and realize an ideal cloud infrastructure for you.
A fully open cloud infrastructure
NEC listed up the functional requirements for cloud infrastructure based on customer requests and vast experience in building and operating NEC's OpenStack-based infrastructure services "NEC Cloud IaaS".
While maintaining infrastructure's openness,NEC satisfies the requirements that OpenStack alone cannot fulfill by modifying OpenStack or integrating other OSS.
OpenStack is analyzed and enhanced before the building phase in terms of non-functional requirements (i.e. availability, per formance,operability, scalability, etc.).
The openness of the cloud infrastructure is assured by providing the source code for every new customization and newly developed function to the open-source community.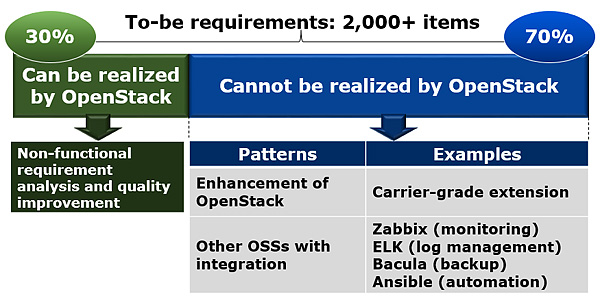 Highly reliable cloud environments built in a short time
We make standardized models of functions and requirements for cloud environments and pre-verify combinations of products based on the models.
This building block method allows customers to select combinations depending on their size and system requirements while shortening the building period by up to 50% compared to conventional scratch building methods.
The use of automated system building tools can reduce human errors. Our system realizes highly reliable cloud environments in a short period of time.
Promoting automation and standardization of operations
We offer functions that automate daily cloud operations, such as virtual server provisioning, network setting to reduce the operation load. We also provide a guide containing operation rules and procedures that allows the overall cloud infrastructure to promote a standardized operation and improvement in service quality.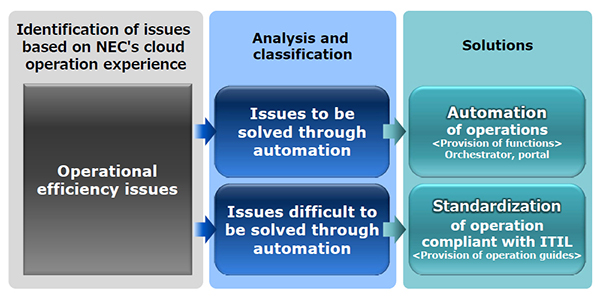 OpenStack quality enhancement and total support structure
NEC formed special teams of OpenStack specialists to carry out thorough evaluation and prepare effective solutions of problems or work around.
NEC also provides one-stop support for all OSS products integrated in our cloud infrastructure solut ions. Our avai lable high-level SLA support service provides 24/365 support and emergency work around in the event of failure.
During the operation phase, everyday tasks can be automated to relieve the workload of managers.
We also provide operation services on behalf of our customers.