NEC meets the cloud needs of enterprises or service providers with various cloud services from NEC data centers and cloud environment building solutions for on-premises or their data centers with NEC's network and security technologies. NEC also provides integration and operation services for cloud migration, solutions for business-specific and mission-critical operations and more. In collaboration with clients, NEC optimizes solutions for all types of services and businesses.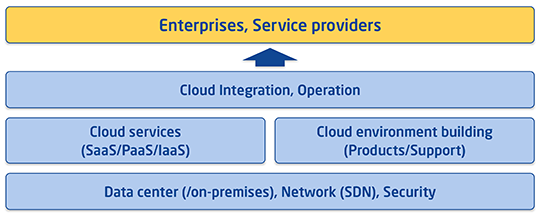 Whether seeking to improve service for customers, innovate a new business model or gain a competitive advantage, you need ample information to make informed cloud decisions.

Our cloud services support new business models leveraging big data, IoT(Internet of Things)/M2M(Machine to machine), energy management systems, image recognition, content distribution, smart devices, etc.

We closely work with customers to optimize cloud infrastructure, support international expansion, improve cloud services and realize innovative solutions for business and society.

Cloud environment flexibility
NEC offers comprehensive support through cloud assets in every layer (hardware, software, networks, data centers) as well as unrivaled expertise in system integration and outsourcing.

NEC offers cloud infrastructure solutions that seamlessly link cloud services and on-premises (or on data centers) assets for comprehensively optimizing customer's ICT environments.

We create open cloud environments employing open source solutions such as OpenStack and leading NEC products proven in mission-critical business solutions.

NEC delivers solid security through rigorous security controls, an internal Computer Security Incident Response Team (CSIRT) and collaborative Cyber Security Factory.