Biometrics Research Laboratories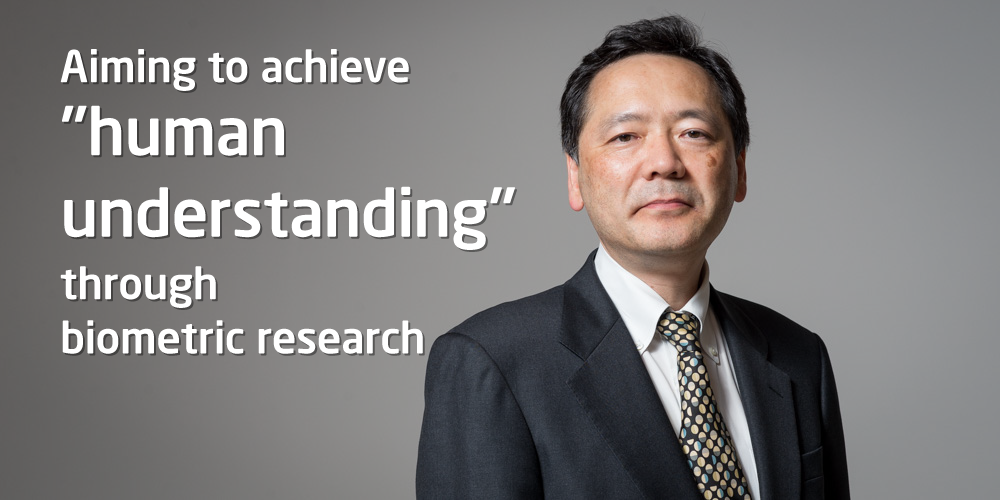 Aiming to achieve "human understanding" through biometric research
― What kind of research do you conduct at Biometrics Research Laboratories?

The Biometrics Research Laboratories was newly established in 2018 as an organization specializing in research centered on biometric authentication. It was established by assembling together members who have engaged in biometrics research at other NEC research laboratories. Biometric authentication - which includes fingerprint recognition, face recognition, and voice recognition - is a technology that plays a vital role in creating safe "channels" to connect the real world with the digital world. This technology will become even more important as the world makes steady progress toward full-scale implementation of AI and IoT, and our lives become inundated with an enormous amount of sensors and real-world data. Since 1970, NEC has been leading the world as a pioneer in biometrics research, and launched the Biometrics Research Laboratories to enable faster and bolder judgments.
The strength of biometrics technology lies in its ability to create channels to naturally connect the real world with the digital world by using distinctive "personal features" as keys. This means, for instance, that there is no need to create separate passwords with smartphones or PCs. Using one's own face, fingerprint, or other feature as a key enables users to use a common password across different applications. At gates that require ID or tickets to enter, visitors can enter smoothly without the need to bring any form of identification. These solutions are just the tip of the iceberg. Biometrics is a form of technology that digitalizes the unique external and internal features of living organisms, and is filled with great potential. Our laboratories are now pursing the myriad of possibilities of this technology by engaging in research across various business areas.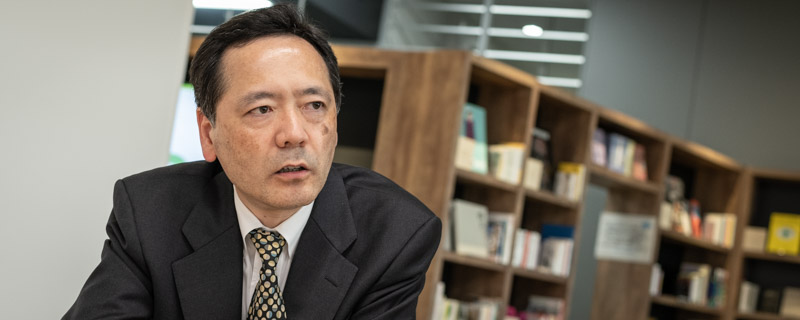 ― What NEC strengths are exhibited in the biometrics field?

We possess world-class accuracy and a rich portfolio of technologies cultivated over years of research. NEC's biometrics research spans a long history of over 40 years. In 1971, we were the first in the world to begin research in fingerprint authentication technology, and began research in face recognition technology from 1989. NEC is a pioneer in biometrics and has a track record as a market leader in the area.
Among NEC's proven technologies, our fingerprint recognition and face recognition technologies in particular have been ranked world's No. 1 in accuracy by a third-party organization. Our fingerprint recognition won eight times in a period of 13 years since 2004 in a benchmark competition sponsored by a U.S. government agency. *1 We ranked No. 1 for accuracy three consecutive times in still image face recognition benchmark tests sponsored by the U.S. National Institute of Standards and Technologies (NIST). In 2017, NEC also ranked No. 1 in accuracy in a video face recognition contest (Link to information about technology: https://www.nec.com/en/global/rd/technologies/face/2017nist.html). *2 High accuracy levels contribute to "natural authentication." For instance, it would take too much time if you had to stop in front of a camera mounted at an entry gate and stare into the camera for authentication. If highly accurate and real-time authentication were possible using profile images captured by cameras, this would eliminate the need to stop in front of entry gates, and facilitate smooth authentication. This type of "walk-through authentication" is another area in which NEC excels.
NEC's world-class authentication technology is not only limited to fingerprint recognition and face recognition. NEC also owns a wide array of other authentication technologies including finger vein authentication, iris authentication, voice recognition, and otoacoustic recognition (Link to information about technology: https://www.nec.com/en/global/rd/technologies/earrecognition/index.html). Each authentication technology has its own advantages and disadvantages, and our strength lies in offering the optimal authentication solution to solve issues. Bio-IDiom is our brand of well-known biometric technologies (Link to Bio-IDiom site: https://www.nec.com/en/global/ad/bio-idiom/).
Furthermore, combining multiple authentication technologies enables an enhanced level of security. As an actual case example, an ID management service that combines fingerprint recognition, face recognition, and iris authentication has been implemented for use in the Indian citizen ID system.
Our track record of implementations includes the deployment of over 700 systems in more than 70 countries around the world. Applications of the technologies are wide and varied, and include deployment for use at security gates at airports, stadiums, and companies. Another one of our strengths is the wealth of knowledge we possess in a wide range of fields that allows us to provide finely-tuned support to meet individual needs and situations.
― What is the vision of the Biometrics Research Laboratories?

We believe that "human understanding" is the ultimate vision and aim of biometrics technology. By this, we are referring to advanced, human-like technology that mimics understanding on the level of human-to-human interactivity. For instance, when we look at someone's face, our thought process goes beyond merely recognizing who the person is. We look at the person's facial expression to determine whether they are in a good mood, or if we sense that they are tired, we ask them how they are feeling. Biometrics technology, which digitalizes and analyzes biometric information, can recognize these physiological signals in the same way as humans. Furthermore, digitalization of these signals can increase the potential to gain advanced "human understanding."
Based on this viewpoint, in April 2018, we successfully developed wristband-type wearable sensors designed for long-term monitoring of stress levels (Press release: https://www.nec.com/en/press/201804/global_20180406_02.html). Using biometric information based on psychological insight enables the recognition of not only signs of stress that were not previously possible without constant human monitoring, but also signs that were hard to perceive even under monitoring.
In this way, the benefits of biometrics is not only limited to ensuring security to accelerate the realization of a safe and secure society. We believe that possible applications are wide and varied ranging from using human sensing to promote health, improving work efficiency, marketing, and so on.
Going forward, we aim to continue our research to develop technologies to help ensure the social value of safety, security, efficiency, and equality for everyone in society.
*1

FpVTE 2003 (Fingerprint Vendor Technology Evaluation)
Slap Fingerprint Segmentation Evaluation 2004
ELFT 2007 (Evaluation of Latent Fingerprint Technologies)
PFT 2009 (NIST Proprietary Fingerprint Template Testing)
FpVTE 2012
PFT II 2013
MINEX 2016 (Minutiae Interoperability Exchange Test)
MINEX III 2016

*2

MBGC 2009 (Multiple Biometric Grand Challenge)
MBE 2010 (Multiple Biometrics Evaluation)
FRVT 2013 (Face Recognition Vendor Test)
FIVE 2017 (Face In Video Evaluation)
Biometrics Research Laboratories - Featured Technologies