NIAS(NEC Information Assessment System)
Key Features - Report and Analysis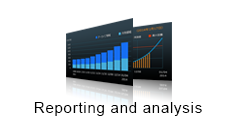 NIAS reports file server capacity usage in easy-to-understand graphs.
Effortlessly analyze and organize file server data
Predicts when file server capacity will run out.
Provides features to verify the effects of capacity reductions and track capacity changes.
Provides recommendations on how to most effectively organize files.

Reports difference data (capacity or access rights) from the previous check.

Efficiently organize and delete files based on analysis results
Quickly identifies causes of bloating.

Conditions can be changed on the spot, enabling real-time analysis.
Provides a rich lineup of analysis features including cross-tabulation and reduction effectiveness simulation.

Quick and easy report output.