Displaying present location in the site.
MasterScope MISSION CRITICAL OPERATIONS - Product Overview
End-of-life
MasterScope MISSION CRITICAL OPERATIONS realizes stable operation of open mission-critical systems through failure monitoring from the business viewpoint and recovery support with the knowledge database.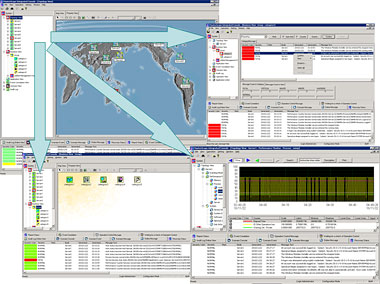 Integrated monitoring feature enabling you to monitor the multi-platform servers, applications, network, and various other elements from a single monitor terminal
Integrated with Application Navigator, Network Manager, NEC ESMPRO Manager, and other products, MISSION CRITICAL OPERATIONS offers a monitor screen through which you can monitor the servers of various platforms (such as Windows and Linux), applications, network, and other elements.
Simplification and automation of operations
MISSION CRITICAL OPERATIONS can be set up, to simplify or automate system operations by using the optional operation control and scenario control features.
Fault analysis to locate failures
MISSION CRITICAL OPERATIONS has the capability to analyze monitoring messages, issue new messages based on analysis results, or automatically locate failures.
Knowledge feature to accumulate failure information and recovery methods
In contrast with the conventional system, which only reports what happened in the system, MISSION CRITICAL OPERATIONS shows you what should be done during the operation phase.

This product provides knowledge databases that contains failure information and recovery methods for Oracle and other middleware products, which speeds up the troubleshooting. The knowledge databases can also be used to accumulate past system-specific failure information and system-specific recovery methods. MISSION CRITICAL OPERATIONS uses these knowledge databases to facilitate problem solving by navigating you through what should be done to prevent subsequent failures.