GENISSNX® ERC Function
Electrical Rule Check for IC Package
Overview of GENISSNX® ERC Function
Problems
Operating frequency on the IC has been increasing every year, and malfunctions and noise problems caused by the IC package are on the rise.
The ERC Function allows you to check if there are electric problems in the routed design. Fixing possible problems at the design phase enables the quality of the IC package to be improved.
IC characteristics giving rise to noise problems
IC electric characteristics without an IC package quality check become worse.

With IC package trace design, it is not clear if design directions must be kept.
Unclear which points to consider on the IC package design
Designers are unclear what should be considered for IC package design and are unable to implement actual design.
Features
Enables quality improvement for IC package electric characteristics
Detects traces and planes on the IC package that make electric characteristics worse. It detects problems from signal and power by using signal check (Return Current Path Discontinuity, Differential Signal, etc.) and power electric check (SG Via Spacing, etc.).

Enables high-speed checking without manual design check.
Sample of ERC Function by GENISSNX
Return Path Discontinuity Error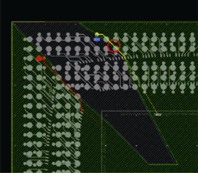 Differential Signal Error