High Availability for SAP by EXPRESSCLUSTER
Today, more and more IT systems have been migrated into virtualized environment or public/private cloud services aiming for optimization of IT assets. However, regardless of the increase in diversity, keeping the IT system always up and running is essential for success of the business.

EXPRESSCLUSTER, the leading HA/DR solution from NEC offers market-proven quality of high availability for various applications including SAP.

SAP HANA High Availability with EXPRESSCLUSTER
EXPRESSCLUSTER Benefits for SAP HANA
SAP HANA has a high availability (HA) functionality, but it is still necessary to manually switch servers if a failure occurs. This causes an outage in operations from failure detection to completion of server failover, which can potentially lead to lost business opportunities. NEC EXPRESSCLUSTER automatically detects failures in a system that uses SAP HANA and switches to a standby server (performs failover). This can shorten operational downtime and boost operational efficiency by cooperating with SAP HANA.
Technical White Paper : SAP Business Suite Powered by SAP HANA High Availability with EXPRESSCLUSTER
This white paper describes configuration methods and verification results of SAP HANA with EXPRESSCLUSTER on Amazon Web Service.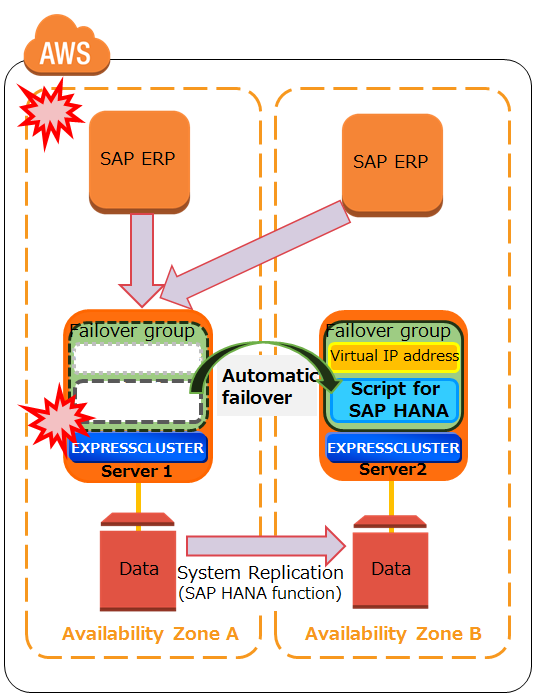 EXPRESSCLUSTER X for SAP NetWeaver
NEC launches the SAP HA Interface Certified software, EXPRESSCLUSTER X for SAP NetWeaver. Please find the details at press release.

We also offer a configuration guide for clustering SAP NetWeaver with EXPRESSCLUSTER. Please click "Set up Guide" to access to SAP NetWeaver cluster configuration guide.
The database softwares supported when clustering SAP NetWeaver are the following.

<Supported Database>

HANA DB (Linux Only)
SAP MaxDB (monitored by resource-agents)
SAP Sybase ASE
IBM DB2
Oracle Oracle DB
Oracle MySQL
PostgreSQL
Microsoft SQL Server (Windows only)
EXPRESSCLUSTER Benefits for SAP
High Reliability & Flexibility
EXPRESSCLUSTER offers many sophisticated features which ensures high availability of critical applications. Its wide range of monitoring capability maximizes uptime for any applications by detecting any failures which may lead to system disruption.

In addition, comparing to other high availability clustering solutions including WSFC (Windows Server Failover Clustering), it also offers higher flexibility enabling to meet each and every customers requirement.

For example, EXPRESSCLUSTER supporting synchronous/asynchronous data mirroring does not require shared disk which most of the high availability clustering solutions do and this enables customers to configure more cost effective clustering solution.

Of course, it also supports clustering with shared disk as well. Similarly, EXPRESSCLUSTER does not require Active Directory to manage cluster which normally requires users to have separate server. Minimize the complexity and cost, but maximize the availability of the application is what EXPRESSCLUSTER does.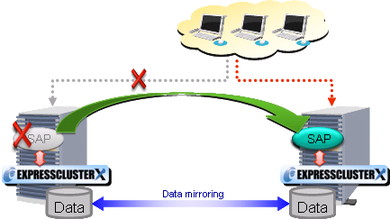 Not Only Windows, But Also Linux Supported
As well as Windows, EXPRESSCLUSTER has been deployed for a large number of protecting Linux systems. Today, choosing Linux OS for critical application in order to optimize the IT cost is normal, and EXPRESSCLUSTER supporting wide range of Linux OS is the solution which protects your Linux system.

< Supported OS >
Windows Server
Red Hat Enterprise Linux
SUSE Linux Enterprise Server
Asianux Server
MIRACLE LINUX
Turbolinux
CentOS
Wide Range of Virtualization Supported
Virtualization is one of the best way to consolidate the servers and optimize the usage of IT resources. However, if on the other hand, it also consolidates the risk of system failure which can be said as "All Eggs In One Basket". This is why it is essential to ensure high availability especially for virtualized environment.

EXPRESSCLUSTER offers application level protection for virtual machines running on any major hypervisors. Utilizing high availability features of hypervisors itself can be one of the effective way to add high availability to the virtualized system. However, they normally do not support application level protection which means there are still certain level of risk of system disruption.

For applications which requires extra high availability, combined usage of EXPRESSCLUSTER and high availability features of hypervisor will bring one level higher availability to the virtualized system.

< Supported Virtualization Platform >
VMware vSphere
Microsoft Hyper-V
Citrix XenServer
Linux KVM
Sun Solaris Container
IBM Power VM