EXPRESSCLUSTER X + SnapMirror "Integrated Solution" for HA/DR
Integration of NEC EXPRESSCLUSTER X and NetApp SnapMirror leverages best-of-breed software technologies to enable fast automated recovery of applications and data in NetApp storage environments.

Automated Recovery Scenario

Standard SnapMirror DR solution
Integrated HA/DR solution with EC

Robust Data Replication with Manual Recovery of Applications and Data at the Standby Site.



Key Manual Recovery Steps:

Verify that the applications and DR volumes are not active at the primary site to avoid split-brain corruption.
Make the DR volumes writable by breaking the SnapMirror relationships.
Bring up the applications at the standby site. This assumes all DNS changes, NFS/CIFS exports, and LUN mapping are completed.


Fast Automated Recovery of Application and Data at the Standby Site without Manual Intervention



Key Automated Recovery Steps:

Built-in monitoring and recovery functions ensure proper state for failover at the standby site.
Automatically activates the DR data volumes to the target application systems at DR site.
Automatically configures necessary DNS settings, NFS/CIFS exports, and LUN mappings then starts target applications to recover critical system services.
Key benefits of automated recovery
Minimize delay in failure detection and recovery process
The integrated solution continuously monitors health of key application and data resources and provides automated recovery within minutes of failure detection. The risks of delay such as timely availability of key personnel associated with manual recovery are virtually eliminated.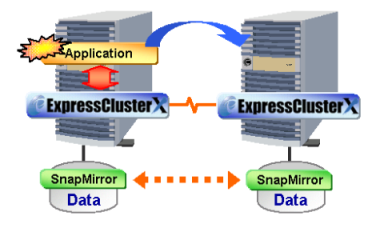 Minimize risk of operator errors in stressful disaster recovery situation
In disaster situations the personnel performing recovery actions often operate under great stress due to lack of time, infrastructure support, and harsh environmental conditions. In such situations, risk of operator errors such as skipping key recovery actions can actually further delay or prevent effective recovery. The integrated solution greatly reduces such risk by reliably performing the recovery actions in appropriate sequence and consistent manner.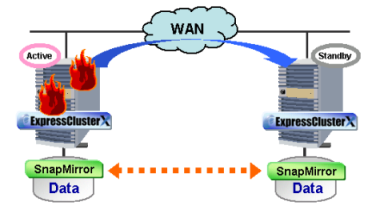 Minimize needs for scarce specialists in order to perform full recovery
Manual solutions often require scarce personnel with specialized knowledge and skills to perform and verify recovery. Such solutions can become less effective and have higher risk of failure due to changes in personnel knowledge and skills over time. The integrated solution does not require specialists to operate or verify recovery making it less vulnerable to personnel knowledge and skill changes over time.
Product Highlights
EXPRESSCLUSTER X
Enables fast and automated recovery of critical application and data resources across LAN, WAN and SAN environments.
Proven high availability software with over 10,000 worldwide installed base.
Granular and comprehensive software, hardware and network failure detection.
Consistent Web-based management across multiple operating platforms.
Single solution for planned maintenance and unplanned failure downtime mitigation.
Scalable solution for single production server and large server farm environments.
Broad application and platform support including low cost standard editions.
For more product information, visit EXPRESSCLUSTER X product website.
SnapMirror
Enables high speed IP network-based data replication between NetApp storage arrays over LAN or WAN environments.
Standardized multipurpose replication solution serving many enterprise needs – disaster recovery, business intelligence, data distribution, and dev/test.
70% reduced network bandwidth utilization.
50% reduced management overhead.
90% primary storage efficiency extended
Top player in the storage replication market.
Integrated and tested with industry-leading applications.
For more product information, visit SnapMirror product website.