Displaying present location in the site.
CONNEXIVE Platform is the software that enables you to build the IoT system with the scalability and reliability.
Achievements
CONNEXIVE Platform is used as the IoT services in the various fields such as the industry, retail distribution, logistics, agriculture and energy.
Advantages
CONNEXIVE Platform is equipped with appliable parts to the common use cases such as collect, accumulate and process data from devices flexibly. By combining them, the IoT service which have a variety of requirements can be easily accomplished. This makes the period and the cost of development 30% shorter and 20% less respectively. (on the statistics of NEC)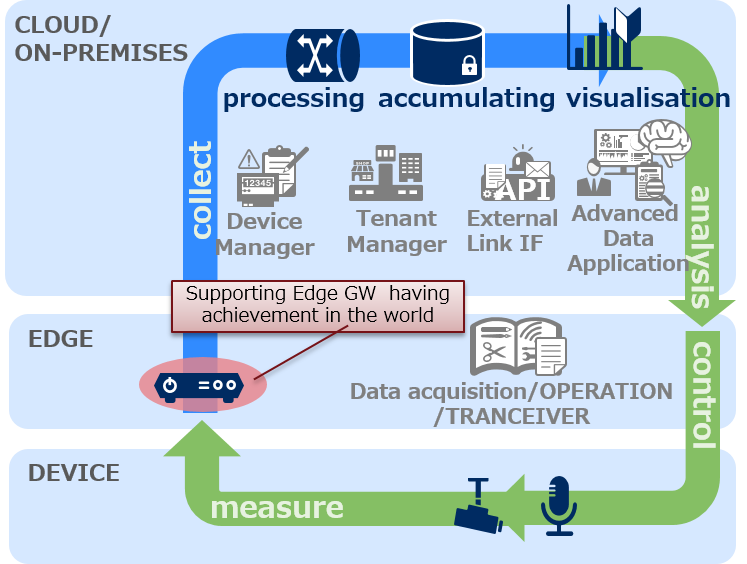 The Ease to collect and visualize data
CONNEXIVE Platform adapts various data formats different to the device/sensor only with the simple setting on the GUI tool, and widely supports devices/sensors that have the interfaces such as Bluetooth Low Energy, RS-232C, and so forth.
This platform can accomplish collection and visualization of the sensor data without the cost with the trial of connection to the device/sensor and builtin visualization tool enabled with the simple setting.
High connectivity to the external analysis tool
CONNEXIVE Platform enables to join the familiar tool for visualization and analysis with the data collection. It's applicable for the external system via WebAPI and file output in CSV format.

We released CONNEXIVE Platform V7.0" on May 7, 2018.

< Enhancement>
・By the connector which corresponds to Meshlium, you can quickly connect various devices.