C&C Operations

Computers and Industrial Electronic Systems

This NEC video-on-demand (VOD) system is installed at the Toray Human Resources Development Center in Japan. The system incorporates HYPERMS, the first Japanese-made VOD server software to conform to the MPEG2 (Moving Picture Experts Group Phase 2) international standard for the digital compression of video data.
---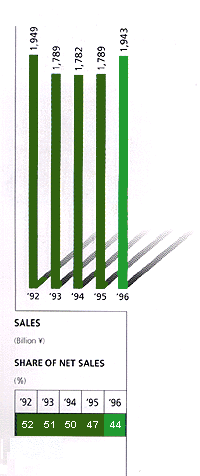 Thanks to strong performances both in Japan and overseas during fiscal 1996, sales of computers and industrial electronic systems rose 9 percent over the previous fiscal year, to 1,942.9 billion yen ($18,158 million), and accounted for 44 percent of net sales. In the domestic market, overall computer sales were up thanks primarily to an expansion of corporate investment in information systems and the growing popularity of home-use PCs, which combined to bring about a major rise in PC shipment volume. Domestic sales of servers were also healthy. Overseas, NEC recorded higher sales due mainly to brisk sales of PCs and compact disc-read only memory (CD-ROM) drives.

Developments by Product Line
Supercomputers
The SX-4 series of supercomputers can be matched to the computing needs of organizations, ranging from scientific institutions to small business units, delivering excellent cost performance. In fiscal 1996, the SX-4 series sold well both in Japan and overseas, with customers comprising a wide range of public organizations and corporations.
Mainframe Computers
As essential components meeting corporations' core information processing needs, mainframe computers are enjoying a resurgence in demand. NEC's Parallel ACOS series of mainframe computers, which incorporate complementary metal oxide semiconductor (CMOS) microprocessors, provides high performance at low cost. With the March 1996 launch of the large model PX7900, NEC now offers a full range of products in the Parallel ACOS series.
Windows NT(R) Servers
Reflecting the growing corporate use of PC LANs, orders for and shipments of the NEC Express5800 series of Windows NT(R)servers were buoyant in fiscal 1996, becoming some of the best-selling servers in Japan.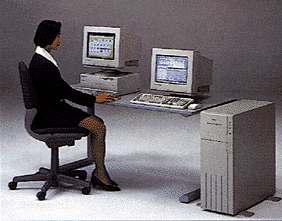 In November 1995, NEC launched the 150MHz Pentium(R) processor-based Express5800/160, a top-end product in the NEC Express5800/100 series of Windows NT(R) servers for PCs.
Personal Computers
With microprocessors becoming ever faster, NEC is constantly working to develop higher-value-added PCs to meet the rapidly evolving needs of users. As a result, in fiscal 1996 NEC maintained its position as the number one supplier of PCs in the Japanese market.
In response to intensifying price competition and to better serve the robust demand in the Japanese market, NEC restructured its PC manufacturing operations. Therefore, the manufacture of desktop PCs has been concentrated at certain facilities and that of notebook PCs at others. Consequently, NEC's annual PC production capacity has risen from three million units to five million units, and the concentration of manufacturing operations has yielded cost reductions.
In November 1995, we introduced the 98MATE Value Star, a low-priced PC package that includes a monitor and 41 pre-installed software programs for use with Windows(R)95. Targeted at home offices and small businesses, this product has been well received.
In overseas markets, increased sales of the Ready series of desktop home-use PCs contributed to an overall rise in sales of NEC PCs in fiscal 1996. In addition, NEC added further models to the well-received Versa series of notebook PCs.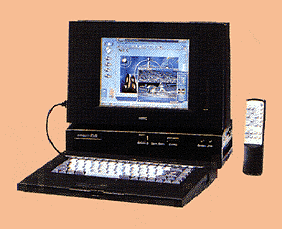 CanBeJam is a multimedia PC with a thin-film transistor (TFT) color liquid crystal display (LCD). As well as having TV, facsimile, telephone, and digital graphics capabilities, this PC can be easily linked to the Internet. The CanBe series of PCs is exclusively bundled with such CD-ROM titles as Disney's Animated StoryBook "Winnie the Pooh and the Honey Tree," supplied for the Japanese market based on a partnership with Disney Interactive, Inc.
Software and Systems Integration
In fiscal 1996, NEC launched StarOffice, an integrated system that brings together various office system technologies in a package that significantly enhances the efficiency of office operations. With a screen featuring easy-to-use icons laid out like a real desktop, StarOffice utilizes PCs as clients in client-servers to perform a wide variety of tasks, such as electronic mail and information exchange.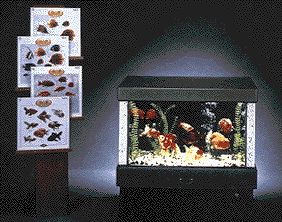 NEC introduced Sakana Hakkei, an electronic mini "fish tank" that features lifelike images of goldfish and tropical fish by means of a laser disk player and a high-vision monitor.
Industrial Electronic Systems
In recent years, the use of low-cost PC-based numerical control systems for machine tools and robots has attracted much attention. In October 1995, NEC launched the FFAC-X series of PC-based numerical control systems, which allow the matching of different makes of machine tool motors and amplifiers. The PC capabilities of the FFAC-X series enable the optimal use of available hardware and software.
In October 1995, NEC introduced the DS-2000 over-the-telephone speech recognition system. With the capabilities to identify speaker-independent speech and memorize 100,000 words, this system is ideal for such telephone-based applications as corporate and public information services and ticket reservation services.
Multimedia Services
VAN (value-added network) Information Services form the core of NEC's restructured multimedia service operations. These operations include "mesh," the Internet connecting service, and such Internet content services as The Cyber Plaza. Demand for these services is expected to enjoy explosive growth.