Shareholder Information
---
Transfer Agent for Common Stock
The Sumitomo Trust and Banking Company, Limited
4-4, Marunouchi 1-chome, Chiyoda-ku,
Tokyo 100, Japan

Stock Exchange Listings and Quotations
NEC common stock is listed on the Tokyo and seven other stock exchanges in Japan. Overseas listings are on exchanges in Basel, Geneva, and Zurich (in the form of Swiss Bearer Depositary Receipts); Frankfurt (in the form of a Global Bearer Certificate); London; and Amsterdam. American Depositary Receipts for common stock are quoted in the NASDAQ system in the United States.
Depositary for American Depositary Receipts (ADRs)
The Bank of New York
101 Barclay Street, New York, NY 10286, U.S.A.

Sponsoring Bank for Global Bearer Certificate (GBC)
Deutsche Bank A.G.
Taunusanlage 12, 60262 Frankfurt am Main 1,
Germany

Depositary Agent for Swiss Bearer Depositary Receipts (SBDRs)
Swiss Bank Corporation
Aeschenvorstadt 1, 4002 Basel, Switzerland

Composition of Shareholders
(As of March 31, 1995)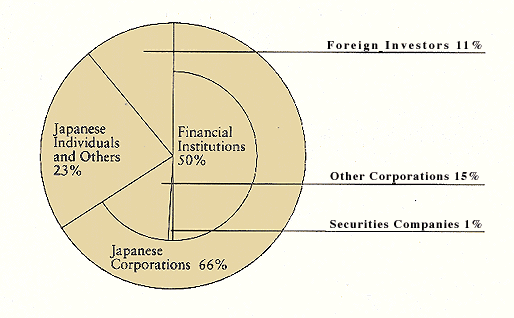 Stock Price Range on the Tokyo Stock Exchange (Yen)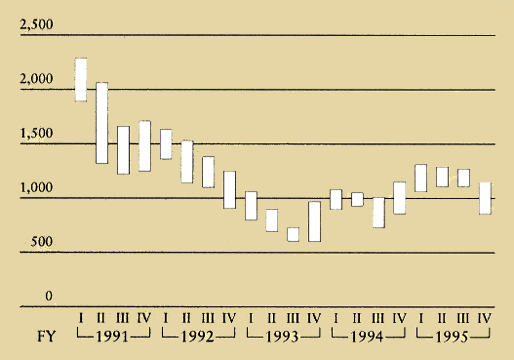 ADR (NASDAQ) Price Range (U.S. dollars)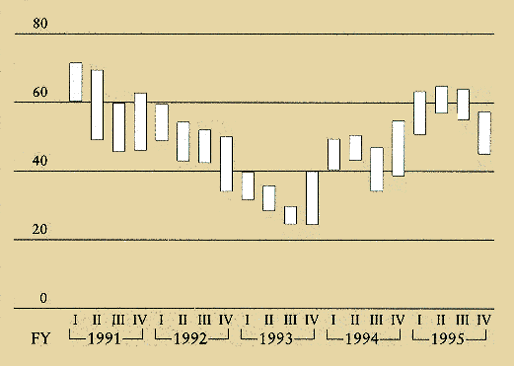 Trademarks
C&C, C&C-VAN, Dr. BonD, ECO-EWS, Express server, HOLON/VP, ITS-2400V, 98MULTi CanBe, MultiSync, NEAX61, NEC, Neo-FishLibrary, NEXTAR, NEXTV, OpenCAD Ver. 4, Parallel ACOS series, PC-9800, PC-FX, P7, P100, SuperScreen, SX-4 series, Versa, V810, V851, and VR4400 appearing in this annual report are trademarks of NEC Corporation.
Microsoft and Windows are registered trademarks and Windows NT is a trademark of Microsoft Corporation in the United States and other countries.
Pentium is a registered trademark of Intel Corporation.