For New Investors
Annual Report 2017
Introduces our approach to enhancing corporate value over the medium/long term, examples of our businesses activities for social value creation, and ESG-related information such as corporate governance and environmental initiatives. (Sep 2017)

NEC Vision 2017 for Social Value Creation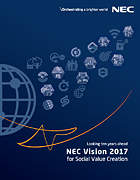 Introduces why NEC focuses its efforts on the businesses of Solutions for Society based on global megatrends. NEC formulated the seven themes of Social Value Creation and promotes its corporate brand statement, "Orchestrating a brighter world". (Nov 2016)

NEC Vision 2017 Case Studies and Highlights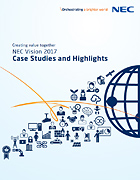 Introduces some of the Solutions for Society businesses that NEC is involved in and examples of how we are working with our customers to create value for society. (Nov 2016)

Recommended Links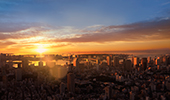 Solutions for Society
NEC has formulated its corporate brand message (Brand Statement), "Orchestrating a brighter world," along with 7 themes to represent our approach to social value creation. Collaborating closely with customers and business partners, NEC is committed to achieving our goal of making the world a brighter place.

Disclaimer
This Website is not made for the purpose of soliciting investments.