"Inclusion & Diversity" is a management and business growth strategy in itself.
We are committed to building a work environment that enables employees to maximize their potential for business growth regardless of nationality, age, religion, gender, sexual orientation, gender identity, or disability.
In order to emphasize that diversity is valuable only when inclusion is demonstrated, NEC intentionally places inclusion before diversity.
2025 Mid-term Management Plan
In the 2025 Mid-term Management Plan, NEC has identified bolstering diversity as one of the pillars for promoting the transformation of people and culture.



Mid-term Management Plan 2025 Page 38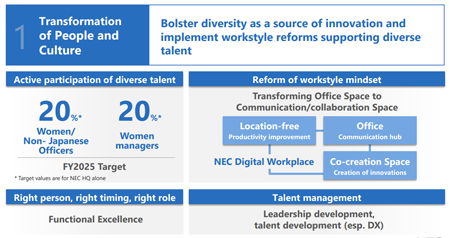 I&D Implementation Framework
We have positioned the realization of I&D as a growth strategy for management and business, and top management is personally leading the effort.
In FY2021, the I&D Steering Committee, chaired by President Morita, was established. We will take specific actions with the aim of achieving targets in the Mid-term Plan and having NEC selected as an Employer of Choice.
The Inclusion & Diversity group established as a dedicated organization for promoting diversity within NEC is now working on various measures, such as providing
Women's career advancement and active participation
Employment of people with disabilities
Smooth onboarding of non-Japanese employees and mid-career hires
Support and promoting understanding for sexual minorities (LGBTQ)
In this way, we are fostering our in-house culture by proposing and implementing measures to enable these kinds of diverse internal human resources to make full use of their individuality and uniqueness to work and participate at their full potential.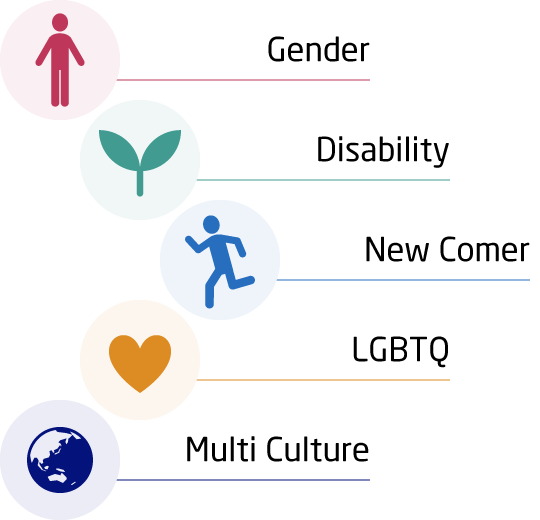 Please see below for details.