NEC Social Value Design

Social Value Design
Social Value Design is a NEC's design policy, which will provide "innovation" from the points of view of "user experience" and "social experience" that is thinking about exactly what would make an ideal society.

User Experience
NEC User Experience
NEC provides attractive and easy-to-use products and services by considering the experience of the people who will use the products and services and emphasizing the processes by which they will be used.
Making the Complicated Easy
NEC designs complex IT systems and services in such a way that they are easy to use and understand, and accord with the environments in which people use them and user skill levels.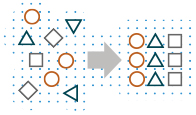 More People, More Environments
NEC designs products and services that take into account the various attributes of the people using them (non-Japanese people, elderly people, disabled people), and the many different environments and situations (dark indoor rooms, noisy surroundings) in which they might be used.

Exciting and Attractive
NEC's designs are not only usable or easy to use; they are also exciting and attractive, and make people want to use them.


Social Experience
NEC Social Experience
NEC provides products and services not only from the individual point of view, but also from the point of view of creating the best solutions for the different types of people who make up society. We do this by thinking about exactly what would make an ideal society.
Resolution of social Issues and Creation of visions for cities
NEC's designs aim to resolve social issues and create visions for cities.

Collaboration with Stakeholders
To fully understand the issues that society is facing, NEC designs by collaborating with local residents and governments.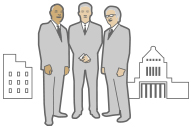 Smooth Management
NEC's solutions are designed to be harmonious and reusable, allowing society and entire organizations to be managed smoothly and without interruption.


Innovation
Toward innovation
NEC draws up a future image of society that balances the points of view of people and society, so that a more prosperous society can be created for all because that is the only way that individuals can also flourish.
Visions for Society and Business
NEC will create new visions and concepts to resolve social issues discovered through our deep understanding of the changes taking place in society and the business environment.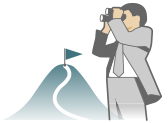 The Styles of the Future
NEC will create future styles by changing society and the way people live through ICT.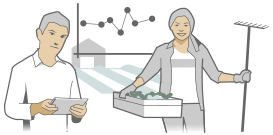 New Services and Products
NEC will create new services and products that bring happiness to the people who make up society.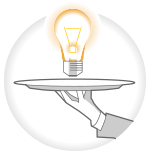 Means to Realize Social Value Design
The people involved in designing a certain system or service collaborate to identify problems and generate ideas for design thinking and human centered design processes.
Co-creation (Team and Method)
NEC collaborates with people in society (local governments, residents) to identify the issues they are facing.
NEC collaborates with customers to create conceptual images for new business and ideas for services.
Specialists in analyzing human actions and psychology collaborates with specialists in technology and work processes to design systems from the point of view of people.
NEC generates ideas for new systems and services by using design methodologies such as field observations and user interviews to identify social issues.
User needs are verified by repeatedly creating and evaluating prototypes.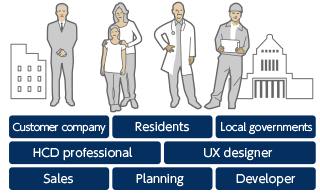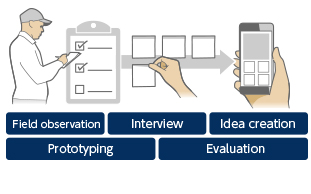 Human Centered Design and Design Thinking (Process)
NEC's Social Value Design combines Human Centered Design and Design Thinking to create new values for society and our customers' businesses.
Human Centered Design is a way of designing whereby the human (user) perspective is involved in all steps of the design process, from the earliest planning and development stages. Human Centered Design processes are defined by the international standard ISO 9241-210.
Design Thinking refers to the concept of applying design techniques to business processes such as developing new markets, creating new business models, and planning new services with the aim of "creating something new."
Design Thinking and Human Centered Design are very similar processes.
NEC's Social Value Design combines Human Centered Design and Design Thinking to create new values for society and our customers' businesses.
・Step1. Understanding users
In addition to identifying and understanding the target user, we also understand the market conditions, such as market scale and competing products.
・Step2. Clarifying the goals
The required business model is identified and requirements specifications and design goals are set based on the clarified needs of the user.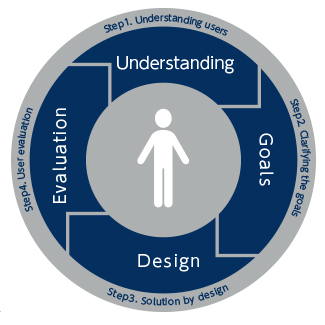 ・Step3. Solution by design
To verify that the design goals are correct, a design proposal (simple prototype) is made that will resolve the user's issues.
・Step4. User evaluation
Prototypes are evaluated from the user's perspective and the results are fed back into the design. The process of design and evaluation is repeated until the user's issues are resolved.
Social Value Design for NEC's businesses
Through Social Value Design, NEC will provide innovative solutions for the fundamental problems.
We find the fundamental problems and create balanced solution ideas from the point of view of people and society.
We are creating innovative solution by collaborating with stakeholders in society.
Design inquiries
Please contact the following with inquiries concerning design.