Displaying present location in the site.
NEC believes that hiring employees of various backgrounds under the principle of equal employment opportunities enables the organization to take on challenges and grow by receiving new input, and that this can lead to new ideas and generate innovation.
For this reason, it is important to create a culture in which employees can understand, respect, and empathize with diverse values and perspectives.
NEC is transforming its organization structure and culture into one that transforms individual differences into strengths, responds with agility to change, and continues to compete strongly and win.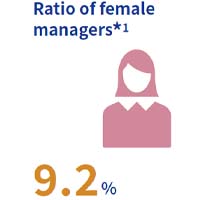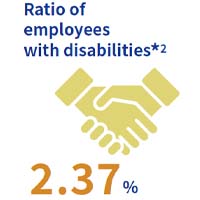 *1

As of March 31, 2021

*2

For NEC Corporation on a standalone basis, Based on the Act on Employment Promotion etc. of Persons with Disabilities as of June 1, 2021
Recognizing that people are its greatest resource, NEC believes it is important to develop highly specialized professionals who can deliver true value to customers. Based on the NEC Way, we are working to develop human resources and an organizational culture that are able to continuously create value for society, constantly acting from a customer-oriented perspective with a high sense of ethical value and a deep understanding of the essential issues faced by customers and society.
To realize "the growth of the Company" and "personal growth and happiness" under our Human Resources (HR) Policy, NEC develops and fairly evaluates human resources, who play such an active and important role in our growth. We also promote the creation of productive, comfortable working environments.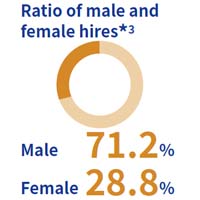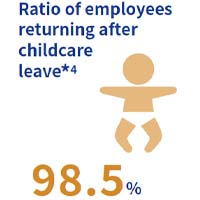 *3

For NEC Corporation on a standalone basis, As of March 31, 2021

*4

For NEC Corporation on a standalone basis, Ratio of employees returning to work who started childcare leave in fiscal 2019
NEC Corporation has established a basic philosophy as part of its "Companywide Occupational Health & Safety (OH&S) Policy Action Guidelines" stating that "NEC should maintain and enhance a comfortable and supportive workplace to ensure the health and safety of all who work at its business sites." We offer various programs for safety and health focusing on preventive management.
In addition to facilitating compliance with relevant laws and regulations around the globe, the Companywide principles will guide our employees to recognize respect for human rights as the highest priority in each and every stage of our business operations in relation to AI utilization and enable them to take action accordingly.
Failure to consider these issues would be a serious risk for NEC as it seeks to provide social values such as safety, security, fairness, and efficiency through its services and solutions. On the other hand, by providing services and solutions that consider these issues we believe we can provide highly reliable value to society, including our customers.
We recognize that it is our duty to protect the information assets entrusted to us by our customers and business partners as well as our own information assets in order to provide better products and services and contribute to the development of society. Based on this concept, NEC has positioned security, correctively referring to both information security and cyber security, as one of the critical subjects of "materiality", its priority management them from an ESG perspective—materiality, and has established its "Information Security Statement" as the basis for driving our efforts.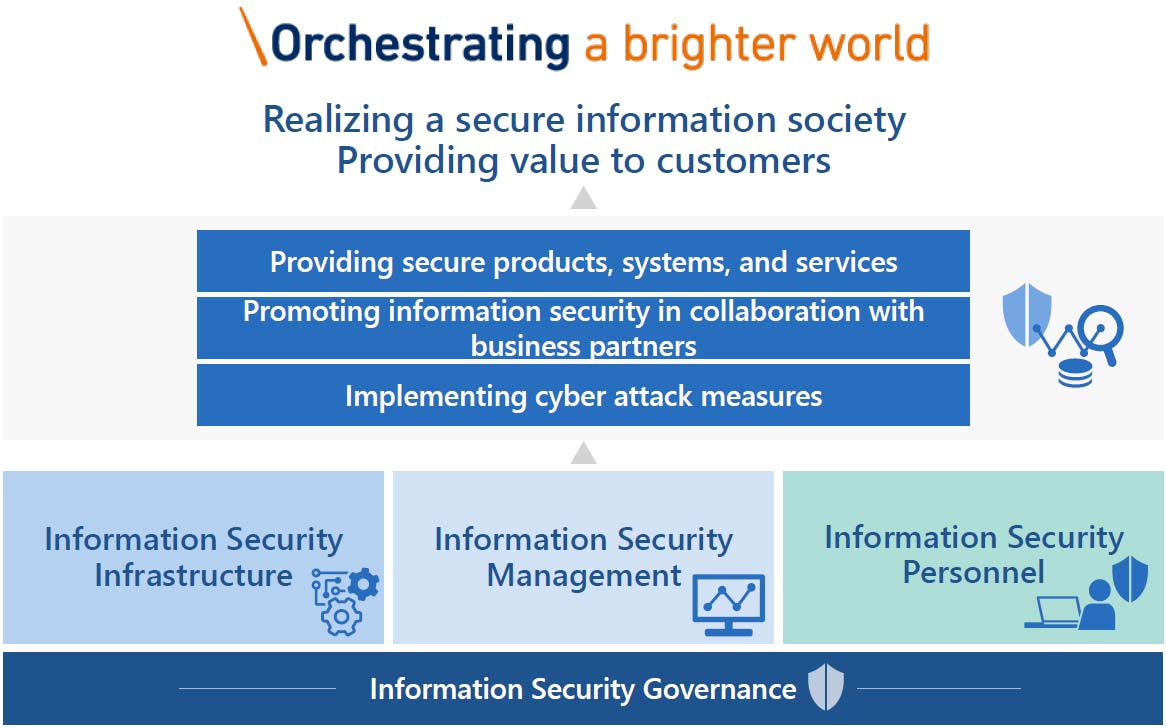 Today, our founding spirit of "Better Products, Better Services" has been carried on as one of the Principles in our NEC Way. We hope that all our employees will be confident in NEC's quality policy by continuing to raise the quality of their own work, the products they create, and the services they provide. Also we hope to see "NEC Quality" become the preferred and trusted choice of our customers.
All of our employees are working to develop a corporate culture of creating products and services that are more valuable to our customers. This means that every one of us at NEC understands, considers, and quickly responds to what our customers expect in order to make NEC a company that is trusted and chosen by customers.
Guided by this concept, each member of NEC, from directors to employees, acts as a good corporate citizen by carrying out "NEC Make-a-Difference Drive" corporate citizenship activities aimed at solving social issues over the medium to long term.
Through these activities, we work with local communities, NPOs and NGOs, local governments, universities, etc., to promote three universal themes: "Personnel Development," "Environmental Preservation," and "Regional Contribution Activities and Disaster Aid." NEC recognizes sustainable local communities are what enables business activities to be carried out in those communities.