Displaying present location in the site.
Management for Sustainability
NEC aims to realize a sustainable society where everyone has the chance to reach their full potential. Our management approach entails conducting dialogues and co-creation with many different stakeholders while advancing business activities that help address social issues. Moreover, in addition to conducting rigorous compliance with laws, regulations, and sound corporate ethics, we also proactively lower risks attendant on activities that have potentially negative effects on society or the environment.

We believe that our efforts focused on materiality—priority management themes from an ESG perspective—will minimize risk while maximizing the value we provide, which in turn will contribute to improving future financial performance and achieving the SDGs.
Our Journey toward Management for Sustainability
NEC's story starts in 1899, when the Company was established as Japan's first joint venture with a foreign company. Founder Kunihiko Iwadare created a company aiming to provide customers with world-class products, and to take responsibility for them through after-sales services. With these goals in mind, NEC began providing telecommunications equipment such as telephones and switching systems under the motto, "Better Products, Better Services."

Later, in the 1950s, the Company began working on the development of computers. In 1977, at the INTELCOM 77 international communications expo held in the U.S. city of Atlanta, then-chairman of NEC Koji Kobayashi presented a new concept, "C&C," referring to the integration of computers and communications.

At that time, President Kobayashi talked about NEC's vision for C&C, as follows:
"If I am asked about my vision for communications in the future, I can see a world where any and all individuals are able to communicate with each other at any time, at any place on the earth, in the early days of the next century. Assuming that this comes true, all technology, communications, computers, and televisions will be, and should be, integrated. And, therefore, it is important to help developing countries to be able to participate in such a world telecommunications system."
This vision has been technologically realized today in our age of widespread computers, mobile phones, and the internet. The ambition to enable people around the world to be able to connect anytime, anywhere, and with anyone aligns with the aspiration of the Sustainable Development Goals (SDGs) adopted by 193 United Nations member countries in 2015 to "leave no one behind." The issue is now being addressed throughout the world.

As the value expected of NEC by customers and society changed from our tangible technologies and products to the intangible creation of value, in 2013, we responded under the Mid-term Management Plan 2015 by declaring our intention to transform into a Social Value Innovator, creating value for society. The following year, in 2014, we announced our brand statement, "Orchestrating a brighter world." In 2019, we marked our 120th anniversary by reorganizing the structure of the NEC Way, now over 10 years old. On this occasion, we reflected the changes and demands of society and reformed it to guide the actions of each individual, from executives to employees. Announced in April 2020 following a resolution by the Board of Directors, the NEC Way presents the connections between the Company's Purpose, its Principles, and each individual in a clear, simple way.
The NEC Way is a common set of values that form the basis of how the entire NEC Group conducts itself. The NEC Way comprises four elements—the "Purpose" and "Principles" represent why and how we conduct business as a company, while the "Code of Values" and "Code of Conduct" embody the values and behaviors that all members of the NEC Group must demonstrate.

We promote activities that ensure each executive and employee of NEC Group is aware of the NEC Way, understands it deeply, and has a mindset in line with it. The activities provide them an opportunity to reflect on their work style, fulfill the roles and responsibilities of their position, and set yearly goals to bring impactful results.

Every year we hold NEC Way Day on July 17, the day of our founding (or if that day is a holiday, we hold it the day before or after). The event provides a chance for everyone to once again reflect upon the NEC Way and discuss and deepen our understanding of what social value NEC can create as a group as well as what kind of future we should try to create through its practice.

The NEC Group's purpose is to collaborate with various stakeholders to create the social values of safety, security, fairness and efficiency, while striving to enable people to live and live abundantly. In doing so, we will aim to realize a sustainable society that enables each individual to achieve their full potential and also overcomes global environmental issues such as climate change.

This approach is aligned with the aspiration of the SDGs to "leave no one behind." Furthermore, information and communications technology (ICT) could potentially help in addressing many different issues. For this reason, we believe that we can contribute significantly to all of the targets set out in the SDGs by drawing on our leadingedge technologies in such fields as biometrics, AI, and 5G and our competence in R&D and implementation as we engage in dialogue and co-creation with a range of stakeholders.
The NEC Group acts in line with the following three principles.
The Founding Spirit of "Better Products, Better Services"
The NEC Group will not stop at achieving its best at a certain point in time, but rather continue indefinitely to pursue improvements to provide better products and services for customers and society.
Uncompromising Integrity and Respect for Human Rights
This expresses the NEC Group's spirit of uncompromising integrity (high sense of ethical standards, including compliance) throughout the overall organization in order to remain trusted by society as a Social Value Innovator, and its commitment to respecting human rights.
Relentless Pursuit of Innovation
The pursuit of innovation is the driving power behind the NEC Group's activities. This innovation goes beyond technology development. It involves working with various stakeholders to pursue improvement in the Company and society, from yesterday to today, and on to tomorrow.
Code of Values and Code of Conduct
NEC has set out the Code of Values, which motivates the active and autonomous behavior that everyone from officers to employees should take individually to create social value.

In addition, the NEC Group Code of Conduct is a set of specific guidelines that summarize the concept of integrity presented in the Principles. Every one of these guidelines must be upheld in order to achieve NEC's Purpose.
Basic Principles on Management for Sustainability
NEC is promoting management for sustainability in accordance with the following basic Principles based on the NEC Way.
Contribute to Solving Social Issues through Our Business
As part of its Purpose, NEC declares its intention to create the social values of safety, security, fairness and efficiency through its business activities. The Sustainable Development Goals (SDGs) pledge that "no one will be left behind" is aligned with the NEC Purpose, to "promote a more sustainable world where everyone has the chance to reach their full potential."

In order to fulfill our Purpose, we have put together the NEC 2030VISION as a compass to indicate the direction and path for NEC to follow. By following the NEC 2030VISION, not only will we improve our financial performance, we will also manage and create businesses that generate positive social and environmental impacts.
Strengthen Risk Management and Enforce Compliance
In order to act in accordance with our Principles, which advocate for "uncompromising integrity and respect for human rights," we make sure to conduct our business activities with the highest priority given to thorough risk management and compliance that is mindful not only of employees but also of customers and society. Moreover, the opening statement to the NEC Group Code of Conduct calls for us to act in good faith based on high ethical standards.

In 2005, NEC became a signatory to the United Nations Global Compact, which requires corporate activities to be conducted based on the Ten Principles of the UN Global Compact, pertaining to the four fields of human rights, labour, the environment, and anti-corruption. As part of this effort, NEC conducts regular self-assessments of its activities to ensure it stays true to this requirement.
Promote Communication with Stakeholders
Dialogue and co-creation with a variety of stakeholders are important processes for learning about the issues that matter to our customers and society, about what is expected of us, and for building relationships of trust. Our commitment to promoting dialogue and co-creation with stakeholders is embedded in the concept of "orchestration" as stated in our Purpose, "Orchestrating a brighter world," within the NEC Way. This commitment also helps fulfill SDG 17, "Partnerships for the goals."
Management Implementation Framework for Sustainability
NEC's management for sustainability is promoted by corporate organizations such as the Corporate Strategy, IR, Human Resources, General Affairs, Human Resource Development, Compliance, Management Information Systems, Environment, Customer Service, Quality Assurance, Procurement, and Communications divisions, as well as laboratories, business units, and Group companies around the world. We also undertake initiatives in coordination with business partners.

In April 2021, we established the Sustainability Promotion Department as a dedicated organization for the advancement of sustainability. NEC has established this new division because, in an era of increasing uncertainty, the effect of ESG initiatives on corporate finances will become even greater and because a trend of calling on corporations to make more-concrete commitments to a sustainable society is gathering momentum worldwide. In the same year, NEC also established the Sustainability Advisory Committee, comprising the CFO, the officers in charge of promoting sustainability, and sustainability experts, the latter of whom provide advice on matters related to sustainability.

Key matters for promoting management for sustainability are discussed by corporate officers and managers of related divisions via the Executive Committee, the Business Progress Committee, and the Risk Control and Compliance Committee. Matters discussed or approved by these entities are periodically reported to the Board of Directors via the officer in charge of sustainability promotion. The Board then monitors these matters after they are reported. Further, Companywide organizational development and human resource development, based on practical implementation of the NEC Way, and priority management themes from an ESG perspective—materiality—are clearly stated in job descriptions of all in-house directors. These factors have also been incorporated into the key performance indicators used to evaluate officers. In such ways, we are advancing initiatives.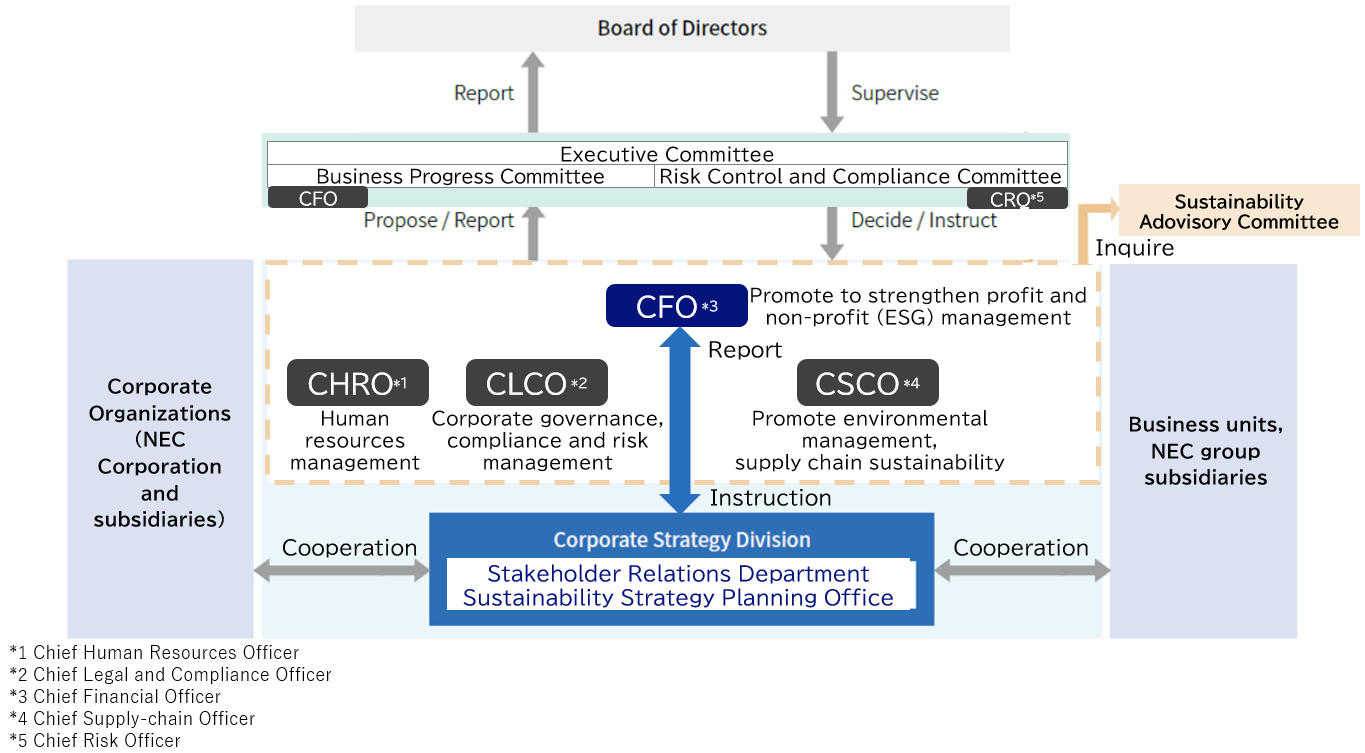 *1

Chief Human Resources Officer

*2

Chief Legal and Compliance Officer

*3

Chief Financial Officer

*4

Chief Supply-chain Officer