Displaying present location in the site.
This is a chart of NEC's profile including our ESG's initiatives.
NEC is promoting management for sustainability in accordance with the following basic principles: "contribute to solving social issues through our business activities," "strengthen risk management and enforce compliance," and "promote communication with stakeholders" based on the United Nations Global Compact (UNGC). In 2005, we became a signatory to the UNGC, which calls for corporate activities based on 10 principles pertaining to the four fields of human rights, labour, the environment, and anti-corruption. Revised in 2020, the NEC Way defines our Purpose and Principles as a company while advocating a Code of Conduct and a Code of Values for everyone at NEC—from executives through to employees. Achieving fulfillment of the NEC Way is our basic management policy for sustainability.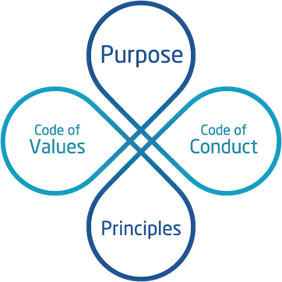 NEC considers "materiality" as priority management themes from an ESG perspective that we need to adopt to reinforce non-financial (ESG/future financial) evaluation methodologies to underpin the sustainable growth of the Company and society.In our initiatives for materiality, NEC Corporation has connected the social and environmental initiatives with its business strategies to link the growth of society to our own.
This is a chart of NEC's ESG-related objectives, achievements and progress, and degree of completion.
To explore how NEC can incorporate non-financial (ESG) initiatives and management, and how its business activities impact society, we invited outside experts in their respective fields to participate in a dialogue on the following themes.
The NEC Way's Principles, which express the behavior that we value as a company, stipulate "Uncompromising Integrity and Respect for Human Rights," while the NEC Group Code of Conduct governs the individual conduct of everyone from executives to employees by clearly requiring respect for human rights in all situations.
NEC has adopted "Relentless Pursuit of Innovation" as one of its Principles. As a major part of this, we focus on explaining our initiatives to strengthen our technological capabilities and to commercialize them as the keys for continued provision of value to society.
Values are constantly changing for our customers and society. To supply products and services that deliver real value, NEC needs to incorporate processes for dialogue and co-creation with stakeholders into its corporate activities. This is a chart of the main dialogue and co-creation that we conducted in fiscal 2021.