Business Activities for Value Creation
NEC leverages its years of experience and unique strengths to focus on seven themes of social value creation in order to solve the challenges faced by customers and society. These themes are based on six megatrends that were identified by analyzing trends in global economics, society, and technology.
In terms of addressing social issues, these seven themes are closely aligned and have many things in common with the Sustainable Development Goals (SDGs) adopted by the United Nations in 2015.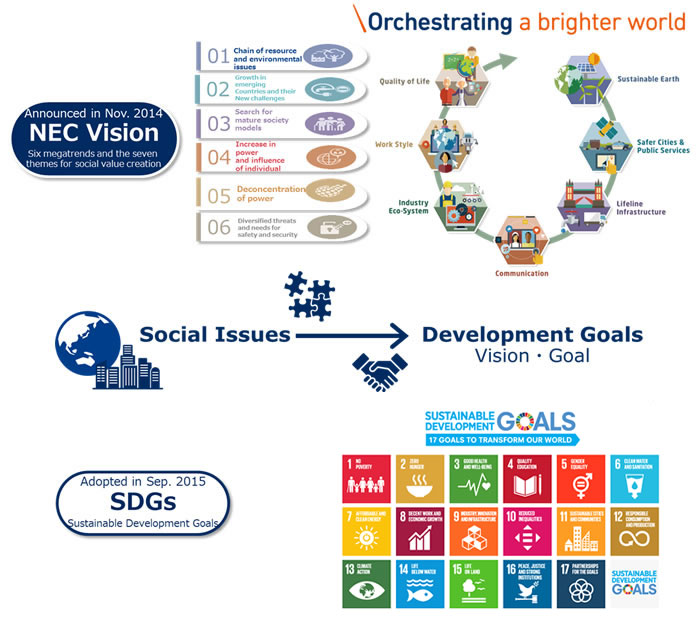 Examples of initiatives aimed at realizing the SDGs
At Mobile World Congress (MWC), the world's leading exhibition for the telecommunications industry held in Barcelona, Spain in February 2017, President and CEO Takashi Niino presented examples of initiatives that NEC is taking towards achieving the Social Development Goals (SDGs).
Creating safe and secure cities

We have reduced the car theft rate in the city of Tigre in Argentina by delivering image recognition solutions; this also has brought about an increase in revenue from tourism as a result.
Lowering the crime rate for urban development and citizen safety and protection: The challenge of the city of Tigre C&C User Forum & iEXPO2016 Seminar Report
Optimizing agricultural production

Through collaboration with Kagome, NEC contributed effective crop production.
We have also contributed towards realization of more sustainable food environment as a result of optimization of food processing value chain.
Improving agricultural productivity and eliminating poverty and hunger

We have introduced e-voucher technology into the farmer support project that is being promoted by the Food and Agriculture Organization of the United Nations (FAO) in Mozambique.
By allowing farmers to use subsidies more efficiently and enabling trade in agricultural materials to be visualized, the introduction of e-voucher technology has given the project extra momentum, assisting with activities aimed at boosting agricultural productivity and eliminating poverty and hunger.
Ensuring fair distribution of healthy food to children

NEC introduced a biometric solution to a school meal program run by Chilean government organization. The solution enabled the organization to ensure that each student receives proper meal benefits, while improving the use of economic resources involved in food program at the same time.
The rights and privacy of students were fully respected when introducing the system.