Displaying present location in the site.
In recognition of the fact that reliable corporate governance is essential to the continuous creation of social values and the maximization of corporate values, NEC Corporation (the "Company") is committed to strengthening its corporate governance practices through:
Assurance of transparent and sound management,

Realization of prompt decision making and business execution;

Clarification of accountability; and

Timely, appropriate and fair disclosure of information.
As a company engaged in the social solutions business, NEC believes earning and sustaining the trust of customers and society are the most important things.
In its Principles, NEC subscribes to "Uncompromising Integrity and Respect for Human Rights," and conducts continuous companywide activities involving everyone from officers to employees with management firmly based on compliance.
In its Group Code of Conduct, NEC promises that:
we will comply with international rules, applicable laws and regulations, this Code of Conduct, and inhouse policies and guidelines in every aspect of the Company's activities at all times, and also understand the cultures and customs of countries and regions, and act in good faith in accordance with a good social conscience based on high ethical standards; and
we will keep all financial records, accounting records, and all other records accurately and fairly. We will not perform accounting processing in an improper manner or any other act that may cause any loss or damage to the Company.
Likewise, we follow the above basic approach also in relation to tax matters and are striving to optimize them from a medium- to long-term perspective.
In its Principles, NEC subscribes to "Uncompromising Integrity and Respect for Human Rights," and we believe it is important to put these into action while treating compliance as the highest priority at all times.
In recent years, due to stronger enforcement of laws and regulations regarding competition and bribery around the world, we are taking active measures to prevent the violation of antimonopoly laws and corruption and fraud in our efforts to promote fair commercial transactions.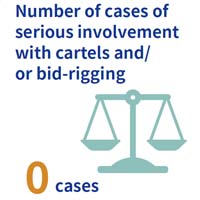 NEC has prepared a business continuity plan and is promoting business continuity management so that it can fulfill its social responsibilities by continuing to stably supply customers with products and services in the event of a natural disaster such as an earthquake or typhoon, a global pandemic, war, terrorist attack or other event. Our goal is to be able to continue NEC Corporation's business as far as possible, and to recover operations quickly if they are interrupted.
NEC endeavors to work not only within itself, but also through collaboration and co-creation with suppliers to conduct business while giving full attention to its impacts on the environment and society as a whole.
We believe this will make us worthy of the trust given by society and enable us to contribute to sustainable social value creation. Based on this belief, as we learn together about critical social issues and the impact of business on society, we will continually engage in initiatives toward building a better supply chain. In May 2021, we newly designated "supply chain sustainability" as our materiality and will further reinforce initiatives, such as those relating to human rights and environmental due diligence.
Aiming to realize sustainable supply chains, NEC is advancing engage-ment with business partners in accordance with its basic philosophy of emphasizing collaboration and co-creation.
In this dialogue, we asked experts to review our efforts over the past year and provide us with their opinions on responses to emerg-ing challenges and geopolitical risks, such as COVID-19 and legisla-tion currently being formulated in Europe that would make due diligence with respect to environmental and human rights risks mandatory.