Displaying present location in the site.
Support for Suppliers in Building and Maintaining a Management System
Supplier Support: Building a System to Control the Chemical Substances Contained in Products
Electronics products can include chemicals that have the potential to harm both humans and the environment. If products are disposed of incorrectly, these chemicals could contaminate our soil and our waterways.
Against this backdrop, management of specific chemical substances contained in products has become necessary such as the RoHS Directive and REACH Regulation of the EU. This directive requires companies linked in a supply chain to exercise appropriate and effective control of the chemical substances contained in their products. In line with this, NEC has created a support mechanism that allows suppliers to actively implement autonomous chemical substance control.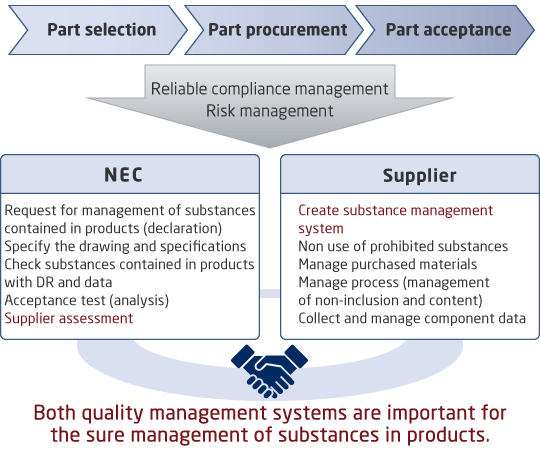 The following assessment items will be used improve suppliers' chemical substance management through self assessment or on-site assessment:
Assessment Items for a System to Manage the Chemical Substances Contained in Products
System assessment
Mechanism
1 System to manage contained substances (5 items)
2 Internal education and training (5 items)
3 System to evaluate contained substances (5 items)
Manufacturing flow
4 Management of suppliers and outsourced manufacturers (5 items)
5 Management of purchased parts and materials (5 items)
6 Control of manufacturing processes, including those of outsourced manufacturers (5 items)
7 Traceability (5 items)
8 Management of chemical analyses and analysis data (5 items)
Improvements
9 Communication of information on contained substances (5 items)
10 Troubleshooting in the event of nonconformance (5 items)
Check of parts and materials
Check of evidence and records
Check of data and records
Enhancement of Assessment System of Management of Chemical Substances Used in Products - Evaluator (Supplier Support) Training System -
NEC has created a system for training chemical substance evaluators ("assessors" hereafter) as part of the system we have in place to evaluate and improve how our suppliers manage chemical substances. Based on our Product Substance Management Assessment Standard, we conduct quantitative evaluations of our suppliers and provide them with support in improving their level of chemical substance management. The Product Substance Management Assessment Standard is designed to evaluate the thoroughness of the chemical substance management systems being used by our suppliers, and generate improvements by highlighting strengths and weaknesses at both NEC and at each supplier. It is therefore imperative that we train assessors to evaluate the management systems of our suppliers and suggest improvement activities. NEC's assessor training system was introduced since 2005 and uses a curriculum devised by NEC. We plan to continue increasing the number of certified assessors as we work toward ensuring that our entire supply chain complies with global restrictions on the chemical substances used in products.