Displaying present location in the site.
Toward the realization of carbon neutrality by 2050, NEC is expected to fulfill an increasingly large number of roles and responsibilities. In response, NEC has positioned climate change (decarbonization) as a core response to environmental issues and one of the Company's priority management themes from an ESG perspective—materiality. Based on the NEC Environmental Policy and the Course of Action for Climate Change Toward 2050, our climate change countermeasures are providing value both in terms of mitigation and adaptation. In 2021, NEC drafted NEC Environmental Targets 2030 and declared an objective to achieve net zero emissions of CO2 (Scope 1, Scope 2, and Scope 3) in its supply chain by 2050. In 2022, NEC formulated a climate transition plan and expanded its strategic activities through business and initiatives to reduce its environmental burden by setting more targets toward a decarbonized society.

NEC also reports on its CO2 emission reduction activities based on Japan's Act on the Rational Use of Energy and Act on Promotion of Global Warming Countermeasures.
Disclosure in Line with the TCFD*
In 2018, NEC announced its endorsement of the TCFD. Pursuant with the TCFD's recommendations, we are disclosing climate-related risks and opportunities while projecting and managing their financial effect on our businesses going forward.
*

Task Force on Climate-related Financial Disclosures

Outline of Initiatives Based on TCFD Recommendations
Item
Description
Related pages
Governance

Report to the Board of Directors important issues related to the environment, including climate change
Based on environmental management rules, clarify roles, responsibilities, and authorities of organizations related to promoting environmental management

Framework
Environment-related reports for main committees
Strategy

Set key material issues for management of climate change
Examine countermeasures and identify risks and opportunities over the short, medium, and long term caused by climate change, based on multiple scenarios
Mitigation (decarbonization) leads to business opportunities/Develop appropriate solutions and expand provision
Implement measures toward decarbonization, manage outcomes

Climate transition plan
Environmental Business
Scenario analysis
Risks and opportunities
Introduction of internal carbon pricing
Risk management

Assess risks under Environmentoriented Management Implementation Framework and with Risk Control & Compliance Committee
Advance activities to address potential and materialized risks, understand results and issues, and examine future plans to reduce and prevent risks

Climate transition plan
Systems
Environmental risk
Risks and opportunities
Compliance and risk management
Indicators and results
2050 targets

Net zero CO2 emissions
(Scope 1, 2, and 3)
100% renewable energy

2030 targets

Setting of SBT 1.5℃
Scope 1 and 2: 55% reduction
(compared with fiscal 2018); Scope 3
(Categories 1, 3, and 11): 33% reduction
(compared with fiscal 2018)

Targets
Greenhouse gas emissions
Planning and introduction of renewable energy
Targets and results
Data compilation
Environment-related Reports for Main Committees
Since climate change is an important materiality, committees attended by managers deliberate, supervise and report on initiatives and risks related to the environment, including climate change. In fiscal 2022, in addition to engaging in dialogue with stakeholders, NEC set up the Sustainability Advisory Committee to broaden discussions between management and outside experts.
Key Discussions, Audits, and Reports
Forum
Fiscal year
Frequency
Key discussions, audits, and reports
Board of Directors
FY2020
One time
May: Sustainability promotion policy
FY2021
Four
times
June: Report on sustainability promotion activities
December: Environmental perspectives in next mid-term management plan
February: Report on sustainability promotion activities
March: NEC Eco Action Plan 2025 (including investment and spending plans)
FY2022
Four
times
May: Report on sustainability promotion activities
December: Participation in BA1.5℃, report on ESG briefings
January: NEC's initiatives to become carbon neutrality
February: Environmental risks (part of Companywide risk countermeasure evaluations)
Dialogue between management and outside experts
Dialogue with stakeholders
FY2020
One time
Response to environmental issues centered on climate change
FY2021
One time
What initiatives should NEC take now to create environmentally beneficial businesses
Sustainability Advisory Committee
FY2022
One time
Understanding global trends related to climate change and NEC's risks and opportunities
NEC's Vision for 2030/2050: Our Future Lifestyles and Local Governments
NEC believes that a company cannot continue to exist and grow without analyzing scenarios for climate change. Among recent global risks, climate change risks are numerous and could have an extremely large impact on not only corporate business activities and earnings but also our livelihoods. No matter what future is in store for us, based on multiple scenarios, NEC will examine steps that should be taken to realize a safe and secure society while surviving and growing itself. In 2019, we conducted a Companywide scenario analysis, and in two different scenarios, we analyzed potential changes in risks and opportunities for NEC.
Our Future Lifestyles and Local Governments—A focal point in 2021
The NEC Group engages in a variety of businesses globally, from the floor of the ocean to the far reaches of outer space. The risks and opportunities related to climate change differ by business field, so talking about future risks and opportunities related to climate change for NEC as a whole is not necessarily the best approach. In fiscal 2022, NEC conducted a scenario analysis to shine the light on how our lifestyles and local governments will change in the future, as they pertain to the businesses of NEC and the state of measures to combat climate change in Japan and around the world.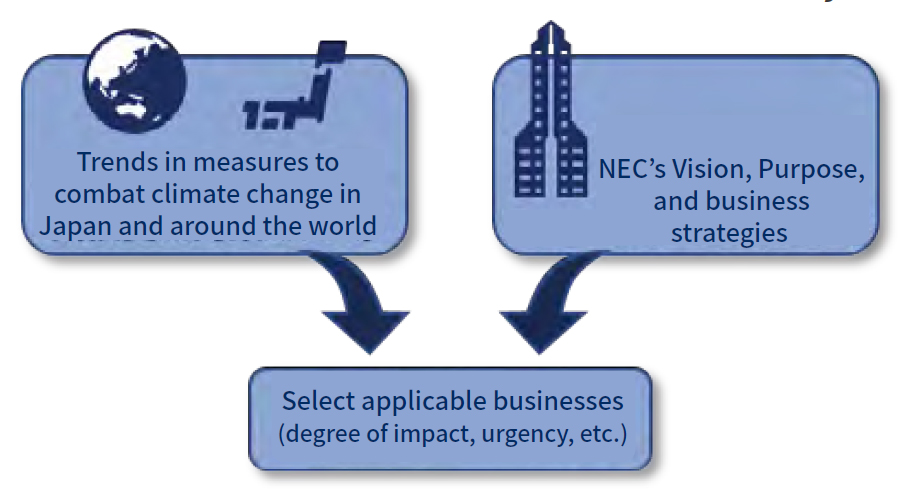 In light of the Paris Agreement, governments around the world have drawn up policies that target the 1.5℃ scenario. Japan has declared a goal of reducing GHG emissions by 46% by 2030 compared with the level in fiscal 2014, on the path to becoming carbon neutrality by 2050, and this has encouraged the national and local governments to move more quickly toward decarbonization. For a long time, NEC has been involved in many projects to build core systems for government agencies and government services, and NEC can lend its strengths in digital technologies in this field because it also has experience in smart city projects. Under the NEC 2030VISION, we described a future society in terms of the environment, local communities and livelihoods, all of which are close to people's lifestyles. In fiscal 2022, our scenario analysis focused on the state of regions, including the private sector, while concentrating our analysis on local governments.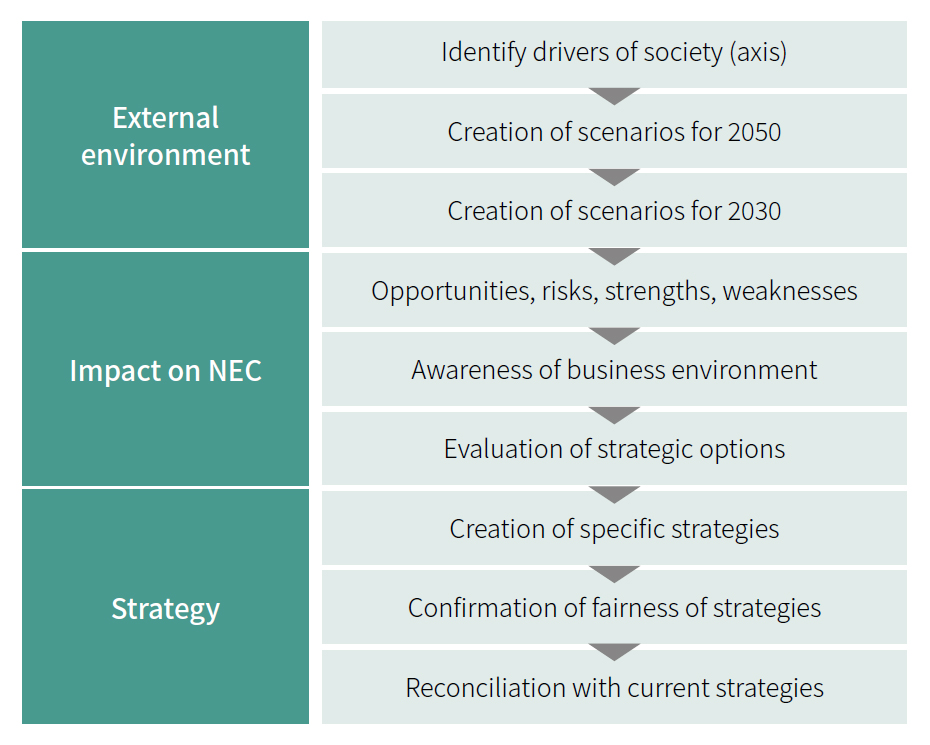 Results of Scenario Analysis (2030): World Envisioned by NEC in 2030 and 2050
Our Future Lifestyles and Local Governments
NEC created scenarios for 2030 and 2050 to envision the impact of climate change on the future of regions and local governments (core cities and small-scale cities). We evaluated four scenarios, with the 1.5℃ and 4℃ scenarios in the transition to a carbon-free society on the vertical axis, and the relationship of citizens with their governments and the state of government systems, separated by enforced actions and voluntary actions, on the horizontal axis. In each scenario, we used some items related to climate change and decarbonization, with assumptions for 2050 in the following scenarios.
Referenced Published Scenarios
1.5℃ Scenario
4℃ Scenario

IPCC AR6 WGⅠ SSP1-1.9
IPCC 1.5℃ Special Report
IPCC AR5 RCP2.6
IEA World Energy Outlook 2021
Net Zero Emissions by 2050
Scenario (NZE)
National Institute for
Environmental Studies, Japan,
Version SSP SSP1: Sustainable,
SSP5: Reliance on Fossil Fuels

IPCC AR6 WGⅠ SSP1-8.5
IPCC AR5 RCP8.5
IEA World Energy Outlook 2021
Stated Policies Scenario (STEPS)
National Institute for
Environmental Studies, Japan,
Version SSP SSP3: Regional
Divisions, SSP4: Disparities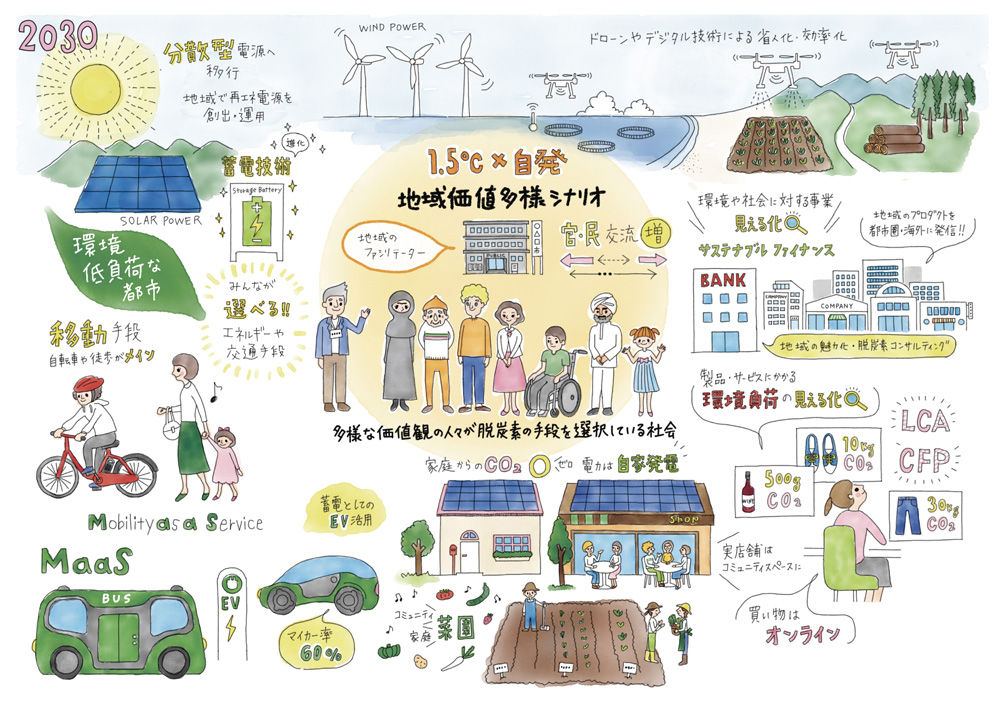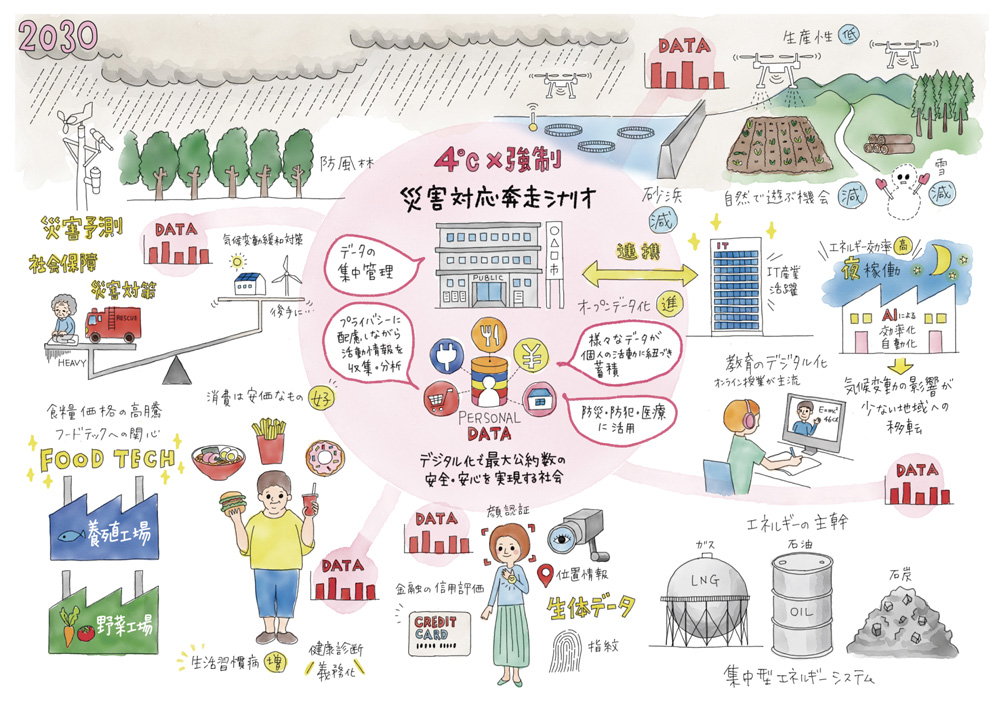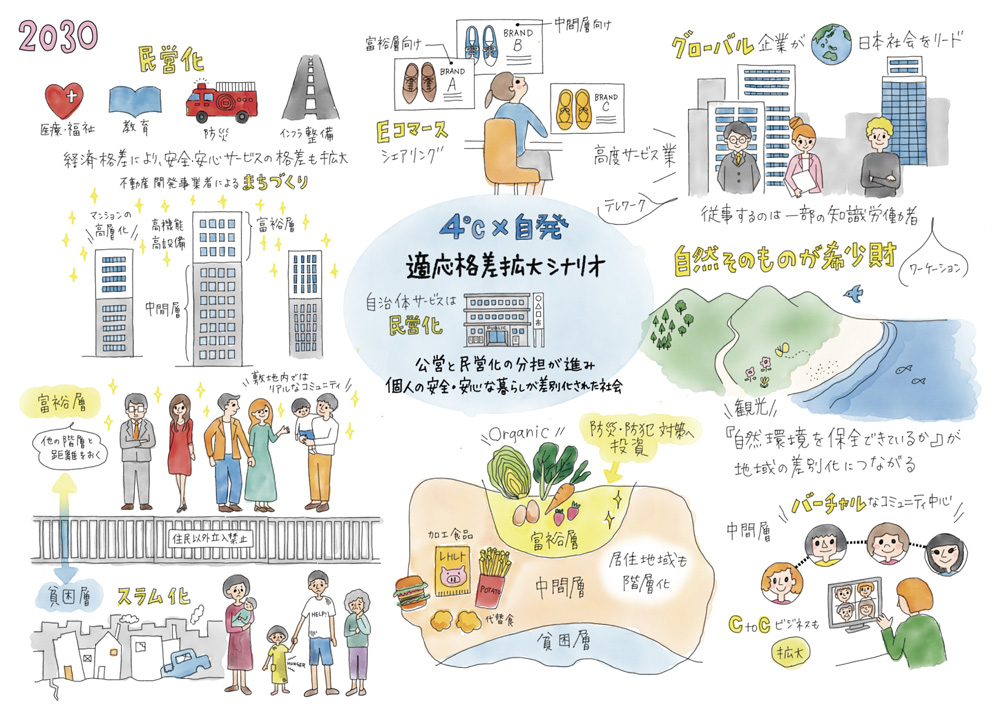 Scenario:Our Future Lifestyles and Local Governments
*

Vertical axis: Realization of 1.5°C carbon society (global temperature up 1.5°C in the year 2100) and 4°C failure (global temperature up 4°C in the year 2100)
Horizontal axis: Forced and spontaneous aspects of relationships between residents and governments and state of government systems
Risks and Opportunities Based on Scenario Analysis
Section
Summary
Key words
Risks
Opportunities
2030 NEC Business Examples
First
scenario:
1.5℃ ×
Spontaneous
In this scenario, unique local government services and ordinances are decided based on regional resources and cultures, with companies and communities leading regional revitalization and efforts to decarbonize.
Residents and social populations increase in regions that successfully create cities with low environmental loads, and the revitalization of industry leads to sounder government finances. However, local governments that do not take these initiatives will see an outflow of population and industry, creating regional disparities.
Inter-regional competition, regional recycling economy, decentralization, diversity, zero emissions from households, spontaneous actions to reduce emissions

Emergence of and increase in rivals and new entrants
Market monopolies and oligopolies
Increase in information security risks

Stronger needs for regional energy management systems (local production for local consumption)
Increase in regions promoting smart cities/greater needs to use urban OS
Increase in needs for differentiation of each region
Increase in sustainable incentive usage

Energy × MaaS business
Service for discovering attractive qualities of regions
Sustainable incentives that promote changes in behavior

Second
scenario:
1.5℃ × Forced
In this scenario, there is unified awareness of climate change, and powerful government policies to counter climate change are acceptable. Governments are allowed to gather and use the necessary data, and take a lead in decision-making to optimize resources in each region. It becomes common to share things and restrict consumption, and policies are put into place for more economical living and mobility. Government agencies use privatesector resources and begin to develop comprehensive data-driven services.
Uniformity, government-led reengineering of society, wide area collaboration, data usage, restrictions on emissions of individuals, zero emissions from households

Decline in number of local government entities
Market oligopolization
Emergence of and increase in new entrants
Increase in information security risks
Emergence and increase in ethical and human rights problems

Increase in regions promoting smart cities/greater needs to use urban OS
Increase in needs to manage and use personal data
Increase in needs to visualize and utilize CO2 data

Resource aggregation
Automated environmental load data collection and analysis system
Comprehensive data-sharing platform

Third
scenario:
4℃ × Forced
In this scenario, governments increase measures to prevent disasters as the transition to a carbon-free society is derailed. Government control strengthens; cities, towns, and villages merge together; and administrative districts become more rigid in rezoning.
Communities begin to realign, and unseen discrimination among citizens and surveillance becomes more prevalent. Primary industry and tourism are impacted by climate change, industrial competitiveness declines, and unemployment rates increase. Digitalization progresses for healthcare, disaster forecasting, and education.
Organize districts prone to natural disasters, investment in reconnaissance measures, streamlining of local governments, fiscal troubles at local governments, decline in tourism industry, surveillance society

Decline in number of local government entities
Emergence of and increase in rivals and new entrants
Privacy ignorance and resistance to forced collection of personal data
Dysfunction of business bases due to natural disasters

Increase in government measures to prevent disasters
Increase in needs for wide-area collaboration and review of administrative districts
Increase in government needs to diagnose aging infrastructure
Increase in needs for standardized platform services in wide-area collaboration

Urban planning with digital twins/simulations
Infrastructure monitoring and diagnosis services
Remote management and control services for disaster prevention
Biometric identification services (verify survivors in emergency situations, purchase essential items)

Fourth
scenario:
4℃ ×
Spontaneous
In this scenario, temperatures increase and disasters occur, but governments have trouble responding, and selective concentration begins for much of infrastructure and services, while privatization progresses. Disparities and stratification increase between people who have and people who cannot maintain current comforts, such as spending, education, healthcare/welfare, and living environments. People and companies relocate to areas with lower risks of natural disasters. Regions that failed to privatize and entice private-sector companies experience an outflow of population and a worsening tax base, threatening their existence.
Privatization of government services, widening disparities in incomes and regions, hierarchical communities, digital and virtual spaces, insolvency in social infrastructure

Decline in number of local government entities
Emergence of and increase in rivals and new entrants
Dysfunction of business bases due to natural disasters

Privatization of infrastructure and public services
Increase in needs to rebuild urban infrastructure
Increase in needs from private sector for disaster prevention and disaster prediction
Increase in heatstroke countermeasures, acceleration in digital healthcare

Customizable weather forecast systems and apps
Resilient communications infrastructure services
Health management services for heatstroke
Risks and Opportunities for All of NEC
NEC identifies and classifies impacts arising from climate change as short-term, medium-term, and long-term risks and opportunities. Under the examination process, NEC evaluates the future impact of climate change based on scenarios after existing businesses are reorganized from a climate change perspective. At the same time, we confirm assets for addressing risks and taking advantage of opportunities. Major risks and opportunities are reflected in mid-term management plans.
Risks
Description
Countermeasures
Transition risk
Risks from carbon pricing

Assuming all of NEC's Scope 1 and Scope 2 emissions (about 210,000 tons) when SBTs are achieved in fiscal 2031 are subject to carbon pricing ($100/t-CO2), costs will increase by ¥2.3 billion (assuming ¥110/$)
Assuming impact from higher costs in upstream and downstream supply chains

Increase use of renewable energy and achieve thorough gains in efficiency to realize each target for SBTs (2030 and zero CO2 emissions [2050]) (ongoing efforts in supplier engagement and to improve energy conservation performance of products)
Physical risk
Possible disruption of the supply chain due to weather-related disasters (floods, landslides, water shortages, etc.), long-term outages of lifelines such as electricity, gas, and water
Risk assessment of the entire supply chain, BCP measures (installing flood gates and moving power supply equipment) with provisions for weather-related disasters, such as river flooding, and strengthening of power generation in data centers
Opportunities
Description
Creation and expansion of opportunities
Value toward transition risk countermeasures (mitigation)
Development of low-emission transport infrastructure
Logistics visualization and route optimization driven by AI and IoT; EV/PHV charging cloud
Support for expanding renewable energy use
Virtual power plants, management of power supply and demand, commercialized resource aggregation (RA) for the supply and demand adjustment market, xEMS, etc.
Support for reducing energy use
Process reforms using DX initiatives (work automation, smart factories, supply and demand optimization), products, and technologies that help save data center energy (phase change cooling, new refrigerants, etc.)
Value toward physical risk countermeasures (adaptation)
Preparation for increase in weather-related disasters
Pre-disaster detection using AI, IoT, image analysis, flood simulation, evacuation support, etc.
Preparation for increase in forest fires
Forest fire monitoring and quick response systems, disaster monitoring by satellite, etc.
Preparation for changes in areas suitable for agricultural production
Simulations that forecast effects and changes in agriculture, agriculture-oriented ICT solutions, etc.
Preparation for the spread of infection
Infectious disease countermeasure solutions, preparation of a logistics information management platform in the event of a global infectious disease, remote work, telemedicine support, education clouds, etc.
Introduction of Internal Carbon Pricing
With the aim of improving energy efficiency and promoting the introduction of low-carbon facilities and equipment, we have set an internal carbon price. This price allows us to convert the CO2 emission reductions that would result from a given capital investment into a monetary value, which we can then use as a reference when making investment decisions.

Furthermore, the aforementioned carbon pricing mechanism will drive our decarbonization activities going forward and reduce the risk associated with potential increases in carbon taxes and emissions trading in a carbon-free society of the future.
Our ICT solutions reduce the overall CO2 emissions of customers by enabling their operations to become paperless and by improving the efficiency of work, the movement of people, and the movement and storage of goods. As customers and society move forward with measures to lower CO2 emissions, the opportunities for NEC's ICT solutions to make a contribution will increase.
Helping Companies Achieve Net Zero through the Resource Aggregation Business
With the aim of achieving carbon neutrality, efforts to make renewable energy humanity's mainstay source of electricity are proceeding on a global scale. In Japan, with the increased introduction of solar power and wind power, which have large fluctuations in power output, maintaining a balance between demand and supply in power grids is becoming more challenging. To address this problem, in April 2021 a reserve capacity market was established, which facilitates reserve capacity trading and thereby helps maintain a balance between supply and demand through absorption and augmentation in response to fluctuations in the supply of power from renewable energy. In the past, reserve capacity was supplied by aging thermal power plants with low operating rates. Since the opening of the market, however, storage batteries, private power generators, and other distributed power sources that can respond to fluctuations with a high degree of flexibility have also been able to supply their reserve capacity. As the reserve capacity supplied by distributed power sources can replace the reserve capacity supplied by aging thermal power plants, distributed power sources will play a major role in establishing renewable energy as society's mainstay power source.
By using new energy management technology that enables the integration and remote control of such distributed power sources as the power generation facilities and storage batteries of companies, NEC realizes virtual power plants that are an aggregation of all distributed power sources and function just as if they were actual power plants. In this way, we are helping to stabilize the power grid and make renewable energy the mainstay power source. Since 2019, NEC has been offering the NEC Energy Resource Aggregation Cloud Service, which is enabled by NEC's IoT technology. This service uses ICT to forecast demand and control and optimize multiple energy facilities, such as solar power generation installations, storage batteries, and electric vehicles (EVs). By remotely controlling consumers' storage batteries and energy management systems in light of the supply–demand balance and using demand response*2 to curb demand, the service helps stabilize the power grid. As these types of control also eliminate the unevenness and waste in solar power generation, they pave the way to zero emissions for individual companies. With its sights set on decarbonizing society as a whole, NEC will use the aforementioned technologies to become a resource aggregator that controls distributed power sources within the Group and at customers' sites and participates in the power trading market.
*2

Curbing consumers' use of power by changing power consumption patterns through the pricing of power or the payment of incentives when the market experiences price hikes or when grid reliability is low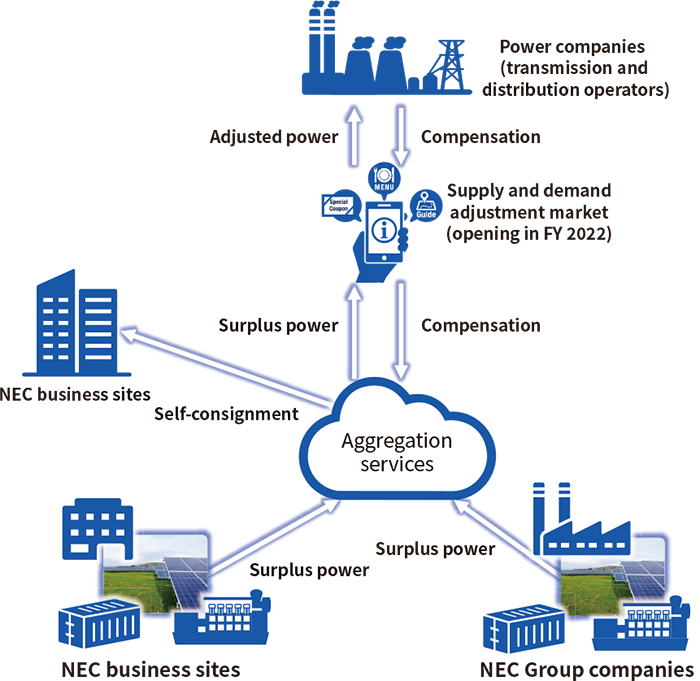 The social infrastructure business, on which NEC is focusing its efforts, an help society adapt to the range of impacts stemming from climate change, including disasters, water shortages, food shortages, and health hazards.
IoT-based River Water Level Monitoring System
According to the United Nations IPCC, climate change is expected to increase the risk of flood damage in large cities and the risk of infrastructure shutdowns due to extreme weather events. In Japan, damage caused by the flooding of small rivers during typhoons and torrential rain is becoming a problem. Consequently, there is a need to monitor river levels in real time and provide information to residents.
In response to this risk, NEC is developing the IoT-based River Water Level Monitoring System, which can help keep communities safe by using low-power wide-area (LPWA) technology to collect real-time data on changes in the water level of rivers and by making the collected data visible via the internet. The system's dirt-proof, non-contact remote sensors do not require separate power supplies and are easy to install. The sensors update data on river water levels hourly in normal times and every 10 minutes during heavy rain. This data is sent to a cloud server using LPWA technology and made available to the public through a website. Municipal authorities can use the information to establish local disaster prevention plans and emergency responses. In addition, residents can access information on rivers in real time, enabling them to prepare early and heightening their awareness of disaster prevention. As of March 2021, we have already begun conducting proving tests of the system in the regions of more than five municipal authorities in Japan.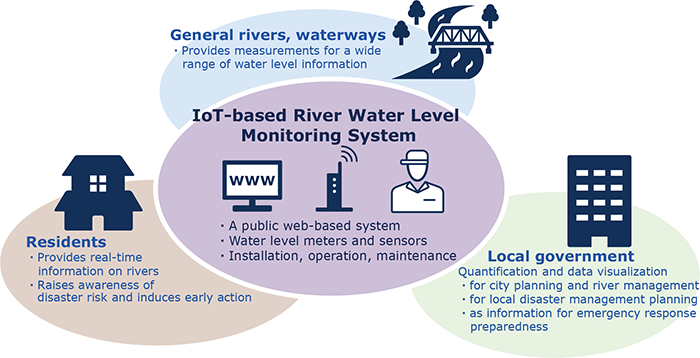 Greenhouse Gas Emissions: Targets and Results
Emissions in fiscal 2022 were as follows. All figures have been certified by third parties.
| Item | Target | Results |
| --- | --- | --- |
| Scope 1 and 2 | 16.8% reduction (compared with fiscal 2018) | 31.1% reduction (compared with fiscal 2018) |
| Scope 3 | ― | 26.6% reduction (compared with fiscal 2018) |

| | |
| --- | --- |
| Scope 1 | 22 |
| Scope 2 | 302 |
| Scope 3 | 6535 |
| Category 1 Purchased goods and services | 3439 |
| Category 2 Capital goods | 152 |
| Category 3 Fuel- and energy-related activities not included in Scope 1 or Scope 2 | 56 |
| Category 4 Upstream transportation and distribution | 353 |
| Category 5 Waste generated in operations | 9 |
| Category 6 Business travel | 15 |
| Category 7 Employee commuting | 4 |
| Category 8 Upstream leased assets | 2 |
| Category 9 Downstream transportation and distribution | 0.01 |
| Category 10 Processing of sold products | 0.2 |
| Category 11 Use of sold products | 2504 |
| Category 12 End-of-life treatment of sold products | 0.3 |
| Category 13 Downstream leased assets | — |
| Category 14 Franchises | — |
| Category 15 Investments | — |
Breakdown of Scope 1, 2, and 3 Greenhouse Gas Emissions