Displaying present location in the site.
Using Bioplastics in Products
NEC has developed and is now commercializing NeCycle™ (pronounced "new cycle"), a new bioplastic that uses plant resources as its primary raw material. The brand name NeCycle indicates a new style of recycling: a recycling of the material itself as well as a recycling of the CO₂ that is absorbed by the plant component that constitutes the material's main resource.
Environmental Mid-Term Plan
Promoting the use of bioplastics in products is one of the specific goals of NEC's Mid-Term Environmental Plan.
Bioplastics as defined by NEC
To be called a bioplastic, the plastic must be listed on the Positive List of the Japan Bioplastics Association (JPBA) as a plastic with a biomass ratio of 25wt% or more.
The plastic must not include any substances prohibited by the JBPA. (Definition revised in FY 2014/3.)

NEC bioplastics must also satisfy the following requirements:
They must use materials developed primarily by NEC.
The flame-retardant polylactic acid component must meet the following specific criteria:

A biomass (organic component) ratio of more than 50wt%.

A petroleum ratio of 50wt% or less (compared with petroleum-based plastics made by NEC).

(Definition revised in FY 2014/3.)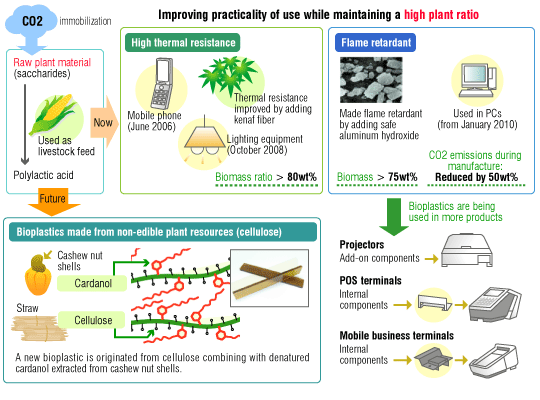 Examples of using bioplastics in NEC products (includes products no longer on the market)