Displaying present location in the site.
Customer-Oriented Corporate Culture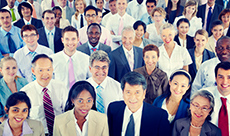 NEC has defined its CS activities as an integral part of its business to offer value to its customers. To this end, instead of implementing a uniform company-wide initiative, NEC is promoting various unique initiatives that match the characteristics of each business area.
In addition to organizational-level efforts, work by individual corporate members is also important to achieve higher CS. All corporate members must focus on the customers and think about what they can do to enhance CS.
Therefore, organizational-level efforts and improvement efforts by employees on site are the two major driving forces behind NEC's CS enhancement activities.
"People" is the basis of developing and supplying products and services that deliver high customer satisfaction. Each and every member of NEC should have an awareness of making a contribution to the customers and society. It is crucial to codify in the corporate culture the concept that each member should consistently pursue the ideal of "Better" to achieve higher customer satisfaction.
NEC is promoting the codification of the customer-oriented corporate culture by developing CS education programs, promoting improvement activities in each workplace, and giving awards for excellent initiatives.
The driving force behind CS activities is "people". Even with a perfect system, it is not possible to provide customers with high-quality products and services unless the employees who handle them understand the customers. From this perspective, NEC emphasizes CS education and enlightenment activities focusing on "people".

One of the things we have to be aware of is that when people become accustomed to doing a routine CS improvement activity, they may become complacent. Therefore, NEC provides career milestone education (stratified CS education) in consideration of each workplace and job role to reinforce the importance of CS and of being customer-oriented. By reviewing their duties from the basics, employees confirm the roles they play and the actions they must take.

In addition, a series of educational programs is being launched to link CS from recognition to action in everyday activities. This provides an opportunity for NEC employees to master how they approach applying the customer-oriented point of view to specific actions or to learn key points to create customer value and improve CS with case examples.

In this way, by broadly highlighting the importance of CS from a different perspective, NEC is developing the CS Mindset of employees and a customer-oriented corporate culture.