Displaying present location in the site.
NEC Make-a-Difference Drive (MDD)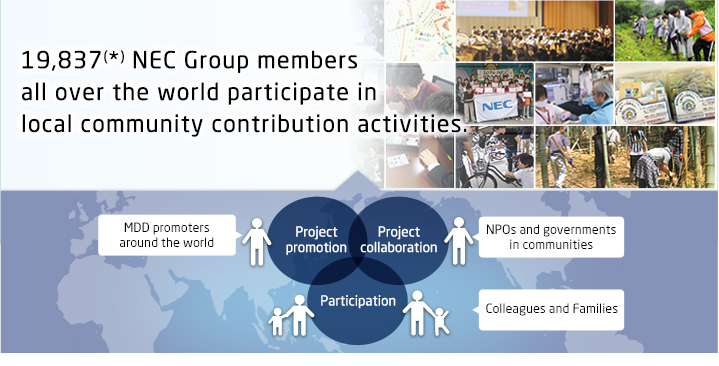 * April, 2017- March, 2018
The NEC MDD started in 1999, coinciding with the 100th anniversary of the establishment of NEC, as an initiative in regional community contribution activities with NEC Group members volunteering under the slogan "Making a Better Difference. Think Globally, Act Locally".
Promote activities contributing to solving local social problems in cooperation with various stakeholders as a good corporate citizen.
Promote activities based on the three mid-term themes of social contribution activities.
Welfare and Diversity
Environment
Education, Culture and Sports

The objective of NEC MDD is to contribute to solving problems in local communities, foster a sociocentric corporate mentality, and enhance corporate value by making regional contributions through social contribution activities in various parts of the world.
Making a Better Difference. Think Globally, Act Locally
Activities organized by local governments according to the local situation and participating as a local base.

Project activities in cooperation with NPOs that have knowledge about local issues

Collection activities (used tennis balls, foreign coins, used postage stamps, etc.)
MDD promoters who are assigned to each base around the world create and promote activity plans that are appropriate for the current situation in that region. In addition, not only activities done by the business units or companies, but also ones by any indivisual or voluntary group can be reported.

This logo was designed by a NEC Group member in the US based on "Heart-on," the NEC's mascot for volunteer activities.