Displaying present location in the site.


The NEC Group launched the NEC Paddy Making Project in partnership with the authorized NPO Asaza Fund to raise environmental awareness among its employees and their families and protect biodiversity. The goal of the project is to restore wild crested ibises in 100 years' time.
The project has a nature-oriented participatory program where participants get to experience a series of rice-related jobs, from rice planting to sake brewing, throughout the year in Yatsuda near Kasumigaura, Ibaraki Prefecture, and other locations. A total of nearly 16,120 NEC Group employees and their family members have taken part in this program.
This project also offers opportunities for various ICT-based demonstrations and co-creation efforts. In one demonstration experiment, for example, a weather observation sensor system (product name: Weather Bucket) is installed in the middle of a rice field to study and analyze the relationship between observation data and ecosystem and biodiversity.
In addition, a new trial began in fiscal 2019 in cooperation with a project partner, Hirose Store (sake brewery), introducing the NEC Refined and Unrefined Sake Analysis Cloud Service for the brewing of "Aitei-de-eko", a brand of sake produced as the product of this project. This leads to the visualization of experience and intuition of brewers and enables comparison with past brewing data as well as analysis of the relationship of production processes, potentially enhancing the quality of Japanese sake even further. Other co-creation efforts are also underway with Hirose Store to improve this service and create new features.
I challenged to study about past and present rice farming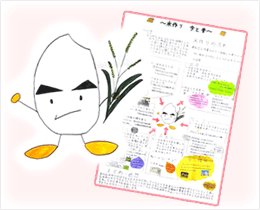 We received a summer vacation homework from a 5th grade elementary school girl who lives in Kawasaki City, Kanagawa Prefecture and has been participating in the "NEC Paddy Making Project" since she was a first grader.

The report said that she studied rice farming in her classes when she became a 5th grader, and her experience in the NEC Paddy Making Project helped a lot when she grew rice for the class project.
She learned that most rice farming work was done manually in the past and the use of machinery made rice farming easier.


Summer Vacation Homework (PDF:335KB)
Rice Field in Ravine, Before and After Reclamation
It had not been cultivated for over 30 years, and was a swampy field where nobody entered.
Organisms returned to the revived rice fields, and the place became a playground for local children.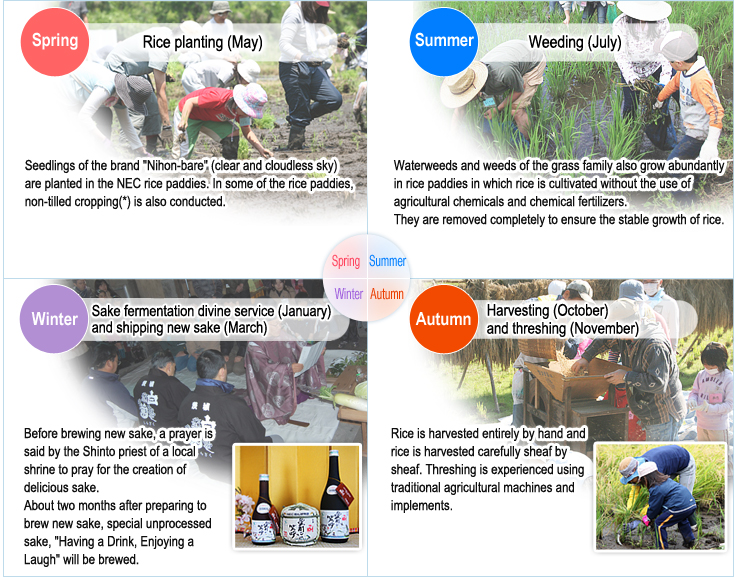 * No-tilling farming is a method to grow nursery plants without tilling rice fields, and it can reduce tilling time and suppress weeds because the soil is not tilled. It is a recycling farming method using the symbiosis environment with organisms without using agricultural chemicals such as chemical fertilizers, chemical herbicides and pesticides.
Introducing the NEC Refined and Unrefined Sake Analysis Cloud Service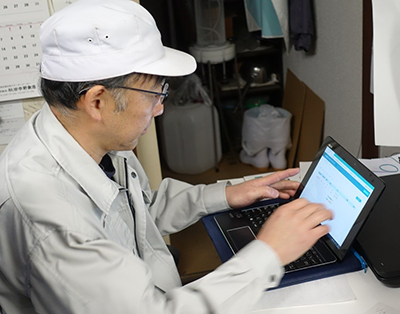 Collecting Observation Data Using Sensor System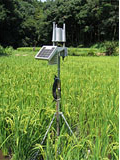 The weather observation sensor system (Product name: Weather Bucket) is installed in NEC rice fields.
In what environment does the rice we planted grow? In what habitat are the organisms that gather in the rice fields living? They can be researched using the weather data collected using this sensor system.
Introduction of Sensor System
Measurable targets

Temperature, humidity, atmospheric pressure, amount of solar radiation, precipitation, wind direction/wind velocity (average, maximum instantaneous), underwater temperature (underground temperature)

Features

All-in-one 7 sensors installed
Eco-friendly product powered by solar battery
Measurement data recorded every 10 minutes
Auto collection using radio, 3-month data storage, etc.
Weather Bucket is a product of SEC Corporation (NEC-NET Group). For product details, visit the SEC Corporation website.