Displaying present location in the site.
NEC Nature Quest in Shiba Park

Since FY2011, we have held lunch time gardening and family events on holidays in Minato Ward of Tokyo where the NEC headquarters building is located to create the "Biodiversity Garden" under the slogan "Habitat for Parantica sita butterflies in Shiba Park".

Many NEC Group employees and their families participate in these long-term activities to encourage natural growth revegetation and bring back organisms that once inhabited there, and enjoy learning about local nature and geological history.
This activity received the 49th Tokyo Metropolitan Park Association Award, Encouragement Prize (Volunteer Category) in 2014.
NEC Group's Goal of Biodiversity Conservation and Contributions to Communities
Many butterflies can be seen in urban areas.
Parantica sita butterflies are famous as a travelling butterfly. They travel from Taiwan and Okinawa to Kyushu and Honshu across the sea in spring for breeding, spend summer in the plateau areas in Honshu, then travel back to the south in fall.

Tokyo is on their migration route, and they are seen in Hibiya Park and Shunjuku Gyoen.
We are conducting activities to create an environment where Parantica sita butterflies can visit through biodiversity garden maintenance in Shiba Park.

This activity contributes to local environment beautification and biodiversity conservation in cooperation with local governments, NPOs and local communities while contributing to community development where employees and their families come in contact with the surrounding nature and people in the community enjoy.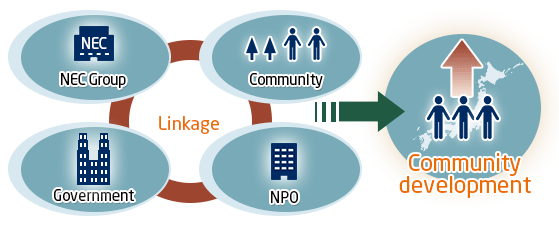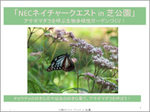 On Sunday, November 30, 2014, twenty-five (25) NEC Group employees and their families and neighbors participated in this event to observe changes to the garden using a tablet PC, enjoyed a walk in Shiba Park, and planted food grasses for Parantica sita butterflies then they created Christmas ornaments with acorns and pine cones they picked in the park at the end of the event.



Comments from participants
I enjoyed nature with my child in the heart of the city. I can't wait to see the flowers bloom.
I didn't know that NEC conducted an activity in Shiba Park. I want NEC to continue this activity.