The seven themes for social value creation

Work Style
An era has come where co-creation with people having diverse backgrounds makes countries, regions, and organizations stronger. Eventually the time will come when people will work without boundaries of generation, gender, nation, and organization, and even cooperate with AI and robots. Through ICT, NEC will design diverse work styles to create high-quality work and employment.
Looking ten years ahead
Creating a society where each person achieves one's full potential and works with energy and enthusiasm
Social background
With the lack of labor in advanced countries, the industrial structure has changed because of the progress of ICT, sense of values is diversifying, and it will be necessary for individuals to work in the optimum environment for themselves without restriction on time and place.
NEC's approaches
NEC has adopted new work styles for delivery to customers, including the expansion of teleworking, introduction of AI, Robotic Process Automation (RPA), and the "EmpoweredOffice" which led to the enhancement in creativity and productivity.
NEC's vision for the future
NEC works with customers and partners to realize a society where individuals work with energy and enthusiasm because the use of ICT creates and supports the optimum environment for companies and their workers.
Changes ICT brings to our work
Advances in AI, the Internet of Things (IoT), and robots have taken over the work traditionally done by people resulting in dramatic improvements in productivity. In a paper entitled "The Future of Employment" (2013), Professor Michael Osborne of the University of Oxford pointed out that around 47 percent of total US employment may be automated in a few years or in the next decade. Japan's Ministry of Economy, Trade and Industry (METI) announced (2016) that by 2030, approximately 4 million people will have shifted to industries such as the service industry, where higher value can be generated through direct handling by humans, or to core activities for creating new businesses.
Humans will be engaged in tasks that can only be carried out by people or in tasks that have higher added value when carried out by people, which include finely tuned, customer services, and new business creation through the use of AI and robots.
Such a future is certainly approaching. One of the examples is the introduction of RPA. RPA is a term referring to robotic process automation and realizes automation of manual operations processes by preregistering operational procedures performed by humans.
By promoting the replacement of tasks that have been done by humans and routine tasks by software robots, it becomes possible for human workers to spend time on tasks that have higher added value.
Diverse backgrounds and values of workers
In the next decade, the difficulty in maintaining a workforce has become an increasingly serious problem in some advanced countries, such as Japan, because of the decline in the working-age population as a result of aging. Accordingly, it is necessary to establish an environment where everyone, including those who take care of children or nurse the elderly, people with disabilities, the elderly, and those who live in remote areas can work without restrictions on employment to achieve their full potential.
Moreover, it is noteworthy how people's view of working has changed. The proportion of millennials as digital natives against the world's workforce is further going to increase in the future. The study*1 revealed that millennials attach weight to a work-life balance and prefer flexible work styles, such as teleworking and flexible work hours, and tend to choose companies that have similar values to theirs.
Accordingly, in the future with workers of diverse backgrounds and values, the use of ICT will become essential so that individuals can work in an optimum environment without the restrictions of time and place.
*1 Deloitte Millennials Survey (2016) by Deloitte
New work styles to be realized through ICT
When people become involved in high-value-added jobs and can work without restriction on time and place as a result of ICT, people will search for jobs that best suit their values, lifestyles, and skills anywhere in the world, and labor market liquidity will increase. Companies are subject to global competition for human resources while expanding opportunities for co-creation with organizations and people.
In the event of such changes, companies must establish an attractive environment for workers and provide support to improve creativity in order to survive the global competition. For instance, companies must provide a workplace where workers in remote areas can connect flexibly, design an office that improves creativity, develop a mechanism to access internal and expert knowledge at any time through AI, and develop a mechanism to find the experts required for projects in a timely manner, and provide effective training using virtual reality that makes recipients feel as if they are there in person and would not be possible through lectures or videos.
In order to realize the creation of such an environment and provide such support, NEC will implement the approaches to develop a system for new work styles using ICT and then provide customers with the expertise to develop solutions and services. We have already proceeded with the expansion of teleworking, introduction of RPA, AI, and the "EmpoweredOffice" to enhance creativity and improve productivity through the integration of the use of ICT and office space. NEC utilizes ICT with customers and partners to realize a society where each person can achieve one's full potential and work with energy and enthusiasm.
Initiatives for the future 01
EmpoweredOffice
More than 30,000 visitors – Active communication in offices leads to a 30% increase in profits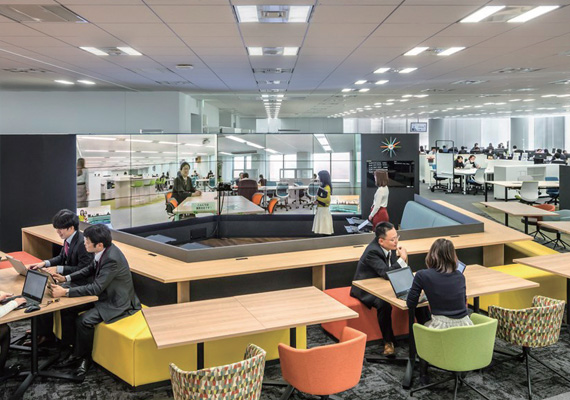 What kind of office environment can meet the dual demands of accommodating diverse working-styles and improving productivity in today's business world? By completely renovating its offices, NEC Networks & System Integration Corp. (NESIC) managed to increase its per-employee profit by 30% (for its Enterprise Solutions Operations Unit) over 4 years.
NESIC supports the creation of all-encompassing work environments that incorporate office space, ICT, and other systems, based on the concept of "EmpoweredOffice." It has more than 10 years' experience in putting such work-style innovation into practice internally. The company combines digital technologies and spatial design to promote collaborative work with open communication and a flat hierarchy.
Working digitally and not on paper is essential for establishing a culture of sharing and utilizing knowledge. It's now also possible to have two remote locations always connected by video links, allowing for face-to-face meetings that transcend physical locations and departments. In addition, flow planning allows for open meetings where walk-in participants are welcomed and empowers staff to speak freely. Transforming offices in this way shortens decision-making processes and increases the flow of ideas to accelerate innovation.
Initiatives for the future 02
Supporting people at work through the use of AI & Robots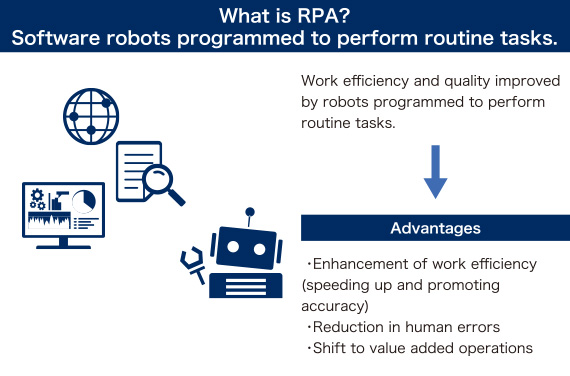 NEC currently works on new business operations where humans and AI & Robots work together. In 2016, NEC Management Partner, Ltd., commenced trials to apply RPA to business operations in the accounting and financial departments. Based on the results of the trials, where a total of 23 software robots were introduced for eight tasks, 26 software robots are planned to be introduced in FY 2017, and it is expected that the workload of approximately 30 people per year can be reduced. We provide customers with NEC's Group-wide knowledge for the introduction of RPA as the software product of "NEC Software Robot Solution".
Moreover, NEC developed NEC Automatic Answering that supports prompt and accurate responses at call centers using AI. We are expecting to achieve a reduction in the working hours of operators by 30% or more at our call centers.
The achievements in our productivity improvement and the knowledge we have gained through the introduction of AI and Robots to our operation become expertise when we provide customers with our solutions and services.
Social Value Creation Report
The technology that holds the key to resolving labor shortages
Unraveling the issues that construction sites face