The seven themes for social value creation

Lifeline Infrastructure
Global urbanization is accelerating the diversity and complexity of production and daily life infrastructures. Using advanced and flexible ICT systems to reduce differences between regions and time zones and realize 24/7/365 uninterrupted infrastructures, NEC is continuing to provide important resources safely and efficiently.
Looking ten years ahead
Realizing uninterrupted infrastructure and services through a Flexible social platform
Social background
The IoT platform becomes a lifeline for all aspects of daily life. The data collected are delivered via Information bank and used beyond business categories, further promoting the collaboration of services.
NEC's approaches
NEC contributes to the safe, secure operation of important infrastructures by promoting preventive maintenance via AI and IoT technologies and global deployment of the IoT platform, FIWARE, which is suitable for linking local governments and corporations.
NEC's vision for the future
NEC contributes to realization of a sustainable society by providing uninterrupted services that support the infrastructure 24 hours a day, 7 days a week by taking the initiative to promote the use of data and service links beyond the boundaries of business categories.
The IoT platform is transforming into a lifeline
Electricity, gas, water and sewerage, communication, transportation, and the distribution networks for necessities are lifelines for people and the economy. In the future, such lifelines must respond flexibly to the concentration of the population into urban areas, changes in the population structure such as aging, as well as aging infrastructures, and disaster risks. In response, the IoT is becoming widespread as part of the lifeline. One example is the implementation of smart meters. Electric and gas data collected through smart meters is changing the services provided by corporations in conjunction with the analysis by AI technology. At the same time, the widespread use of smart meters in daily life will change consumer behavior and lifestyles. Furthermore, the IoT will support the uninterrupted operation of convenience stores, which evolved into a lifeline infrastructure offering regional services that include financial services and livelihood support for the elderly.
This technology will prevail across the service domain as typified by retail sales, healthcare, finance, and other services.
The IoT platform that provide IoT services will cover all aspects of daily life and become a lifeline after a decade. The collected data will embrace the new value that creates innovative services for local governments, corporations, and other service providers to offer an enhanced quality of life. This will also promotes the use of data via the Information bank or trade markets.
Consumer convenience and population declines from a falling birth rate and aging in some advanced countries have resulted in a decrease in financial resources for the social security system. Consequently, there is a need for a system that collectively controls and uses data to support society and consumers in a cross-sectoral manner instead of a closed system of individual local governments and corporations.
However, the current situation is that the linkage of local governments and corporations offering public services has not advanced. It is necessary to promote the use of data and service links beyond the boundaries of business categories in parallel with the establishment of rules for connecting data.
FIWARE is one of the measure NEC takes to resolve these challenges. Developed in Europe, FIWARE is a standardized IoT platform that has become popular for its suitability in linking local governments and corporations. Because the data can be handled as contextual information*1, the software enables data exchange between wide-ranging IoT platforms. Once a smart city is established in one city, other cities can divert the system without change. NEC is the only corporation in Japan*2 to participate in a not-for-profit organization, the FIWARE Foundation, which promotes the dissemination of FIWARE as a platinum member. We help enhance and reinforce the functions and dissemination of the FIWARE. NEC has introduced FIWARE into a system designed for Santander, Spain; Royal Borough of Greenwich, London, in the United Kingdom; and Kawasaki City in Japan, by initiating the effort in Europe and Japan.
*1 Used for executing programs. For buses, for example, location information, number of passengers, drivers, number plates, and other information can be used as contextual information.
*2 As of September 2017.
Realizing uninterrupted infrastructure and services
In smart cities of the future, ICT will be used to control and operate smart cities by connecting the lifelines that support people in the same way as the nervous system of living creatures. In emerging countries, the visualization of physical distribution systems, traffic congestion associated with population concentrations in urban cities, measures against growing energy consumption, and the maintenance of lifelines and financial systems available for the poor have become urgent issues.
NEC contributes to safe, secure operations by offering preventive maintenance in airports and power plants through system surveillance and abnormality detection, as well as preventive maintenance for railways and transportation systems through the streamlined inspection of operations and deterioration prediction. In addition, NEC is developing block chain technology, which is expected for use by public services with numerous authentication operations.
In addition to the previously needed physical robustness of infrastructures, NEC realizes uninterrupted services 24 hours a day, 7 days a week to support the infrastructures and livelihood using software to adaptively evolve Flexible social platform in response to small environmental changes. By taking the initiative in promoting the use of data and service links beyond the boundaries of business categories, NEC contributes to the realization of a sustainable society.
Initiatives for the future 01
The AI and IoT technologies are used to co-develop solutions to streamline LP gas delivery operations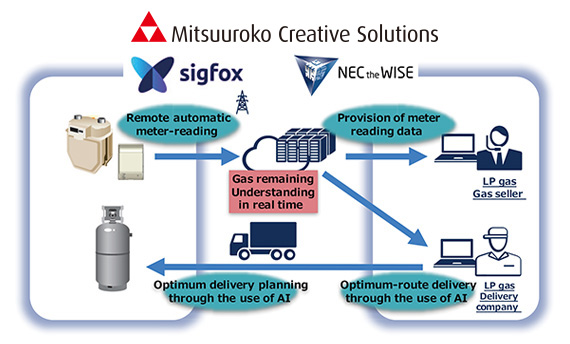 NEC partners with Mitsuuroko Creative Solutions Co., Ltd. and KYOCERA Communication Systems Co., Ltd. (KCCS) to launch the joint development of a project to streamline LP gas delivery operations for the first time in Japan. This solution uses AI and IoT technologies through Sigfox*1, which is one of the new wireless communication technologies, LPWA*2, enabling communications on low power. Three corporations have initiated the joint project to provide this solution.
Today, these are the only opportunities to obtain information on LP gas meters, which is an indicator of the amount of LP gas used inside the LP gas container. Meter readers visit consumers' homes to read LP gas meters, so that gas sellers can record the sales once a month, and LP gas containers are delivered to consumers' homes. In addition, in the LP Gas Centralized Monitoring System, although landline phones and mobile communication devices can be used to read meters, it has failed to gain widespread use because of the issues of communication costs, battery life, and the securement of power.
This solution installs NEC's IoT wireless communication unit for LPWA onto LP gas meters and the use of the KCCS's Sigfox communication services to allow the remote acquisition of LP gas meter data to help LP gas providers read meters and deliver LP gas containers. NEC's IoT platform, NEC the WISE IoT Platform, collects and accumulates acquired meter data. Moreover, NEC's state-of-the-art AI technology, NEC the WISE, constructs the optimal delivery date and the most efficient delivery route for the delivery of LP gas containers to consumers. This allows orchestrating the entire process of providing instructions for the number of containers to be loaded on the LP gas delivery truck. This solution brings a major change to the delivery of LP gas, where before the operations depended on people without having to rely on individual expertise. This allows more efficient delivery of LP gas at all times.
*1 It is a network standard for IoT provided by the French company, Sigfox. KYOCERA Communication Systems Co., Ltd. is the service provider in Japan. Currently, this network is used in 36 countries (as of September 2017), mainly in Europe, with the goal of expanding the service to 60 countries by 2018.

*2 LPWA stands for Low Power Wide Area, which is a collective term referring to wireless communication technology that allows communication in units of kilometers with the low consumption of electricity.
Social Value Creation Report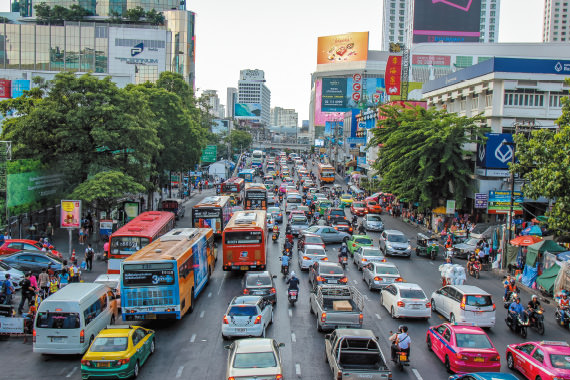 New approaches essential to relieve traffic congestions in world cities