The seven themes for social value creation
Safer Cities
& Public Services
The integrated threats from the cyber and physical worlds increases as the population concentration in urban cities grows and globalization advances, which creates greater demand for safety and security; consequently, NEC contributes to sustainable city management that will allow cities to demonstrate their regional appeal by joining hands with citizens, industry, government, and academia to realize a safe and secure citizen service platform utilizing ICT.
Looking ten years ahead
NEC contributes to sustainable city management to realize smart cities through data utilization
Social background
A Data-Driven Smart City will become a reality with increased use of personal data through Information bank while restoring the control of the data back into the citizen's hands. On the other hand, there will no longer be boundaries between the cyber and real worlds, highlighting the need to consider risks from both sides.
NEC's approaches
NEC provides a platform for data distribution and application across government ministries, local governments, and private companies. In addition, NEC utilizes its AI technologies such as the world leading*1 face recognition technology to secure both the cyber and physical worlds.
*1 NEC face recognition technology ranked No.1 in benchmark tests by the National Institute of Standards and Technology (NIST).
NEC's vision for the future
NEC Contributes to sustainable city management by utilizing ICT to provide safe and secure cities and public services for government ministries, local governments, and private companies.
Toward the realization of Data-Driven Smart City
Large platform companies have been unilaterally collecting personal data with the increased use of the Internet for shopping, searching for information, and communicating through social media. Today, there is a move to review that trend and allow citizens to regain control of their personal data. The EU established the General Data Protection Regulation (GDPR) to protect the basic right of individuals to control their personal data. Japan is also considering new systems to return the control of personal data to citizens, such as the application of antitrust law.
When companies receive personal data from citizens, they will ensure secure operations using a system of Information bank and data trading markets and provide services and products to citizens in return. This practice will gain ground not only in industries like healthcare and tourism, but also in other private companies and government ministries and local governments as can be seen in the introduction of the My Number system in Japan. Citizens need to actively engage in the process by selecting companies that ensure data security and appropriate limitations to the use of data. The analysis using AI of integrated personal data together with public data made available by the government, non-personal data obtained through IoT, and anonymized data, will enhance services to realize a Data-Driven Smart City.
The My Number system was introduced in Japan just recently, but the use of a personal identification number is prevalent in Europe and Central and South America. There are numerous examples of citizens using a personal identification number instead of a driver's license and insurance card. Vendor Relationship Management (VRM) to enable safe and convenient use of personal data, and the Personal Data Store (PDS) to make this happen, is being tested in some industries in Japan. This trend will accelerate, and will be widely used in Japan in the next decade.
Security for protecting personal data
The personal data handled by Information bank and data trade markets contain sensitive personal information. As ICT advances, the boundaries between the cyber and real worlds are becoming blurred. Cyberattacks will be more sophisticated, and the target will expand to the various lifelines throughout the real world, which will cause more serious damages to a society.
In order to protect data from these threats, it will be more important to take security precautions that cover both the cyber and physical worlds. NEC utilizes its world leading biometrics technologies to protect personal data. In addition to face recognition and fingerprint identification technologies that are ranked number one in the world*1 for accuracy, NEC has a wide range of biometric identification technology from palm print, finger vein, iris, and ear shape to DNA.
Face recognition enables real-time identification of people within a crowd without the subject being aware, and this technology is used in boarding procedures at airports. In addition, a personal authentication system using multiple types of biometrics data is used in the financial market to ensure secure transactions.
Toward sustainable city management
The approach towards safe and secure cities and public services differs between emerging countries and advanced countries. Emerging countries need to create safe and secure cities while improving the environment and transportation infrastructure. Advanced countries, in contrast, must focus on the sustainability of society to create safe and secure cities while addressing the decline of populations that many advanced countries will face in the coming years.
NEC realizes the visualization of all urban activities using innovations like "Digital Twin." Digital Twin feeds back optimal options generated using AI, by accurately understanding events in the real world and digitally reconstructing the information in digital space. Concurrently, NEC provides a platform for data distribution and application across different stakeholder that helps government and companies choose the best way for improvement or reform based on the results of multiple simulations.
While Europe has already established the idea that the administration of local governments is managed instead of operated, Japan has not fully embraced this idea. NEC has precedent case experiences in Europe and has an edge in security technology. We will contribute to sustainable city management with a higher perspective of the entire city and support government ministries, local governments, and private companies via ICT.
Initiatives for the future 01
NEC's efforts for Lisbon are listed in white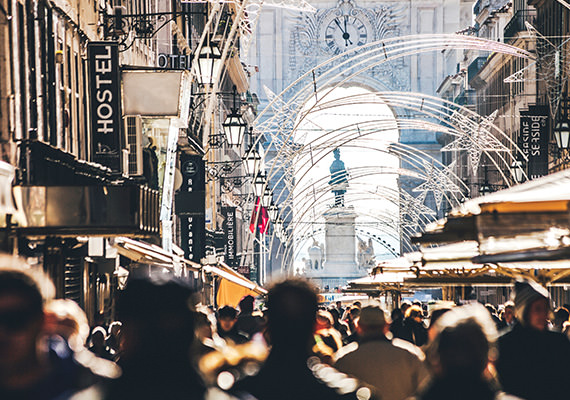 NEC Portugal, a group company of NEC, has been awarded a contract with Lisbon City in Portugal for a Smart City Infrastructure Project to be launched in February 2018. The goal of the project is to improve the quality of life (QOL) of the citizens and enhance urban security.
Lisbon is the capital of Portugal and has about 550,000 people. Popular as a tourist destination, the city considers integrating city environment data collected through IoT devices and data collected from external entities and several departments of the city in a cross-sectional manner by implementing digital transformation across the city in order to improve urban safety and the QOL.
In this project, NEC will integrate 10 systems implemented in Lisbon and 30 systems by external partners (airport, railway, transport bureau, environment related and energy entities, and the police) using NEC's Cloud City Operation Center and then establish the Municipal Government Services Integrated Operation Center*1, which will provide an overview of the whole city. NEC would like to provide efficient municipal government services by using NEC' s AI / IoT technologies to detect illegal parking and suspicious objects and by collecting and analyzing real-time data within the city (including weather, geographic, air pollution, and traffic congestion information).
NEC will support the process of the digital transformation of the government and businesses, provide solutions using the latest ICT technologies of AI and IoT, and contribute to the development of safety and the achievement of a smart city.
*1 A common platform system developed by NEC to visualize the status of the network environment and provide data analysis and simulations for industry-based smart services. The platform software was developed and implemented in Europe and features openness using FIWARE, which has been used in systems in many cities and businesses in Europe and other countries to achieve smart city status.
Initiatives for the future 02
NEC's Automated Security Intelligence uses AI technology to automatically detect unknown cyberattacks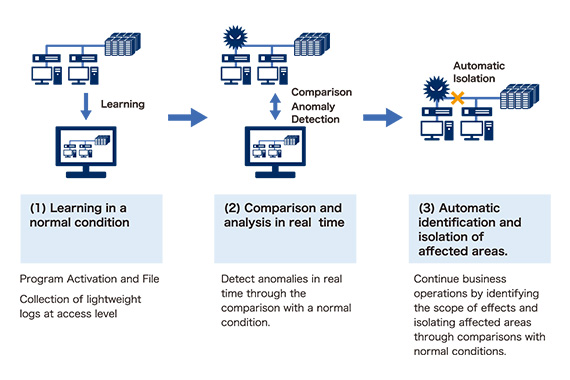 Cyberattacks targeting the information systems of companies and public institutions continue to grow in sophistication and numbers. There is increased risk of information leakage caused by targeted attacks and attacks on unknown vulnerabilities in software.
The mainstream of traditional measures against cyberattacks was based on information about existing viruses and attack methods. Because of this, it was extremely difficult to discover and detect attacks on unknown vulnerabilities in software or unprecedented attack methods. It takes a long time to detect the attacks, and some were brought to light only after receiving reports from outside agencies.
NEC's Automated Security Intelligence (ASI) uses security monitoring system to collect detailed activity logs of computers and servers. Utilizing AI technologies, the system generates and studies log data to understand the normal status of the system. By comparing the current status with this normal status, the system is able to detect unusual activities within the system in real-time, and automatically isolate the system from the network when an unknown attack occurs.
In addition to detecting attacks in the initial infiltration and "Actions on Objective" stages, the security monitoring system is able to detect signs of attacks throughout the attack process, including the intermediate phase such as the infection spreading phase, (lateral movement). This innovative technology allows for measures to be taken against new attacks for enhanced security. NEC will contribute to the safe and secure city management by applying this technology to critical infrastructures such as power plants and factories.
Social Value Creation Report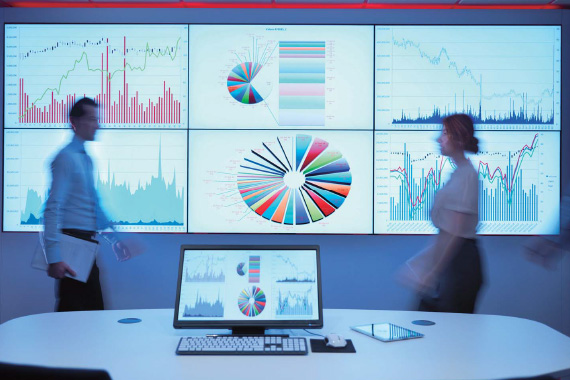 Renewed trust in demand A secure and safe digital society realized by co-creation
The Future of Cities with Increasingly Dense Populations
Secure & Safe Urban Spaces Protected by Digitalization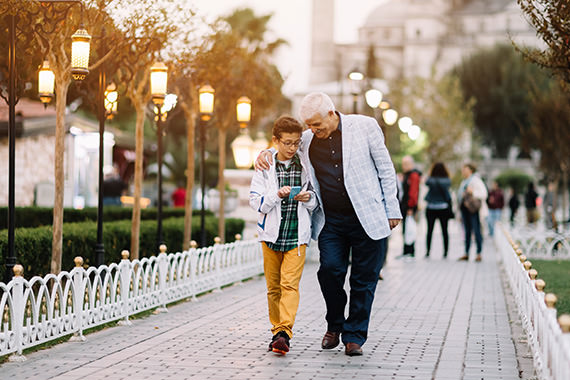 facilitated by digitalization
Urban development that enables sustainable economic growth