The seven themes for social value creation
Sustainable
Earth
Population growth, urbanization, and economic development have an impact on the global environment and bring increased threats that lead to a loss of biodiversity, resource depletion, and an increase in natural disasters. NEC will visualize the continually changing conditions of the earth and contribute to the realization of a society that coexists harmoniously with the earth, through the efficient and equal distribution of limited resources and measures to preempt the effects of threats to the earth.
Looking ten years ahead
Coping with the growing risk of climate change through mitigation and adaptation around the globe
Social background
A sustainable society is built by linking the mitigation efforts to reduce greenhouse gas emissions and adaptation efforts to prepare for the risks caused by climate change when coping with climate change due to global warming.
NEC's approaches
NEC promotes mitigation efforts by increasing efficiency through reforming the value chain and enhancing facility operation rates while making adaptation efforts for the prevention of damage by predicting disasters and implementing solutions to minimize damage.
NEC's vision for the future
NEC utilizes ICT to process the results from the mitigation and adaptation efforts to contribute to the realization of a sustainable society.
Resource consumption beyond the Earth's capacity
According to the Ecological Footprint published by the World-Wide Fund for Nature (WWF), humanity is already using resources equivalent to 1.5 times the Earth's biological productivity. At this rate, inhabitants may need two Earths by 2050. Because the excess consumption of resources is using the natural capital of the future, it is impossible to sustain society under current consumption rates. Resource consumption beyond the Earth's capacity has a considerable impact on the global environment and causes wide-ranging social problems.
One of the problems is climate change due to global warming. Climate change on a global scale causes water shortage crises, floods, mudslides, and other disasters around world. On the domestic front in Japan, many people feel that the humanity has been devastated by much more damage than sustained. Looking abroad, while desertification advances, some areas experience repeated floods, which indicate the greater frequency of natural disasters around the world. A report published by the Intergovernmental Panel on Climate Change (IPCC) under the auspices of the United Nations points out that climate change due to global warming causes natural disasters, health hazards, and substantial risks to social infrastructures.
For us to live in harmony with the Earth and build a sustainable society, we must continuously ensure optimal use of resources and improve the global environment.
Realization of a sustainable society through mitigation and adaptation efforts toward climate change
First, we must start mitigation that reduces greenhouse gas emissions to curb global warming. In the Paris Agreement signed in December 2015, each country recognized that they must work on a global scale to reduce carbon dioxide emission to keep the global temperature rise well below 2 degrees Celsius above pre-industrial levels and to pursue efforts to limit the temperature increase even further to 1.5 degrees Celsius. In addition, the artificial emission and absorption of greenhouse gases in the second half of this century must be equalized. All countries will voluntarily set a target figure for the reduction of carbon dioxide emissions as part of their efforts to achieve the goals.
NEC is joining hands with customers and partners to streamline production and physical distribution to innovate the value chain and increase facility operation rates to reduce carbon dioxide emissions throughout society. Additionally, NEC has set the goal of bringing carbon dioxide emissions from business activities to virtually zero by 2050. We are actively pursuing the goal by reducing energy use via energy-saving technology that leverages ICT and by expanding the implementation of renewable energy.
On the other hand, even if carbon dioxide emissions drop to zero, global warming will advance because of the greenhouse gases emitted in the past, and the impact of climate change cannot be prevented immediately. For that reason, simultaneous implementation of adaptation is necessary to prepare for the impact of climate change.
The floods, mudslides, forest fires, and other natural disasters cut off the lifeline of the supply of energy, water, food, and the production and distribution of commodities, which will have a considerable impact on society. NEC offers an array of solutions to prevent or minimize the damage by predicting disasters. In addition, we ensure that our supply chain addresses the risks of climate change.
NEC uses ICT to process the results of the mitigation and adaptation efforts to contribute to the realization of a sustainable society to live in harmony with the Earth.
Initiatives for the future 01
Participation in SPEAR, a joint development project for a next-generation electricity network in Singapore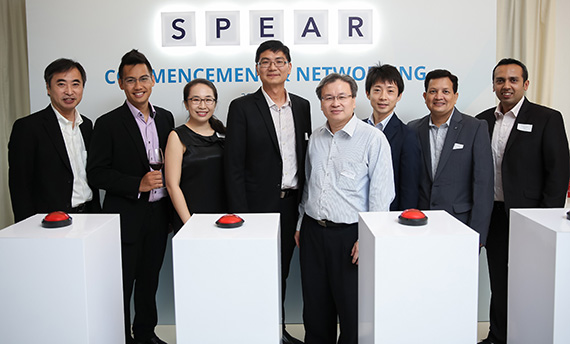 Participants from Singapore Power, Space-Time Insight, and NEC at the inauguration ceremony of the SPEAR Project
Along with Space-Time Insight, which has delivered numerous data analysis and visualization solutions, mainly to major European and US power companies, NEC and NEC Asia Pacific are participating in the Singapore Power Energy Advanced Research and Development (SPEAR), a next-generation power grid joint development project promoted by Singapore Power, which is Singapore's largest electricity company. In this project, we are investigating efficiency improvement of capital investment and maintenance based on big data analysis, real-time visualization and analysis of power failures, and advanced power failure management that accurately predicts the expected recovery time.
Taking advantage of the experience we gain through this collaborative project, we will accelerate the creation of new technologies and solutions that combine ICT and energy, and will continue to further expand the smart energy business in the Asia-Pacific region.
Initiatives for the future 02
Trial using flood and landslide simulation system in Thailand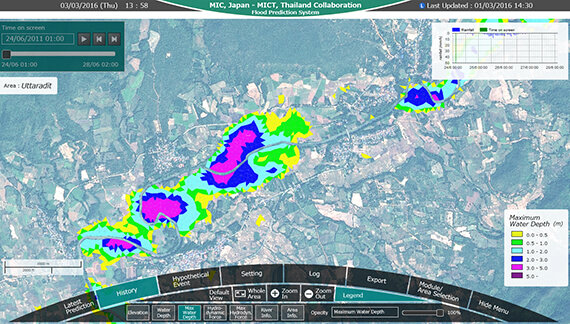 Screen image of the flood simulation system
In collaboration with the National Disaster Warning Center (NDWC), NEC conducted a trial of its system to predict inundation areas and landslide hazard areas.
Thailand is a country where floods are frequent. The flood of the Chao Phraya River in 2011 was a particularly damaging event, resulting in extensive damage to many industrial parks and urban areas, including Bangkok. This caused severe disruption of the global supply chain, and had a major impact not only on the Thai economy but also on the world economy. For this reason, countermeasures against floods are urgently needed in Thailand. Furthermore, landslides caused by heavy rain are also a frequent occurrence in Thailand, and because of the extensive human suffering and material damage they cause and their negative impact on logistics due to road closures, measures to mitigate the damage caused by landslide disasters are also a pressing issue.
In these trials, NEC ran simulations based on various data such as weather, topography, river, and soil conditions to predict inundation areas, maximum flood levels, levels of landslide risk, and so on, for up to 7 days in advance, and then confirmed the effectiveness of the system. Going forward, NEC will continue to promote the advancement and utilization of disaster prevention ICT for floods and landslides in Thailand and utilize the experience and know-how gained from these trials to proactively engage in the proposal of this system to Asian countries that frequently suffer damage from floods and landslides.
This trial is NDWC's first disaster prevention cooperation project between Thailand and Japan. NEC conducted this trial in collaboration with the Embassy of Japan in Thailand as part of the "Research and study for the development of a flooding simulator in Thailand" project commissioned by Japan's Ministry of Internal Affairs and Communications, and the "Research and study for the development of a landslide simulator in Thailand" project.
Social Value Creation Report
Disaster prevention investment that is directly linked to economic growth
Building resilient cities across the world