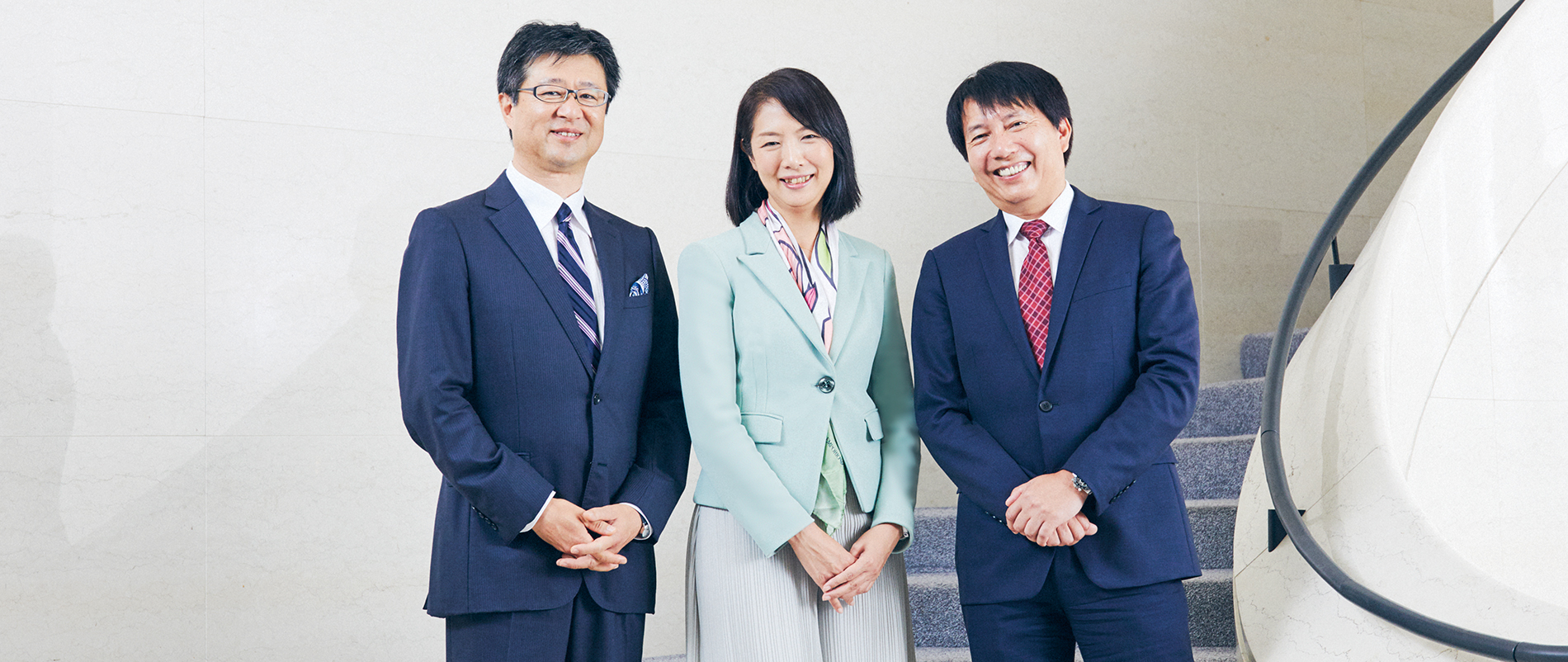 Connect, create, and change through Digital Transformation
What is NEC's understanding of Digital Transformation and how will it be used in resolving issues?
Kumi Fujisawa of the Think Tank, SophiaBank, Co-Founder, which conducts international critiquing activities, spoke with NEC's Makoto Enomoto and Hiroshi Kodama.

Makoto Enomoto
NEC Senior Vice President and CMO (Chief Marketing Officer)

Kumi Fujisawa
Moderator
Think Tank
SophiaBank
Co-Founder

Hiroshi Kodama
NEC Executive Vice President
in charge of the Enterprise Business Unit
We will create social value with customers using the power of digital technology.
We will continue to promote the change that maximizes customer value.
We will realize a prosperous society that ensures safety, security, efficiency, and equality beyond DX.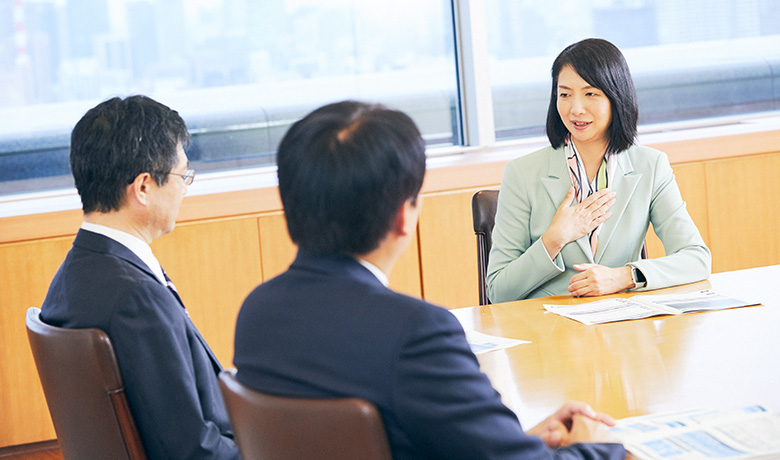 Digital Transformation is an opportunity for Improvement
During last year's NEC Vision, I asked you about how NEC will respond to the spread of AI and IoT and the digitalization of companies. This year, the theme is "Digital Transformation (DX)," and I am getting a sense beyond this change in your keyword that the speed of change throughout the world is accelerating. First off, tell me about NEC's understanding of the changes in the business environment arising from the shift from digitalization to DX.
As you can tell from another keyword that we hear more of, Society 5.0, this wave of change through DX is much more significant than any industrial revolution that we have experienced in the past, and it is progressing at unprecedented speed. Companies are rushing to keep up and create businesses and make changes, but I think the situation is like in a marathon where the leading group and the different groups follow them in a long line. The top runners in DX have created new business rules through DX and built the market from scratch. NEC is supporting the business transformation of our customers by working with them to co-create while taking on the challenge of creating our own business as a member of the leading group in the race.
Digitalization was a game changer. The axis of time has shifted, and this has changed business rules. With improvements in digital technology, everything is getting done over a much shorter time frame. By connected people digitally, the premise of business suddenly changed, and new players are creating a market using new rules. We are aware that the area in which ICT can demonstrate its value is expanding widely, and we are no longer limited to the conventional scope of IT. NEC has strong computing power and network technology, so we will create our ecosystem in these areas and work to resolve social issues. For NEC, this change in the business environment is an opportunity for growth.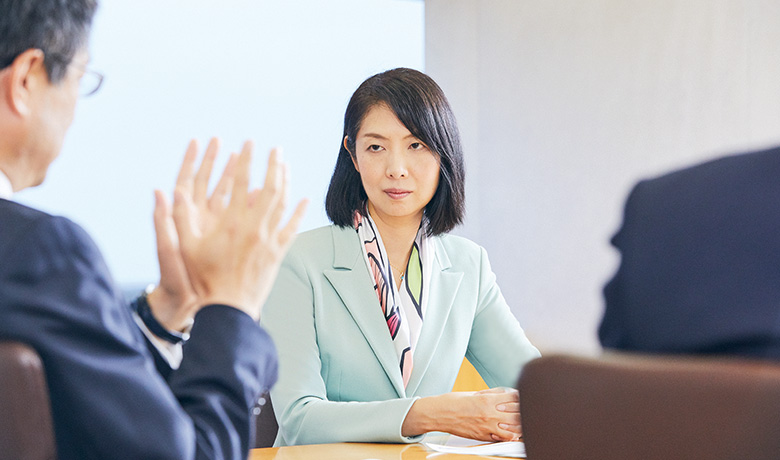 Actively making changes for better rules for society
Listening to the two of you, I get the strong sense that the rules are beginning to change. In the business world today, I suppose you can say that it is almost as if you were playing baseball, but then suddenly you were playing soccer with its fast passes. In this age where business rules are changing because of DX, will NEC be in a position to create those rules?
I think we need to actively change the rules to ones that are better for society rather than being at the mercy of those rules. We formed a new organization called the Regulation Investigation Center to communicate NEC's proposals for these changes. When changes occur in business rules, it is necessary to not only comply with the laws that are documented but to also respond to public opinion and obtain social consensus. It is the social responsibility of NEC to make proposals to the government and society for improvements and ways to increase efficiency in an effort to change rules and make them better for society.
I can understand that. Top ventures may propose new rules, but there are many cases where the rules are not something everyone can accept. So you're saying that NEC can make the necessary adjustments.
This case is from a while back, but there was a convenience store that had 70 trucks a day delivering products. A new rule was adopted that called for cooperative distribution. As a result, the number of trucks delivering products dropped to seven a day, and created new value in the reduction in the burden on the store, conservation of energy for the distribution company, resolution of the shortage of drivers, and reduction in traffic congestion in the surrounding area. In this way, it is quite natural to change business rules when thinking from the perspective of value. In an age where people are connected, and systems are easily accessible, NEC is no longer just an ICT vendor. As a company that creates social value, we will actively participate in efforts with our customers to change the rules from the perspective of value and create new rules.
I suppose it is because NEC covers such a broad business area that you can create rules that incorporate the perspectives of more industries. I think you can say that rules are a type of infrastructure. What type of infrastructure do we need to realize DX?
The term "infrastructure" is used in many different ways, but at NEC, when we say "infrastructure," we mean the business infrastructure necessary to work with our customers to realize their businesses and this includes components of applications that are called microservices and the technicians and architects necessary to make these things a reality. This type of infrastructure is essential to realizing DX.
So, in a way, NEC is providing intellectual infrastructure. It's not system infrastructure but rather infrastructure for creating value.
That's right. Infrastructure is an efficient method of creating value. To maximize value, we work with other companies if necessary, and provide our customers with the optimal combination.
Do you mean that to create value, you will be co-creating with partners when necessary instead of trying to complete everything within NEC?
We have created things together with various partners in an open ecosystem, and we would like to expand this further. We will, of course, continue to emphasize our existing strengths, but we also want to provide our customers with the wisdom and experience to resolve their issues comprehensively by combining our ecosystems.
Another point is that the most important thing for business these days is security. When we think of a new business, and we connect the company's core system to the internet, there is a risk with regards to business continuity for the customer. Security is an area of strength for NEC. I'm sure there are customers that feel secure because it's NEC that is providing the service.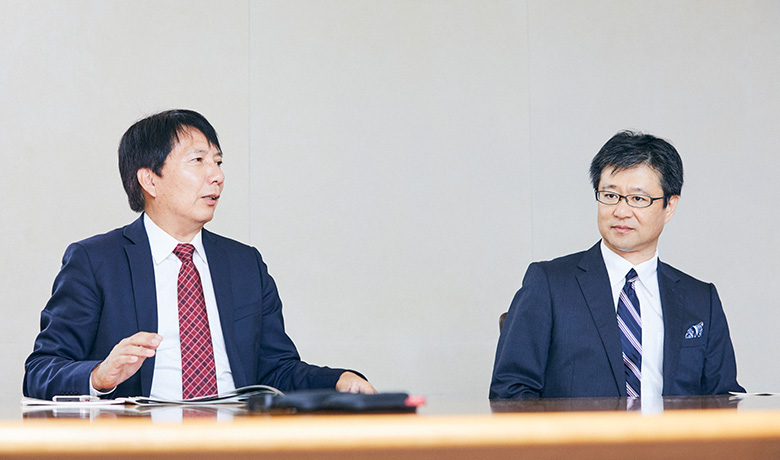 Earnest attitude of the management and the possibilities of the digital native generation
How should management and business owners see DX and what do they need to prepare for it?
When you're told that the rules will change because of DX, you might be able to understand it conceptually, but it is very normal for people to resist change. The important thing now is to manage this change. This is when the true intentions of management will be tested. Management must be earnest, or the employees will not follow them. It is important to consider how we can make this change a strength for our company. DX can mean trouble for some people and an opportunity for others. Whether it means trouble or opportunity depends on the business environment, but regardless, the tide is rising for this current change.
Say for example, in the Japanese market, one urgent social issue is how to prepare for the labor shortage. Finding solutions to social issues utilizing digital technology is a theme that the Management themselves must consider. Now, everyone is exploring possibilities for using AI and cloud technology and considering how we should face these issues and how we need to change ourselves. We will work with our customers to prepare for this.
I also think that it is important to give the digital native generation opportunities to play an active part if we want to realize DX. Having the courage to leave things in the hands of this generation means that as a result, we can accelerate the speed of innovation.
At NEC, last year we formed a new team that consists of first and second-year employees. They are exactly what we call the digital native generation, and they developed ideas and prototypes for services using AI. They were a outspoken group working on agile software development, and they came up with very innovative ideas using AI and AR *1 in a cloud environment. We have received favorable reviews from our customer. This type of action is being promoted for a variety of projects, and we now have more than 40 scram teams in action. I believe that through these efforts, by creating a good balance between the flexible minds of the digital native generation and the experience and knowledge accumulated through our past operations, we can create new value.
It's true that with the progression of digitalization, it makes sense to leave the work to the digital native generation. So how do the non-native managers fit into this?
When we consider how NEC will take responsibility for the impact it has on society, it really doesn't work unless we have people with experience in business to communicate with our customers. In other words, the digital non-native managers need to give the digital native generation free reign while also using their experience and knowledge to be responsible for the business and our customers.
In the future, the better we are able to strike a good balance between understanding the technology of the digital native generation and utilizing the experience and knowledge of digital non-native generations in business operations, the easier it will be for use to create new value. So we don't just want to increase the digital native portion because the important thing here is balance.
So instead of just constantly seeking new things, it is important to strike a good balance between innovation and past experience and knowledge.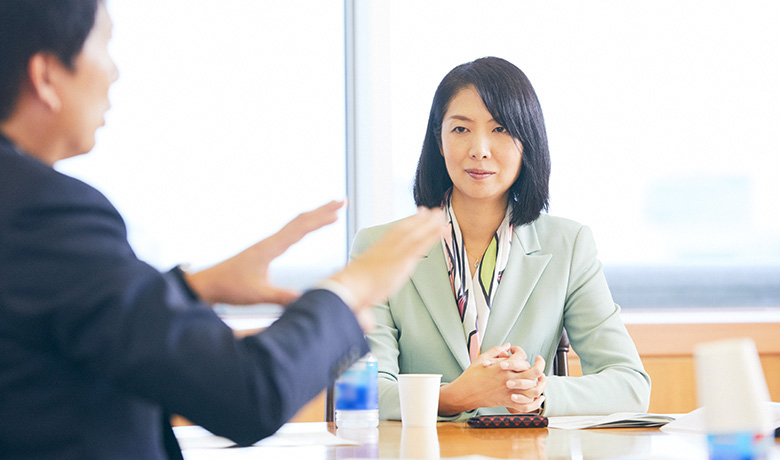 NEC will also keep changing
Looking at things objectively, NEC has sufficient capabilities with regard to our experience and knowledge in a wide range of industries, but I sometimes think you are too modest. This can make your customers uneasy, so I think you need to show off your abilities more. So, tell me how NEC is going to change, including how you present yourselves to your customers.
We will work to resolve social issues and contribute to a new area of creating social value. There are many areas where we can create value using ICT that go beyond the conventional scope of IT. NEC has the technology assets, specifically AI and security, methods, such as the cloud, and an abundant pool of human resources to realize this. We will combine these assets to create new value and resolve the issues of our customers and society.
NEC has also undergone significant change internally. From the perspective of the distribution of knowledge, up until now, the regular methods used were to either place the material in the companywide knowledge portal or share as an email attachment within the same department or division. This did not promote speed or help expand the internal community. Recently, we are seeing communities form organically within the company where participants use our internal SNS to share their experiences. Since the information doesn't go through the process of documentation to turn them into explicit knowledge before sharing, it is fresher and more relevant. Both in the sense of spreading knowledge and from the perspective of expanding the community, I feel that this is changing our old corporate culture. When you say digital, you tend to think about stories of technology, but it's also something that changes the awareness of the people working in the organization.
Even in scenes of actual sales promotion activities, I am sensing a change in the awareness of our employees. Unlike the style of introducing our products and solutions that we had in the past, they are thinking of promotion from the perspective of the customers and the market. When considering promotion, I think that our employees' awareness will change through discussions held from this perspective so that they can think of things, not just from the perspective of the products and technology, but also from the perspective of the customers and social issues.
Last year, I remember hearing about how NEC must now create "contexts." Does this mean you are putting this into practice?
That's right. I think we need to accelerate our process of proposal, implementation, and verification of hypotheses for these things. It is important to think about how we can resolve our customers' issues and social issues even if we do not know the right answer. If the solution we come up with is wrong, all we need to do is find out why and make corrections. The key is responding to changes.
That's what you mean by "NEC Transformation."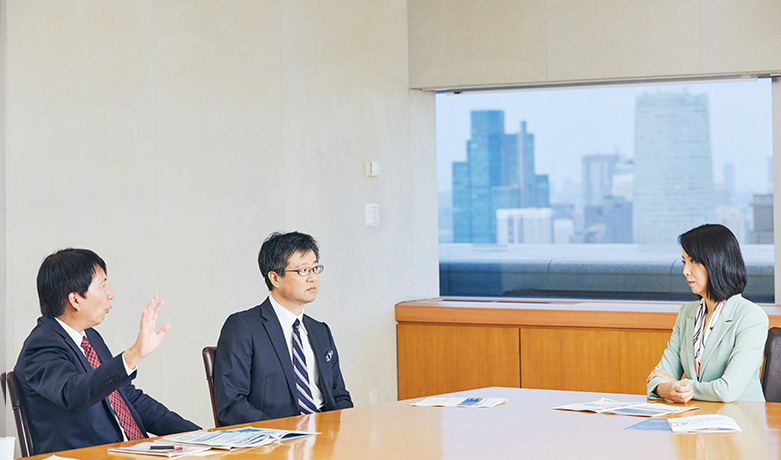 Change the business model, change society, and bring out the potential in people
Tell me about NEC's vision for the future with regards to DX.
Japan is often called a developed country with new problems. Take the issue of population decline. Japan is ahead of all other countries, but this is an issue that each country will eventually face. Japan is facing a decrease in tax revenue, and an important issue is how the country is to maintain its infrastructure. NEC is working to resolve this issue. The know-how for maintaining a high level of safety and security in a super-aging society with a declining population is something that can be exported to other countries. In an age where knowledge and experience can be copied and utilized through digitalization, this will be an easy feat. I want to export our know-how and work with our partners worldwide to resolve social issues on a global scale. In the future, as outcome-based business becomes the mainstream, the types of contracts and compensation will change, so it will be necessary to also consider the transformation of our business model.
Many social issues are born out of contradictions. There is the contradiction that we are using energy and labor to generate food when one-third of it is disposed of worldwide. And the contradiction that at the same time there are people who cannot get enough food. The point here is that we connect the wisdom of many people with digital technology to resolve these contradictions. In the process of resolving these social issues, the true power of digital is its ability to draw out the potential and motivation of the people. This is already started internally, and as with crowd sourcing, we are now living in a world where we can gather people with the necessary wisdom and skills virtually, and everyone can work to their full potential to resolve the issue. This is also an example of the realization of work style reform that goes beyond the conventional framework of organizations. This allows workers to maintain high motivation and makes it possible to continuously work to create a prosperous society. With the idea of people living and also living prosperous lives in mind, our commitment to realizing a prosperous society that ensures safety, security, efficiency, and equality remains unchanged.
It was often said that resolving social issues is something difficult to grasp as a business, but I feel like we have entered an age where companies can resolve these social issues and turn them into business opportunities. I'm filled with hope after hearing not only about DX but also NEC's vision for the future beyond DX.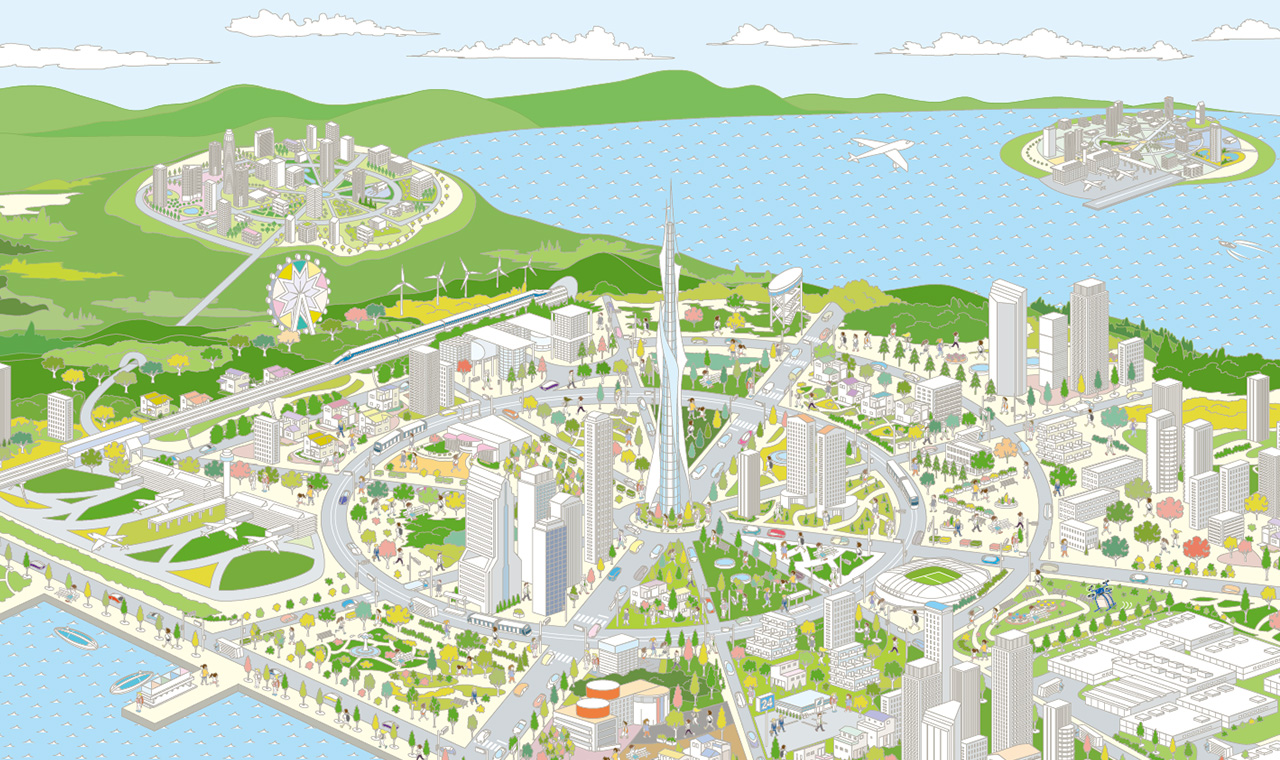 Co-creating the future through Digital Transformation