Change driven by Digital Transformation-Transformation into a company and industry with sustainable growth capabilities
Through Value Chain Innovation, which creates social value by connecting people, things, and processes, we will realize the transformation into sustainable companies and industries.
Resolve social issues through Value Chain Innovation and create new social value
Point 1

We will resolve social issues through Value Chain Innovation.

Point 2

We will transform the value chain for MAKE, CARRY, and SELL for the future.

Point 3

We will work with our customers and co-create a society to enrich people's lives and contribute to the development of the industry.
Resolve social issues and create new value through Value Chain Innovation
Some examples of issues companies and society are currently facing include the issue of food waste, which is occurring on a global scale, and in Japan, the issue of a manpower shortage where we have seen a drop in the labor force of approximately 2 million people since the peak *1. In the industrial world, issues that need to be handled from diverse perspectives, such as globalization of production, the diversification of consumption styles and values, and the drop in the labor force due to rapid changes in the population structure are beginning to pile up. How can we resolve these issues?
The role of not only the companies responsible for manufacture, but also those who are involved in the transport and sales of products and services to consumers are crucial in the flow of events from the production of products and services to the delivery of products and services to consumers. A value chain is formed by companies that play a role in MAKE(Manufacturing), CARRY(Logistics), and SELL(Retail/Services) with each adding their own value to form a chain. This means that a single company cannot raise efficiency or optimize the entire value chain in response to social issues of food waste or labor shortages. This is why it is necessary for solutions and platforms that allow for close cooperation between companies to that connected the various information environments and various industries to create an environment for co-creation between companies and realize Value Chain Innovation. This is not just a redefining of conventional value chains but the creation of new value and the resolution of social issues by newly connecting people, things and processes that were not previously connected.
To bring about this Value Chain Innovation, we must become closely connected to the industries and companies that provide value such as MAKE, CARRY, and SELL as a service or product and have broad knowledge of these industries and companies. At NEC, we have worked with customers from a variety of industries in Japan and abroad for many years and have a proven track record in providing solutions to support our customers' businesses with ICT. Through our wide-ranging work, we have accumulated know-how on operation types and operations in the manufacturing, logistics, retail, services, and financial industries and knowledge of existing systems. It is because NEC has broad knowledge that we can look at the entire value chain from a higher angle, and we can make social issues more tangible.
Through the solutions provided by NEC and co-creation with each company, we will create new value and realize Value Chain Innovation to resolve these issues.
Create new social value in MAKE, CARRY, and SELL
At NEC, in addition to our abundant know-how and knowledge of existing systems of a variety of industry types and operations, we will use cutting-edge AI and IoT technology to provide solutions to realize Value Chain Innovation for companies in each of the MAKE, CARRY, and SELL industries.
For workplaces that make and the manufacturing industry, NEC will lead the way to Digital Transformation in the manufacturing industry using cutting-edge technology and the knowledge gained from our manufacturing innovations and the verification and implementation of IoT. This Digital Transformation will accelerate two innovations in manufacturing: process innovation and product innovation.
With process innovation, we will work on the innovation of the operation process using AI and IoT, maximization of throughput throughout the supply chain, and realization of smart factories that can provide the same quality of products at the appropriate costs worldwide. Additionally, with product innovation, we will also incorporate IoT technology into products and use AI to raise the efficiency of maintenance through preventative maintenance based on operation status, confirm the state of use of products, provide feedback to product development, and contribute to the creation of products and services our customers truly desire.
To realize Value Chain Innovation, NEC is running the NEC Manufacturing Co-Creation Program based on know-how and knowledge gained from our own manufacturing business as part of activities to connect to more customers and create new value. Currently, more than 3,988 partners from 1,132 companies *2 work with us to create new value, and we will continue and expand this activity to transform the future of the create industry.
For workplaces that carry and the logistics industry, NEC provides logistics solutions. Using cutting-edge technology, and NEC's know-how regarding supply chain reform, and our track record with the adoption of solutions in the manufacturing, wholesale, and retail industries, we will innovate the logistics workplace. We will realize a logistics network that connects the three departments—Production, Logistics, and Sales—and contribute to dynamic supply chain innovation that creates an optimal supply and demand balance.
We will, for example, use IoT to collect logistics data in real time from the real world and use AI to select the optimal route and transport method to realize improved efficiency in the use of transport energy. We will also use advanced image recognition technology to reduce the burden of inspection work and provide innovative solutions to logistics worksites.
For the selling workplaces and retail industry, we will provide solutions for retail businesses to create future shops realized through Digital Transformation. We will realize the improvement of the Customer Experience (customer experience value), such as the convenience of always, smoothly buying whatever you want, and hospitality in customer relations that fits the needs of each consumer, achieve Operational Excellence through automation using robotics and improvement of efficiency in store operations using AI, and realize Lifecycle Management that supports non-stop store operations 24 hours a day, 7 days a week that helps to create new retail business.
For example, we will use AI and make highly accurate forecasts of demand based on sales results, weather, and events, and realize the improved efficiency and automation of the ordering operations to contribute to the reduction in waste loss and opportunity loss. We will also use IoT to manage the operational status of equipment, such as refrigerators and coffee machines, and contribute to the realization of non-stop store operations.
NEC will accelerate the realization of Value Chain Innovation through Digital Transformation based on AI and IoT technology in the value chains of industries that MAKE, CARRY, and SELL. We will eliminate waste found in the structures of entire industries that were not apparent until now, and realize a more efficient and optimal value chain and non-stop industrial infrastructure with the aim to resolve social issues.
Create connections with customers and realize a society to enrich people's lives
Throughout the series of economic activities from the manufacture and logistics of things to its consumption and use, we at NEC aim to work with our customers to resolve a variety of social issues and realize a society to enrich people's lives through Value Chain Innovation.
Responding to changes in consumer needs, dealing with diversifying threats from the increasing impact of natural disasters and cyber-attacks, creating a safe and rewarding work environment where diverse human resources and foreign workers and the elderly work in harmony with robotics and AI, and the building of non-stop industrial infrastructure all support the sustainable growth of companies.
At the same time, faced with limited resources of the Earth, we believe it is the responsibility of the industry to realize production and sales of appropriate volumes, and optimal logistics, and make efforts to reduce resource and energy loss.
For the sustainable growth of companies and coexistence with the environment, NEC is utilizing cutting-edge ICT, such as AI and IoT, to co-create new social value with our customers through Value Chain Innovation.
We believe that the sustainable growth of companies protects the safe and secure basic infrastructure for daily life and provides optimal tools for a variety of lifestyles and supports a prosperous and fair society.
---
Interview:NEC's key person

NEC's key person talks about understanding the current situation and creating the future.
Message
Learn from the past, support the present and create the future.
For our domestic and overseas customers in manufacturing, logistics, retail, services, and financial industries, we have provided solutions to raise the efficiency of operations and improve productivity. We also saw an increase in customers working on new businesses, and this has become a great business opportunity for us. This is occurring as the backdrop to the rapid progress in digitalization as seen in our ability to obtain data we could not obtain before due to the spread of IoT and the dramatic improvement in computing power and mobile performance. For companies, this has made it easier to create new businesses and new customer contacts. Innovation is happening all at once, and the speed is accelerating.
To resolve the issues of our customers, NEC not only possesses capabilities in computing, network, and security but also has the strength of high AI technology represented by the world's No.1 *3 face recognition technology. With our own cutting-edge assets and collaboration with other companies, it is our mission to create solutions for customers, and our true strength is that we have the capability to realize these efforts. We are entering an age of even more upheaval. To respond to the times, we must foresee the tides of change and imagine the social issues that could arise in the future. We are currently making efforts to resolve the six major issues of food waste, energy consumption, manpower and human resources, diversifying threats, changes in the environment of consumption, and progression in the shift to soft services. Take, for example, the issue of waste. You cannot resolve this issue without bringing about innovation throughout the value chain. It is possible to create and provide platforms that can be used throughout the value chain by combining AI and IoT, forecasting demand, and optimizing supply and demand. As a company that provides these service platforms, we will find solutions to social issues in response to these six issues.
In the future, we must also change. We must raise the sensitivity of our antennae for picking up trends around the world and acquire the ability to see the changes they will bring about. We must also shift from a product-out style of research and development to one that anticipates future social issues and finds solutions. We will create demand by reading the trends, promote growth by providing customers with value, and build the future by resolving future issues. We will contribute to the transformation into companies and industries that can maintain sustainable growth through these initiatives.
Case
Realize non-stop industrial infrastructure that is sustainable, safe, and secure
Regarding the infrastructure and platforms that support value chains, we will digitize the statuses through sensors using IoT and implement the optimal and best measures through forecasts of the future using AI to realize safe, secure and non-stop industrial infrastructures.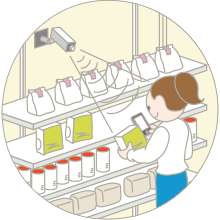 Case
To preserve the limited resources of the Earth, we will optimize the value chain from production through logistics and sales to reduce food loss and disposal and improve energy efficiency
We will use AI to obtain precise forecast and simulations of future demand, realize optimization of the supply and demand balance, such as production volumes, inventory and sales numbers, throughout the value chain and optimization of logistics, and improve energy efficiency through the reduction of food loss and disposal, reduction of production, and transport energy loss.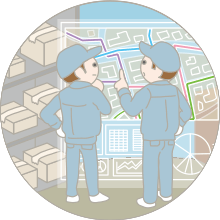 Case
To compensate for labor shortages, we will realize the improvement of sustainable productivity by innovating operation processes through the automation and improved efficiency of operations
Throughout our value chain of industries and corporations, we will increase efficiency and optimize operations through automation using robotics and the use of AI to innovate operation processes and improve sustainable productivity to compensate for the shortage in manpower and human resources.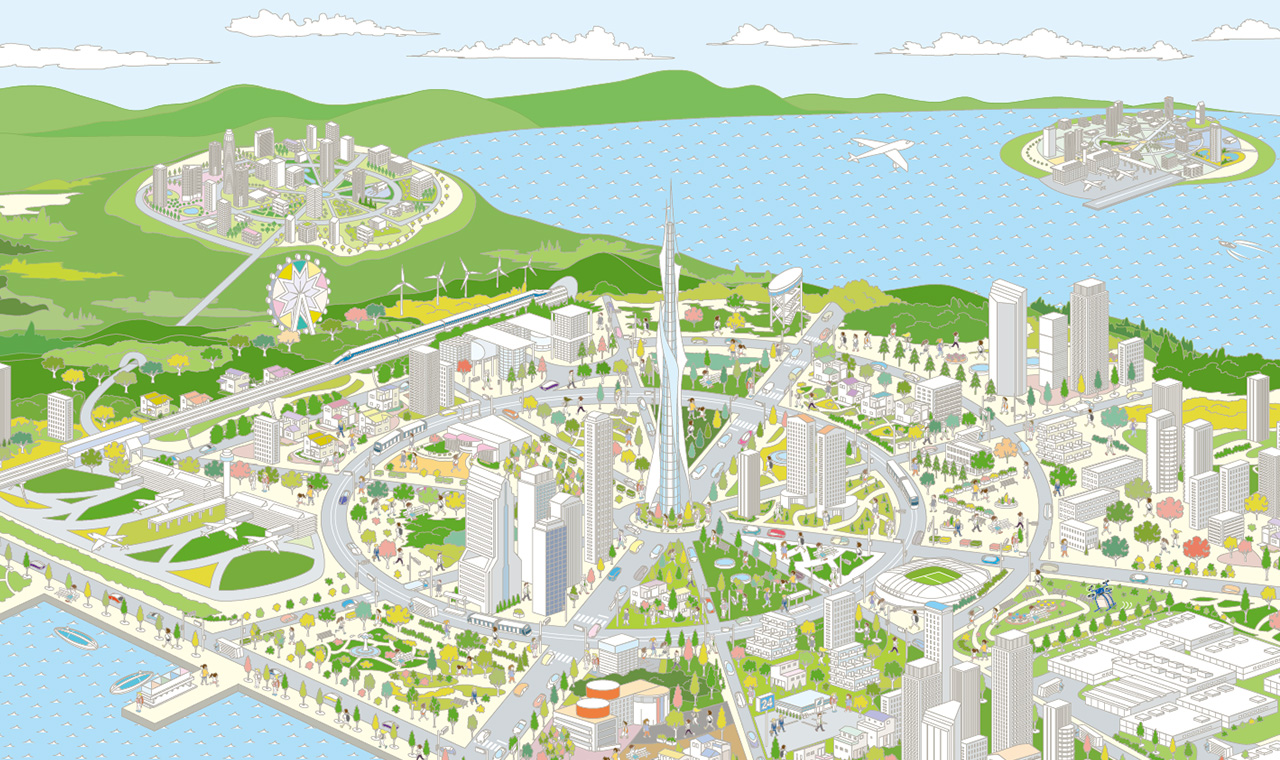 Co-creating the future through Digital Transformation