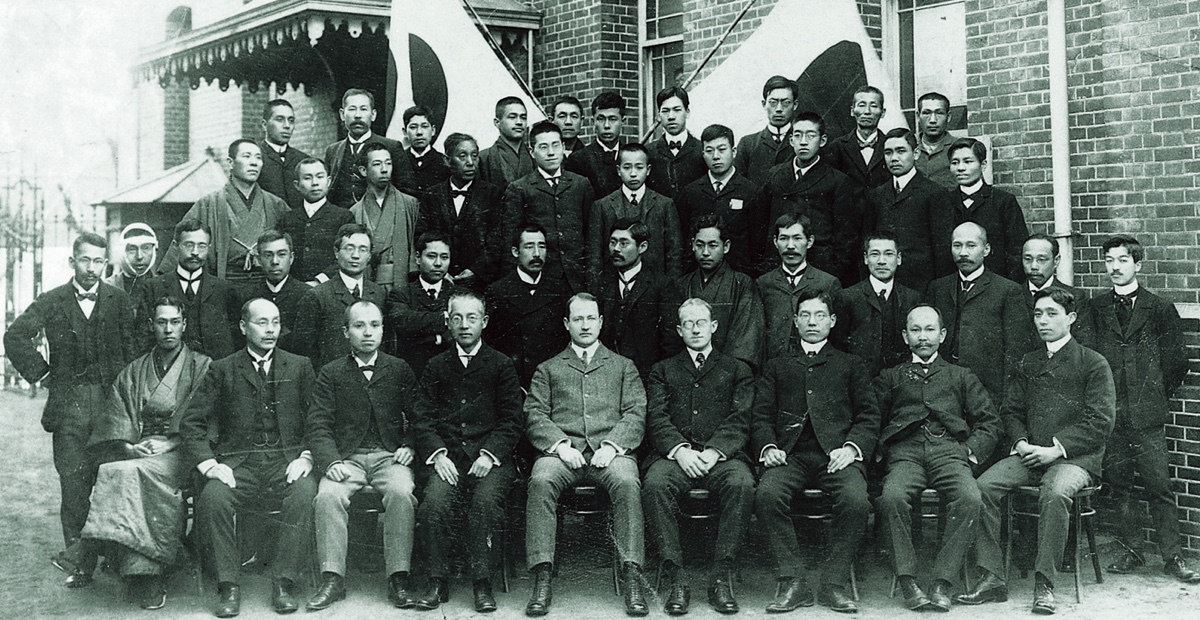 The Founders (1909)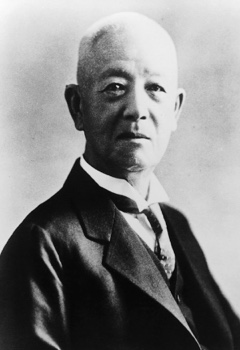 Legends of NEC
Kunihiko Iwadare
1857-1941
A man who put into practice the concept "There are no borders in technology"
Learn more
1899
Foundation of Nippon Electric Company, Limited (July 17) Read more
Nippon Electric Company, Limited was established on July 17, 1899 - the same day that the unequal treaty was revised. W.T. Carleton, the head of the Tokyo Branch of the Western Electric Company of Illinois (WE) and Kunihiko Iwadare, the Japanese agent for WE products, led the establishment of the new company, and were assisted by others such as Takeshiro Maeda. They had been planning to establish a new company once the treaties had been revised since the previous year, and once foreigners were officially allowed to conduct economic activities in Japan based on the revision to the treaties, WE officially owned shares in the new company and participated in its management. In this way, Nippon Electric Company was established as the first foreign-affiliated company after the revision of the treaties.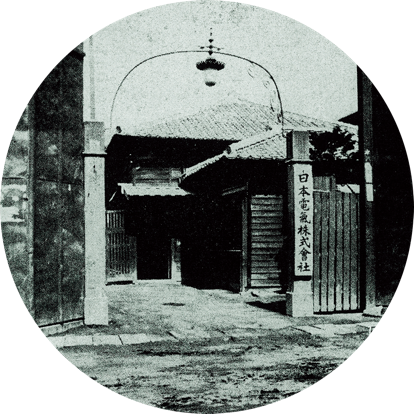 Nippon Electric Company, Limited at the time of establishment
1919
Succeeded in domestic production of first large-scale common-battery switching system and delivered it to Tokyo Central Office
1922
Ninth and eleventh factories completed, completing the plant construction plan that was formulated at the company's establishmentRead more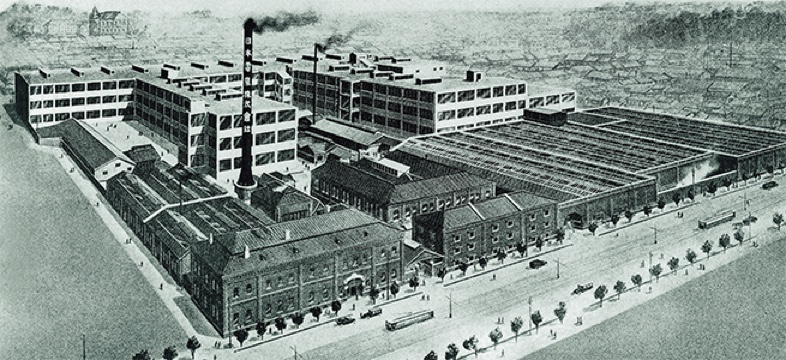 1923
The middle of the factory collapsed in the Great Kanto Earthquake, with 105 fatalities
1924
Started publication of PR/technical magazine Nippon Denki Geppo (Nippon Electric Monthly)Read more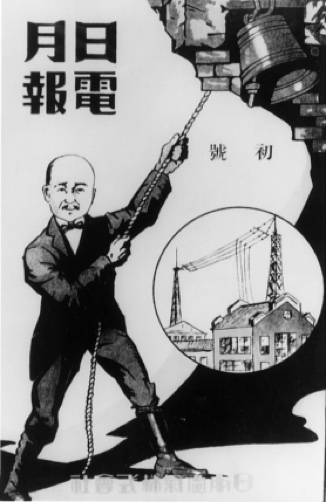 1927
Delivered first domestic A-Type automatic switching system to Mitsukoshi Department StoreRead more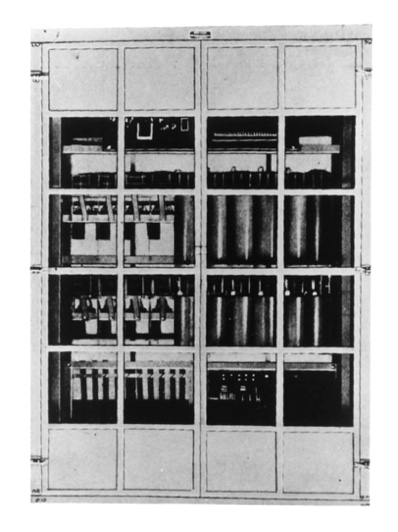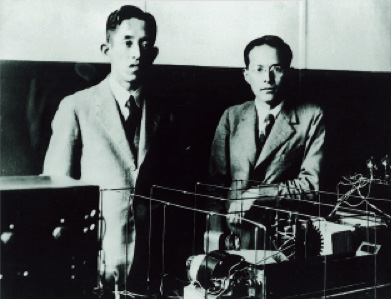 Yasujiro Niwa and Masatsugu Kobayashi with NE-type phototelegraphic equipment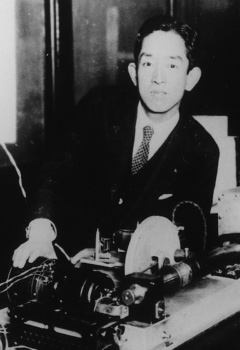 Legends of NEC
Yasujiro Niwa
1916-1975
NEC's technology pioneer
Learn more
1928
Developed NE-type phototelegraphic equipment (first in Japan), and successfully transmitted scenes of the Imperial Accession Ceremony of Emperor Hirohito Read more
At this time, in order to break away from the situation where it was only utilizing WE technology, Nippon Electric promoted its own research and development. Around this period, newspapers were planning to use phototelegraphic equipment for the Accession Ceremony of Emperor Hirohito in Kyoto in November 1928. Phototelegraphic equipment was beginning to be put to practical use in Europe and the US, and Yasujiro Niwa, who became interested in its practical use, worked together with Masatsugu Kobayashi and others to develop the technology. Then in May 1928, a device with a method unique to Nippon Electric was completed and named the NE-type phototelegraphic equipment. The test results demonstrated that the NE-type had better performance than equipment manufactured overseas, and several newspapers adopted the NE-type.
1929
Successful domestic production of A-Type automatic switching system for radio stations
1931
Succeeded in in-house production of radio broadcasting equipment, delivered to Okayama Broadcasting Station
1936
Opened the Tamagawa-mukai PlantRead more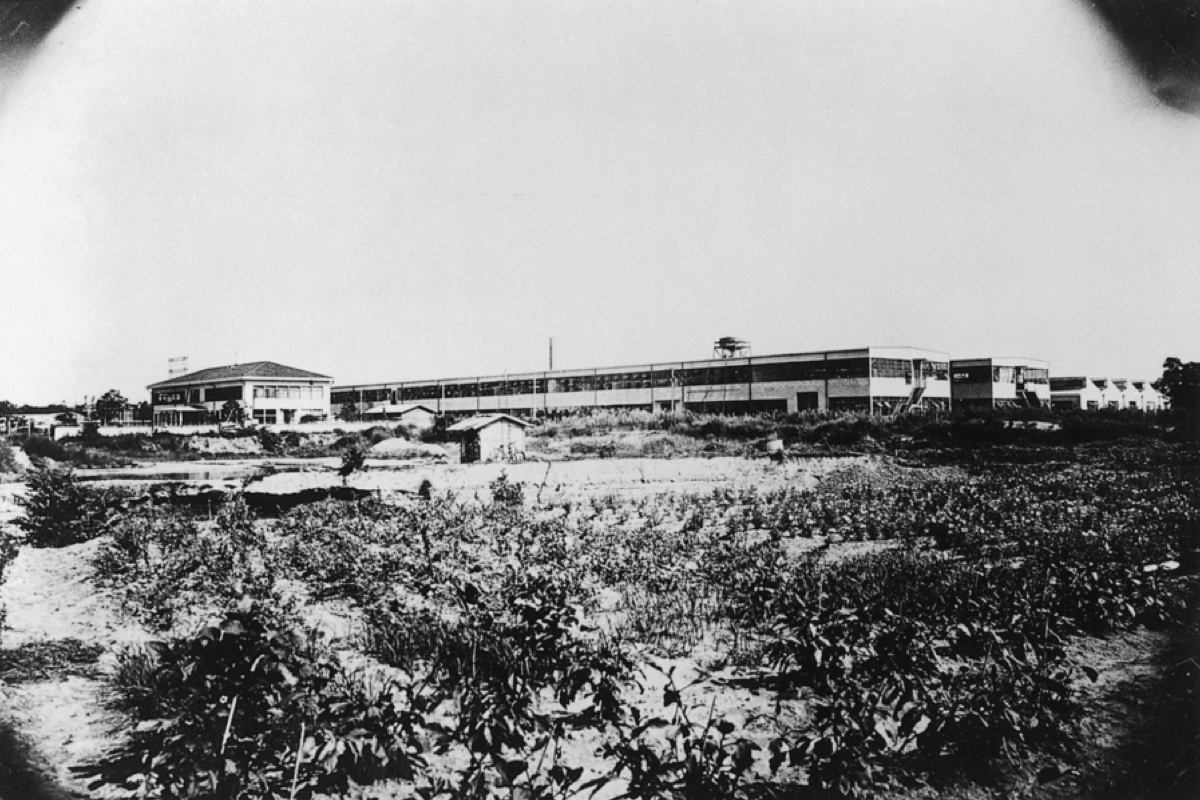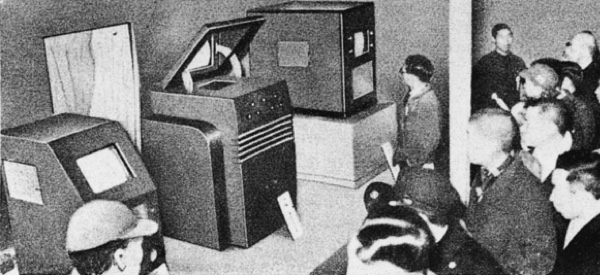 Public experiment of NE-type television at "Science of the Century Exhibition" held at the Hankyu Department Store in Osaka
1939
Prototype of domestically produced television, successful public demonstration at the Osaka Hankyu Department Store the following yearRead more
When it was decided that the Olympic Games would be held in Tokyo in 1940, television broadcasting by the Japan Broadcasting Corporation was planned. Taking this as an opportunity, Nippon Electric began developing cathode ray tubes in 1936, began research on television receivers from 1937, and began comprehensive production in the following year 1938. As a result, Nippon Electric succeeded in creating a prototype television receiver with 441 scanning lines and a screen of 22 cm × 28 cm in 1939, and in January 1940, it displayed its NE-type television at the Osaka Mainichi Newspaper Company "Science of the Century Exhibition" held at the Osaka Hankyu Department Store. This was the first public experiment of television in the Kansai region.
1943
Changed company name to Sumitomo Communication Industries Company, Limited
1945
The Tamagawa-mukai Plant suffered greatly from air raids
1945
Reverted company name to Nippon Electric Company, Limited (November)Read more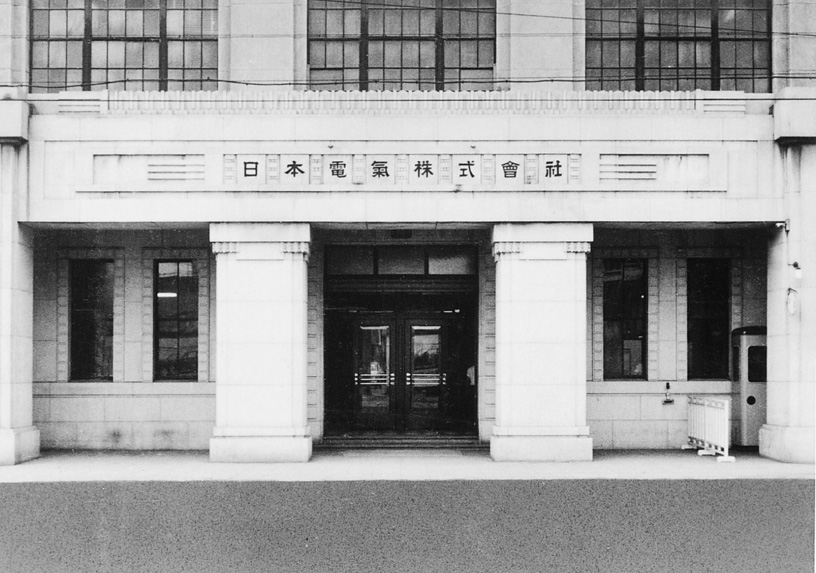 1948
Launched new technical magazine "NEC"Read more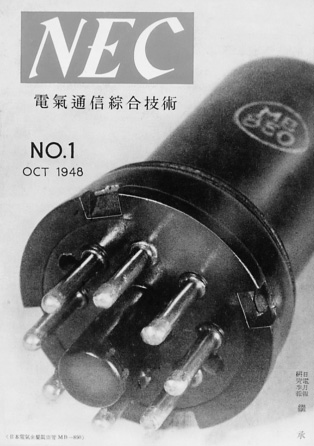 1950
Started research and development of transistors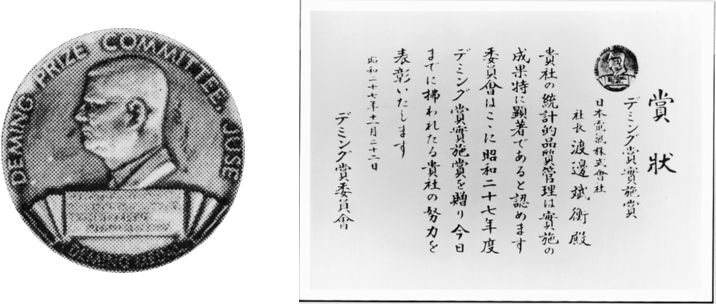 Deming Prize medal and certificate
1952
Received the Deming Prize for the first time in the communication industryRead more
"When I reflect on non-scientific production during wartime, what I felt was most necessary was the establishment of production technology and thorough scientific management." With these words of Koji Kobayashi, Nippon Electric's post-war quality control efforts began. As a result of learning scientific quality control techniques from the GHQ Civil Communications Section and organizing the company for quality control, for example, the average number of faults in two motion switches for automatic exchanges was reduced to a quarter in about one year, and the defective rate of mica condensers realized a significant improvement from about 10% to about 2% in about two years. Thus in November 1952, Nippon Electric received the Deming Prize, the world's highest ranking award for comprehensive quality control, for the first time in the telecommunications industry. It was an epoch-making achievement given the era when the prize was focused only on some specialists.
1953
Delivered microwave PTM multiplexing communication equipment to Tohoku Electric (Japan's first unmanned microwave trunk line)Read more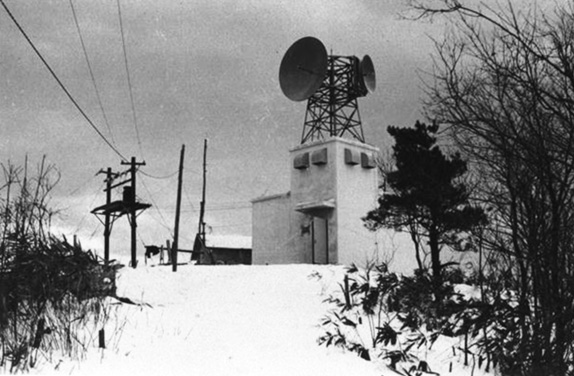 1953
Separated the Radio Business Division, established New Nippon Electric
1954
Successful domestic production of television broadcasting equipment, orders from Osaka Television and Chubu-Nippon Broadcasting
1954
Started research and development of computers
1956
Completed first domestic-made XB automatic switching system for telephone offices, delivered to the Tochigi Prefecture Sanwa Telephone OfficeRead more
Cutting-edge and practical domestic-made switching system
First domestic XB switching system for telephone offices
Learn more
1958
Completed Parametron computer, delivered to Tohoku UniversityRead more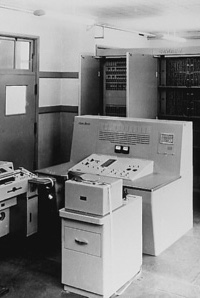 NEC's first commercial computer NEAC-1102
Realization of highly accurate scientific and technological calculations unlike any other product in the world
Learn more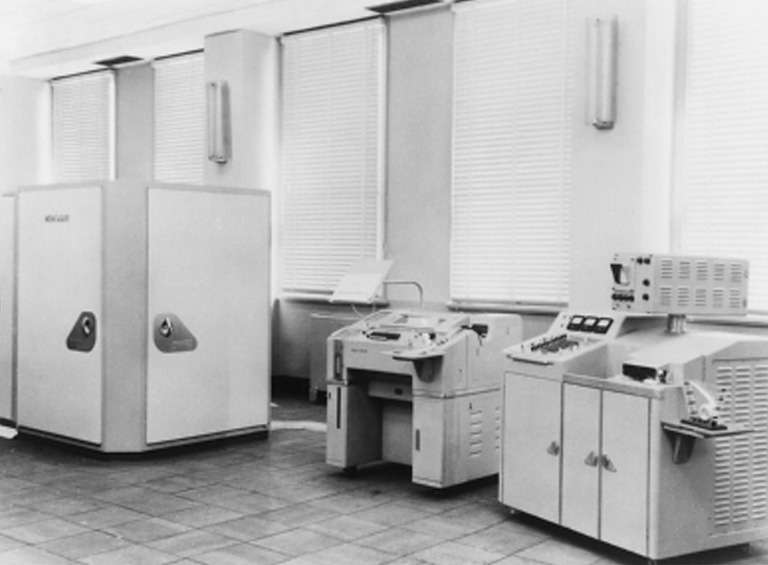 First transistorized computer "NEAC-2201"
1958
Completed first domestic-made transistorized computer "NEAC-2201"Read more
When the Electrotechnical Laboratory of the Agency of Industrial Science and Technology, MITI (Ministry of International Trade and Industry) succeeded in prototyping a transistorized computer in November 1957, Nippon Electric began to develop transistorized computers, and in September 1958, the "NEAC-2201," which can be said to be the first domestic-made transistorized computer, was completed. The NEAC-2201 was exhibited at the AUTOMATH exhibition information processing international conference, which was hosted by UNESCO and held in Paris in June 1959. The NEAC-2201 was the only transistorized computer which actually operated at the venue, and it was both smaller than the vacuum tube-type IBM650 which was the main model at the time, and had higher performance. Nippon Electric's superior electronic computer technology started to attract international attention.
1960
Started development of integrated circuits (ICs)Read more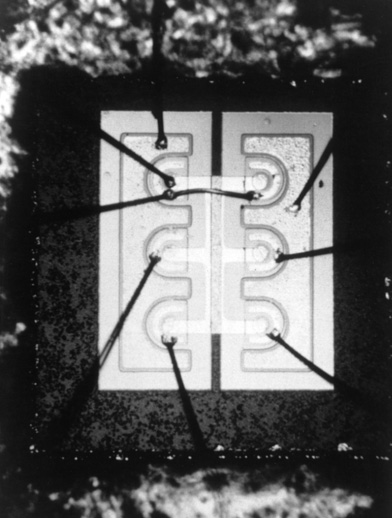 1960
Completed the first commercial electronic switching system in Japan, delivered to Mitsukoshi
1961
Adopted a business division system with five business divisions (communications equipment, radio equipment, electronic equipment, electronic parts, goods)
1962
Opened the Sagamihara Plant
1963
Established Nippon Electric New York (later NEC America)
1963
Issued ADRs (American Depositary Receipts)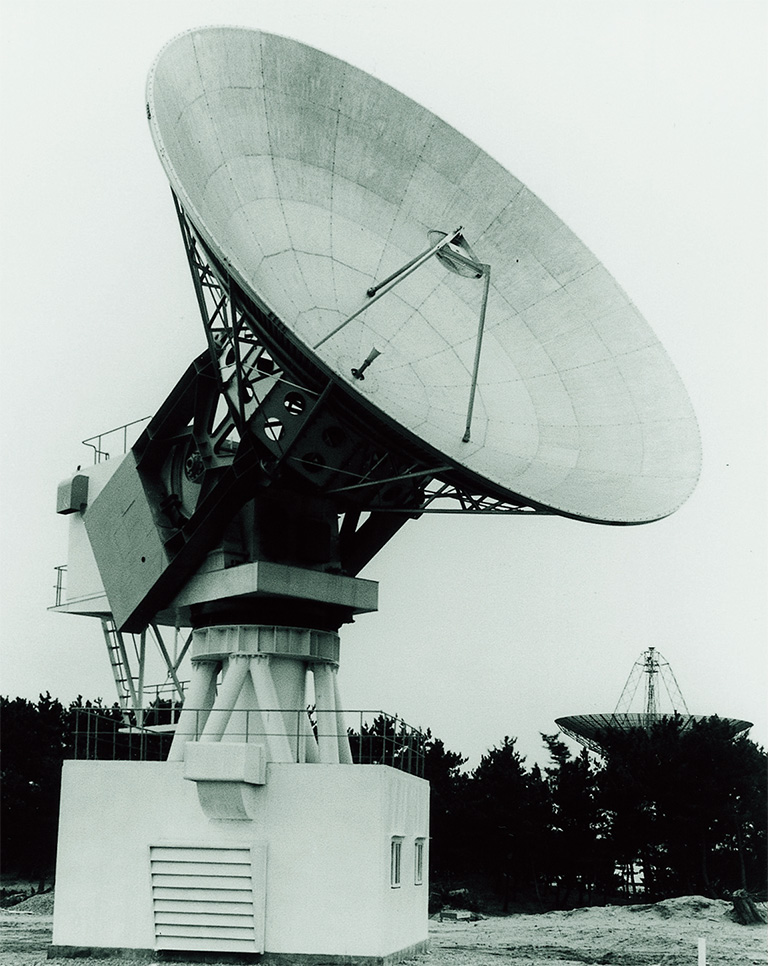 Antenna for Ministry of Posts and Telecommunications Radio Research Laboratory Kashima Experimental Station
1964
NEC's satellite communication equipment is actively used in the live television broadcast of the Tokyo OlympicsRead more
Since the launch of mankind's first satellite "Sputnik" in October 1957, satellite communications began to attract attention around the world, and in the 1960s Japan also entered the satellite communications era. When KDD's Ibaraki (Juo) Space Communications Center was established as Japan's first satellite communications earth station in November 1963, Nippon Electric delivered a high-sensitivity receiver system, marking the company's entry into the space communications field. This receiver contributed to the success of the first television broadcast experiments between Japan and the United States, and it is well known that the assassination of President Kennedy was reported through this experiment broadcasting. Furthermore, Nippon Electric's transmission equipment, Cassegrain antenna (satellite communications parabola antenna), and monitoring facilities were actively used for the live international television broadcasting of the Tokyo Olympic Games in October 1964.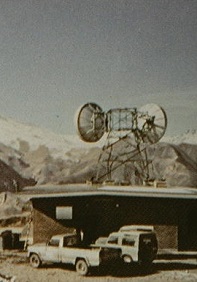 Microwave/satellite communications that started from the Tamagawa athletic field
World's first proprietary technology exported to 140 countries
Learn more
1965
Started ZD (Zero Defects) movement, pioneering the spread to industryRead more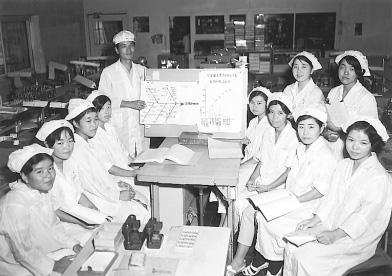 1965
Completed Japan's first PCM (pulse code modulation) communication deviceRead more

1968
Successfully developed 144-bit n-channel MOS (Metal Oxide Semiconductor) memoryRead more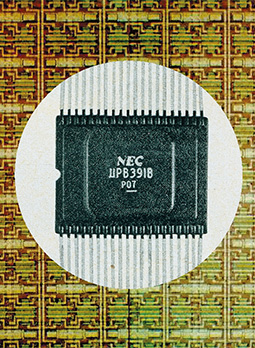 The world's first 144-bit n-channel MOS memory
Taking on the challenge of technology that industry had been neglecting
Learn more
1968
Released color TV first model "Auto Color Sun"
1969
Opened the Yokohama Plant
1969
Established Kagoshima Nippon Electric, later established regional branch companies across Japan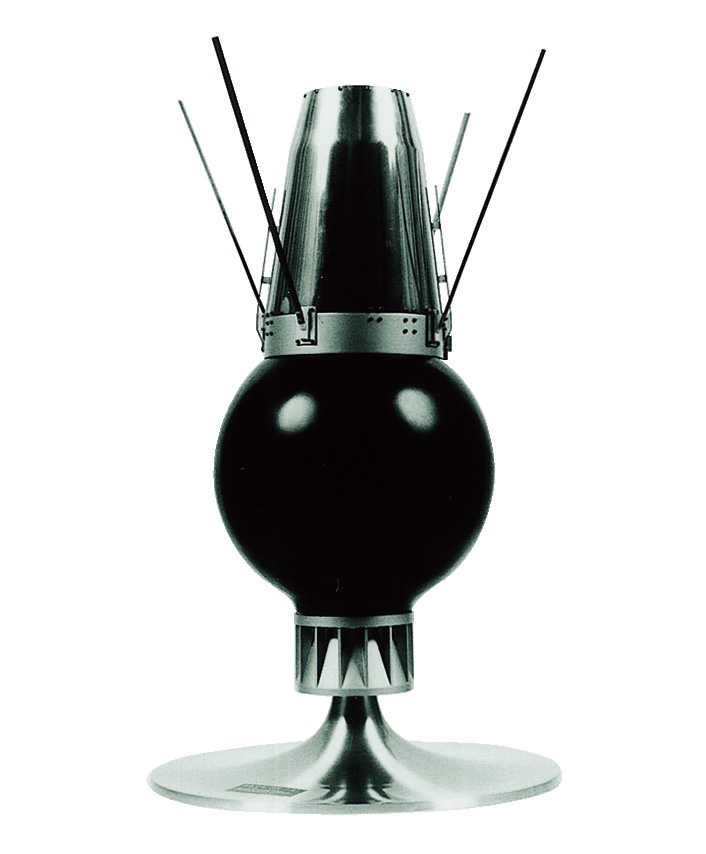 Delivered the satellite "Osumi" to ISAS, The University of Tokyo
1970
Delivered Japan's first satellite "Osumi" to the Institute of Space and Aeronautical Science (ISAS) of the University of TokyoRead more
The mid-1960s was a time of great activity in space development in Japan. In July 1964, the Science and Technology Agency established the Space Development Promotion Division, announcing the goal of launching a practical satellite by 1970. Also, ISAS at the University of Tokyo started developing M (mu) rockets since 1963, and Nippon Electric received an order for a launch control facility for the M rocket in January 1965. Furthermore, the satellite launch plan was already at the implementation stage at that time, and Nippon Electric was in charge of onboard equipment and launch control facilities, etc. In June 1965, Nippon Electric received an order for a control radar system jointly with Mitsubishi Electric Corporation. The final stage of this rocket, called Lambda 4 type, was planned to become a satellite, and in February 1970, Japan's first satellite "Osumi" was born due to the success of this launch.
1970
Established "Pollution Prevention & Environmental Management Department" and established operational management system for pollution prevention activities
1971
Developed fully automated mail processing system "NS-100"Read more

1972
Started quality strategy (Q strategy)Read more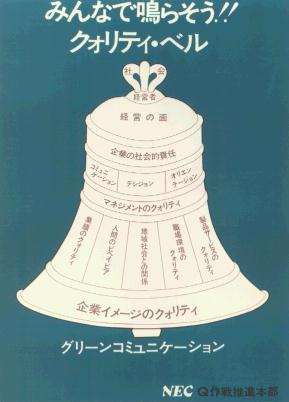 1974
Released new computer series "ACOS Series 77"
1975
New Central Research Laboratories opened in Kawasaki City
1975
NEC Software established, later, divisional software companies are established in various locations
1976
Released new 4-bit microcomputer family "μCOM-41"
1977
Announced digital electronic exchange "NEAX61" in the United States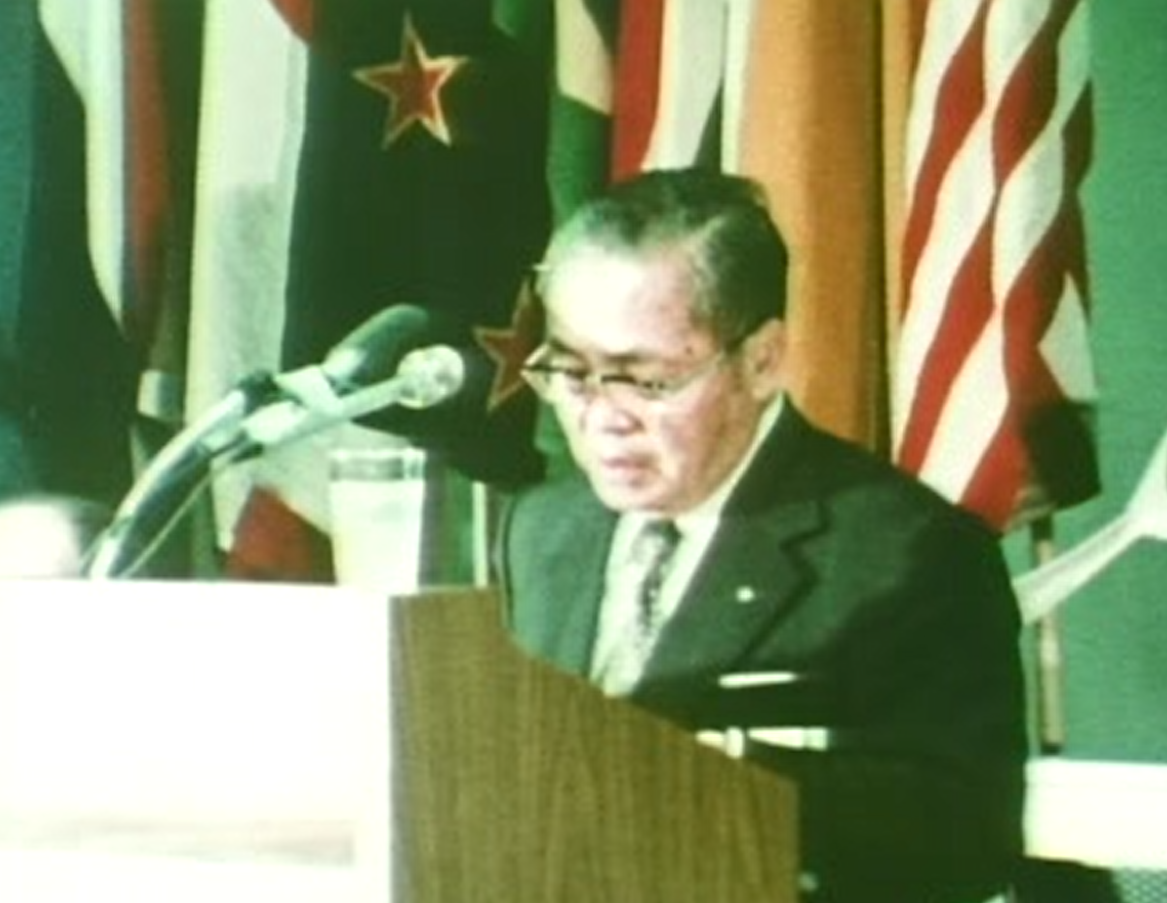 Chairman Kobayashi, who advocated "C&C" at his keynote lecture at Intelcom 77
1977
Advocated C&C at Intelcom 77 (Atlanta, USA)Read more
"Intelcom 77" was the first large-scale comprehensive communications exhibition in the United States. It was held from October 10 to 15, 1977 in Atlanta, and was attended by government officials, telephone companies, and major communications equipment manufacturers from around the world. On its first day, NEC Chairman Kobayashi gave a keynote lecture entitled "Shaping a Communications Industry to Meet the Ever-Changing Needs of Society." In his speech, Kobayashi presented an image of the future which could be realized by the fusion of communications and computers, "We will be able to talk face-to-face with anyone, anytime, anywhere." That is, it was the idea of "C&C" itself which also became the slogan of NEC after that.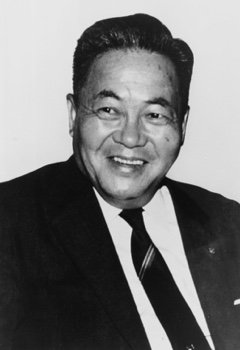 NEC's Legends
Koji Kobayashi
1907-1996
Advocated the C&C concept in 1977
Learn more
1979
C&C First Year Declaration'; first ever 4-page ad in the Asahi Shimbun on New Year's Day
1979
Released personal computer "PC-8001"Read more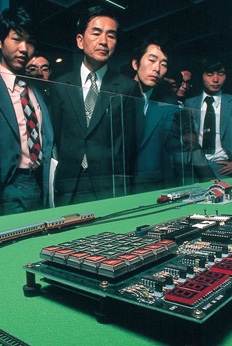 Sales strategy of microcomputers linked to No. 1 PC market share
Released first domestic microcomputer training kit "TK-80"
Learn more
1981
Established NEC Electronics (UK) and NEC Semiconductors (UK)Read more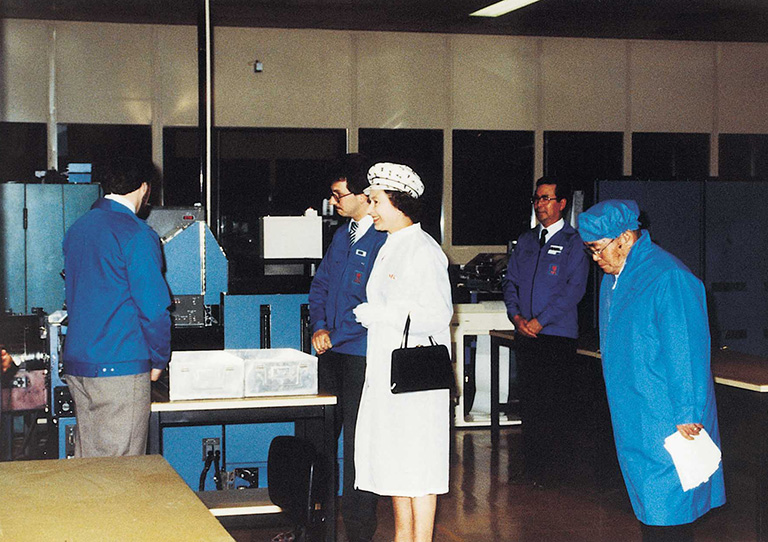 1981
Released a new family of small-business computers "NEC System Series"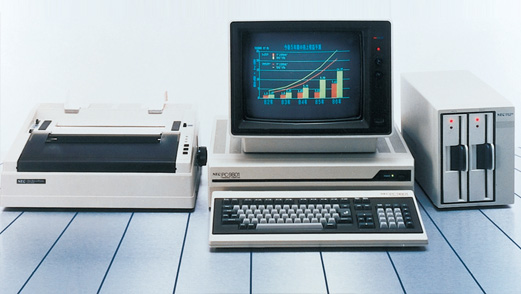 Presentation of PC-9801 (1982)
1982
Released 16-bit personal computer "PC-9801"Read more
There were increasing expectations that personal computers, which had originally been developed for enthusiasts and engineers, would gradually come to be used in homes and in the workplace. Under these circumstances, NEC promoted the development of personal computers in the two directions of low-price machines for homes and full-fledged models for business. The "PC-9801", the top of the range business personal computer announced on October 13, 1982 adopted the "μPD8086" (5 MHz) compatible with the 16-bit Intel microprocessor "i8086"and had built-in memory of 128 kilobytes (maximum 640 kilobytes). In addition to being a high-speed machine, the peripheral equipment and software was common with the lower-level PC-8000 Series. The price was 298,000 yen, and there was an optional Kanji ROM covering the first level of JIS.
1985
Completed new NEC America Oregon Plant, full-scale production of optical communications systems
1985
Full-scale entry into VAN businessRead more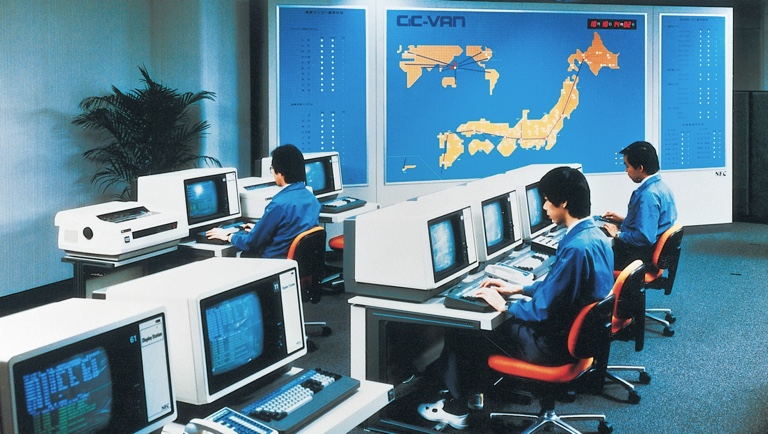 1985
Supercomputer SX-2 successfully measured world's fastest 1.3 GFLOPS
1988
Released the world's smallest chip type solid tantalum electrolytic capacitor
1989
Opened the Tsukuba Research Center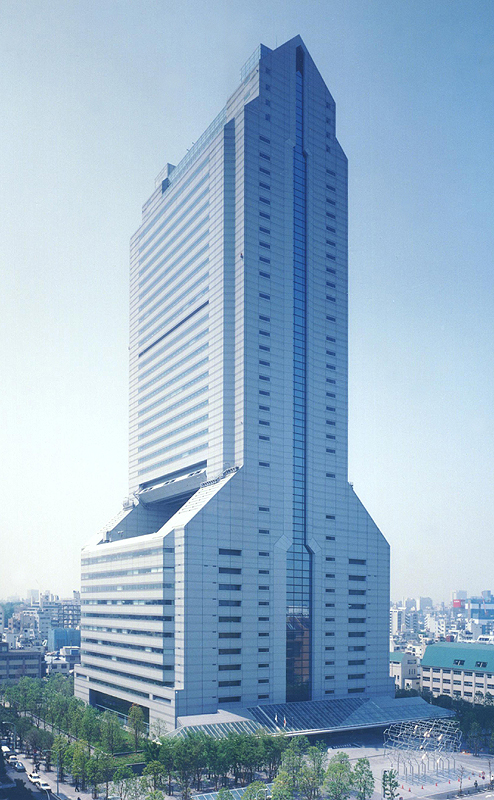 Completed the "NEC Super Tower"
1990
Completion of new head office building (NEC Super Tower)Read more
In January 1990, as part of the 90th anniversary commemoration project, the new head office building "NEC Super Tower" was completed at Shiba 5-chome, Minato-ku, Tokyo where the company originated. The main emphasis in the head office building design was consideration for the surrounding environment. The building is a three-stage "rocket" type that gradually becomes thinner as it goes upwards, and a fresh design that features a large open space inside the building, suppressing the generation of eddies of wind that are typically found around high buildings. Approximately 65% of the site was set as a green area, and about 280 trees with a height of 8 to 10 meters were planted to act as a windbreak forest. To ensure a safe and comfortable office environment, a system that manages everything from air conditioning, electric power, lighting, and hygiene to crime prevention and disaster prevention in an integrated manner was introduced, and the "NEC Super Tower" was completed as an intelligent building that makes use of state-of-the-art C&C technology.
1991
Shipped clamshell mobile phone "mova N" with volume of 150cc
1991
Released the world's first TFT color LCD laptop "PC- 9801NC"
1991
Discovery of carbon nanotubes, predictions of their new propertiesRead more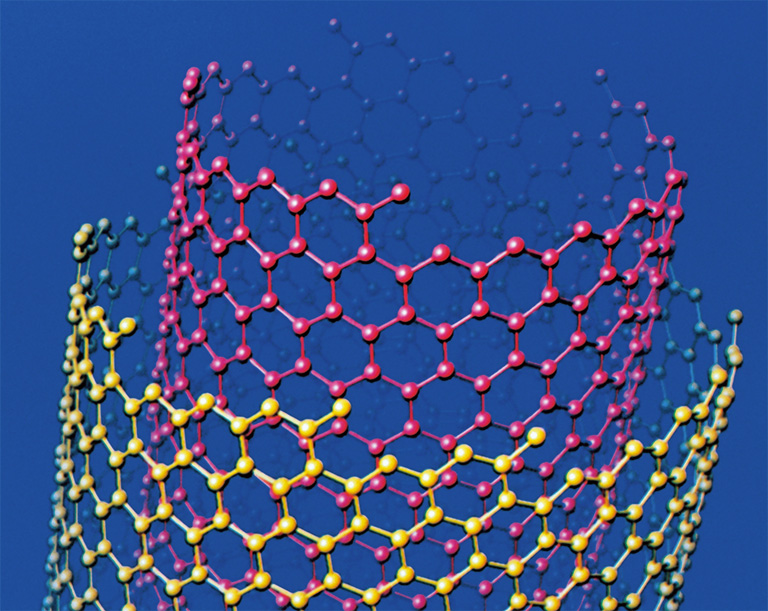 1992
Announced "Solution 21," full-scale SI business for the client server era
1994
Released the open series new server "Express5800 Series"Read more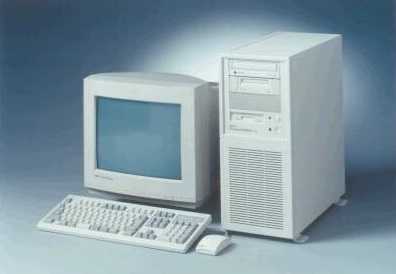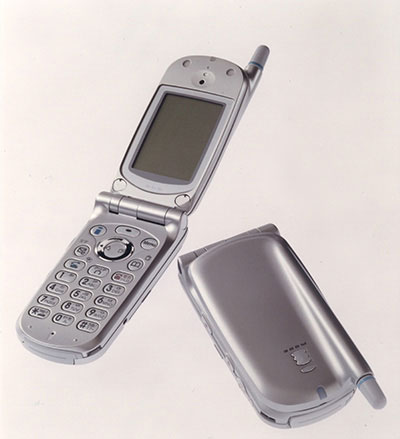 Digital Mova N501i Hyper
1999
Released Digital Mova N501i Hyper, a foldable i-mode-compatible mobile phone with large displayRead more
The mobile communications market, including mobile phones, was booming in the 1990s with the number of subscribers (of mobile phones and car phones combined) climbing from one million in 1990 to 47 million by the end of 1998. After NTT DOCOMO began its i-mode Internet access service in February 1999, NEC released the Digital Mova N501i Hyper in March. It went on to become a best-selling mobile phone.
1999
Established NEC-Hitachi Memory, Inc. through joint investment with Hitachi, Ltd.
2000
NEC Home Electronics, Ltd. concluded its business activities
2001
Released first FOMA device, "FOMA N2001"
2002
Completed world's fastest supercomputer, ultra high-speed vector parallel computer "Earth Simulator"Read more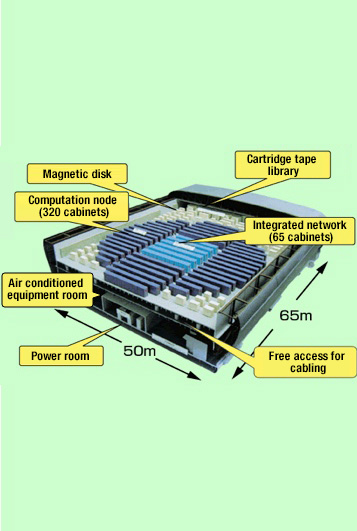 "Computonik"- the world's fastest supercomputer that amazed the US
1000x capability was needed
Learn more
2002
Released NeoFace face recognition solution
2002
Established NEC Electronics Corporation
2003
Developed bioplastic with added kenaf fibers
2003
Constructed the world's largest mission critical system, the i-mode gateway system "CiRCUS"
2004
Practical application of the world's smallest and thinnest card-type camera phone with ultra-thin packaging technology
2005
NEC Tamagawa Renaissance City completedRead more
2006
"BIGLOBE" made into spin-off company, NEC BIGLOBE, Ltd.
2007
Ultra compact microwave communication system "PASOLINK" achieved the world's No. 1 market shareRead more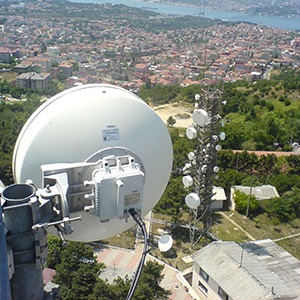 2008
Announced NEC Group Vision and Values
2009
Established NEC Casio Mobile Communications Co., Ltd.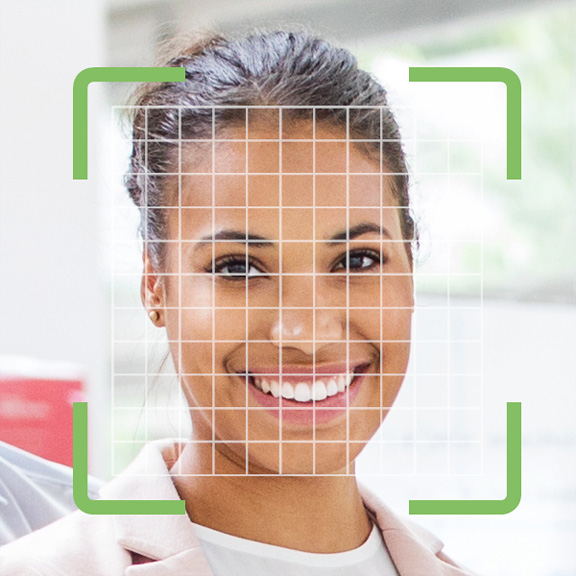 NEC's face recognition technology ranks highest in the world
2009
NEC's face recognition technology ranked highest in the world in the NIST Face Recognition Vendor Test Program (still image face recognition category)Read more
NEC has been engaged in research and development of face recognition technology from early on. In December 2009, NEC succeeded in achieving the world's highest performance evaluation for its still image face recognition technology in benchmark testing of biometrics technology conducted by the US National Institute of Standards and Technology (NIST). NEC's False Acceptance rate (the percentage of imposter users identified as genuine users) of 0.1% and False Rejection Rate (the percentage of genuine users identified as imposter users) of 2 to 4% far surpassed even the second ranking vendor competing in the same category.
2010
NEC Electronics Corporation merged with Renesas Technology Corp. and launched Renesas Electronic Corporation
2010
Asteroid explorer "Hayabusa" returned to EarthRead more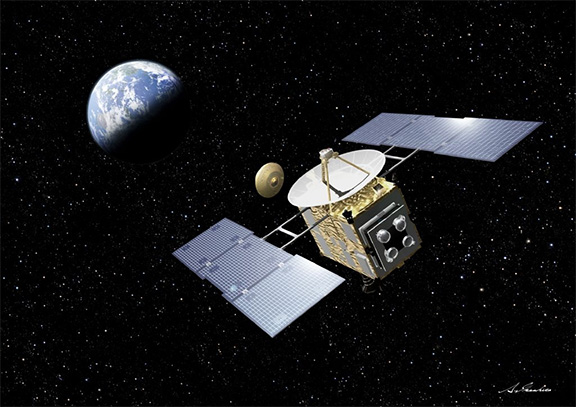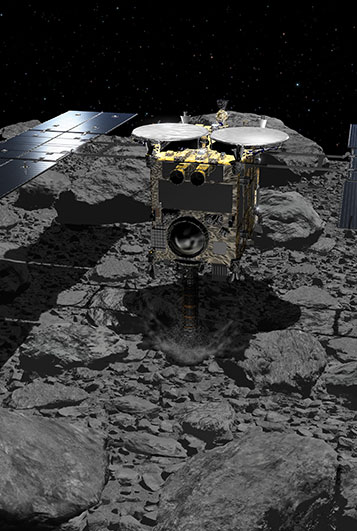 The first challenge of its kind in the history of spaceflight
The objective of the Hayabusa mission
Learn more
2011
Started sales of household energy storage systemsRead more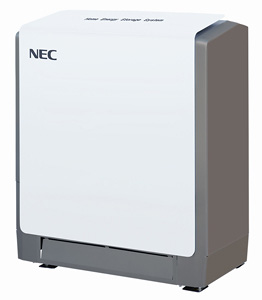 2012
Announces focus on Solutions for Society business

NEC the WISE
2016
In the latter half of the 2010s, the world witnessed an explosion of activity in the domain of artificial intelligence (AI), and emphasis was placed on exploring the future potential of AI. By that point, NEC had devoted over half a century of research and development to the field of AI and had progressed steadily in the development of voice recognition, image and video recognition, language and semantic understanding, machine learning, predictive detection, and optimal planning and control. With these AI-driven technologies, NEC has been supporting society and industry to operate in a safe, secure and efficient manner. In July 2016, NEC aggregated its suite of cutting-edge AI technologies under the NEC the WISE brand.