Communication
Rapid globalization and ever more diverse societies have made mutual understanding essential. Meanwhile, communication methods continue to expand and evolve, including the introduction of virtual spaces, communication robots and the digitalization of the five senses. NEC is providing secure and intuitive communications infrastructure to connect people and things and share ideas across time, space, language and generations.
The future is already here
What if you could run a vineyard from home?

Miku is at home, watching video feeds of her vineyards located in hard-to-access sites in France and Spain.

The images Miku is seeing are analyzed digitally in real-time, and she is updated with information such as the water content and growth rate.

She starts remotely harvesting the grapes that are ready, then carefully sorts them, scrutinizing each grape with the help of her well-trained eye and the high-resolution feed.

On another monitor, Miku checks on the winery in Australia. Based on the state of the grapes, she needs to adjust the pressure and timing of the pressing process, which she does by manipulating a remote arm by a matter of millimeters.

"They seem extra firm this year," Miku notes. "I hope this is going to be another great vintage!"

What if you could turn part of your room into a stadium?

The Smiths are huge sports fans. Tonight, their favorite team is playing in the semifinals.

Using AR and VR, they are transported pitchside. While enjoying cold beers at home, the Smiths take in the game as if they are right there in the stadium. "There's 10 seconds to go… and the pass is intercepted! 10, 9, 8… and the final shot is good!!"

The Smiths' team has come from behind to win the game! Fans around the world high-five each other. For the next match, the Smiths decide to try to get tickets to see the game live.
Find out more about bringing amazing ideas to life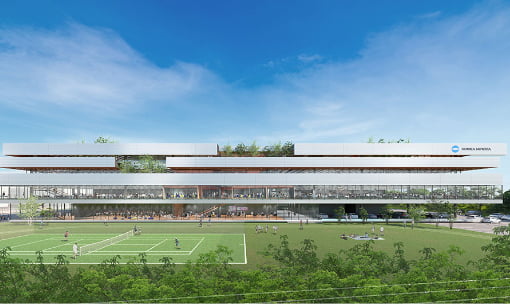 Local 5G as a catalyst for digital transformation:
How a dedicated 5G network is unlocking huge possibilities for collaboration
5G has the power to realize secure and stable ultra-high-speed networks and enable the digital transformation of a wide range of industries. Recognizing this potential, in December 2019, Japan implemented a system that allows businesses other than mobile operators to set up their own local 5G environments. Two businesses making use of this system are NEC and Konica Minolta, who will utilize 5G to promote the further digitalization of IoT/AI technologies, work styles, healthcare, and manufacturing.

With NEC's 5G network products, the two companies will set up local 5G verification environments in the Takatsuki building of Konica Minolta's new development base, Innovation Garden OSAKA Center. There, they will combine their respective technologies to create added value in a variety of industries, for example by establishing IP network camera systems in the field of imaging IoT/AI. Innovation Garden OSAKA Center will also serve as an open lab for cross-sectoral collaborative R&D among co-creation partners.

Leveraging the knowhow it has cultivated in developing 5G base stations and capitalizing on its network strengths, NEC is promoting NEC Smart Connectivity as a service business in new areas, and hopes to create new value in collaboration with Konica Minolta.
Words from the project team
Masahiro Murakami,
Senior Manager, Edge Controller Development Division, IoT Service Platform Development Operations,
Konica Minolta Inc.
"I can tell that NEC is not content to just be a technology provider and simply supply the local 5G network products. I am confident that, utilizing 5G, our two companies will be able to work together as truly one team, combining our respective technologies to co-create new value. We encountered various challenges when setting up the 5G environments, but we were always able to overcome them together, and that has helped forge our strong relationship of trust today. Moving forward, Konica Minolta and NEC aim to continue to contribute to society, through co-creation and collaboration, using Innovation Garden OSAKA Center as our base."