*** For immediate use September 11, 2012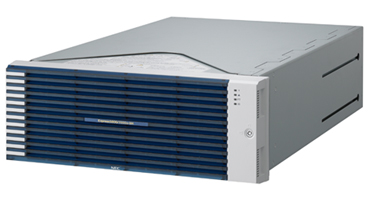 Express5800 R320c-M4

Tokyo, September 11, 2012 - NEC Corporation (NEC; TSE: 6701) announced the launch of its two new "NEC Express5800/ft series" fault tolerant servers (*1) based on the Intel® Xeon® E5-2600 product family, the mid-range "NEC Express5800/R320c-M4," which achieves a 50% performance gain over the existing mid-range model (*2), and the "NEC Express5800/R320c-E4" entry model.

These NEC Express5800/R320c new fault-tolerant servers are the first in the industry to deliver lockstep support for the Intel® Xeon® E5-2600 product family, ideal for hosting mission-critical business applications in a wide variety of data center environments and industries. Through higher processing and 2.7 times more memory capacity than previous models, the NEC Express5800/R320c series can deliver highly scalable performance for virtualization environments.

Building a virtualization platform on NEC FT servers can significantly reduce the risk of failure when compared to non-redundant servers. In addition, hardware-based fault tolerance can provide significant performance improvements over software-based fault tolerant solutions.

"NEC's delivery of lockstep functionality leveraging the Intel Xeon processor E5 family is a true testimony to NEC's 10 year history of bringing such technology innovation to market," said Brian Garrett, Vice President, ESG Lab. "The NEC Express5800/320 will continue to improve upon our already stellar assessment of NEC's fault tolerant technology in previous lab validations."

"NEC is one of the premier manufacturers of Intel Xeon processor-based fault tolerant servers," said Patrick Buddenbaum, Director of Intel's Mission Critical Computing segment. "Incorporating the intelligent performance and energy efficiency capabilities of the Intel Xeon processor E5-2600 series into their fault tolerant server line will give their customers a more robust, low-cost solution for continuous availability."

Primary features of the new Express5800/ft series include:
Improved Processing Performance:
Powered by Intel® Xeon® processors (*3), the NEC Express5800/R320c-M4 achieves 1.5 times the performance of previous models.


Enhanced Expandability for Virtualization:
Supports up to 2.7 times the main memory capacity (256 GB) of existing models. High performance processors and high capacity memory bring an increase of virtual machines as well as processing power improvements. Also, the NEC Express5800/R320c-M4 has two 10Gb network ports for higher virtual network access.


Reduction in Non-operable Time at Resynchronization:
Memory copy time during the resynchronization process is significantly reduced by the improved data moving feature of the GeminiEngine™ chipset utilizing Non-Transparent Bridge functions. The blackout time (*4) when using Hyper-V is reduced by as much as 79% from the previous models. For example, the blackout time of the R320c-M4 with 96GB memory is 12 seconds, while the previous R320b-M4 is 57 seconds. This enhancement makes the NEC FT servers more suitable for the Hyper-V virtualization solution.


Simplified Manageability:
NEC's third generation server management technology, EXPRESSSCOPE Engine 3, mounts remote management capabilities enabling direct access to the controller without special software.
Availability
NEC's new Express5800 servers will be available on October 31, 2012 and progressively distributed worldwide. Shipping dates differ according to model and country.
For more information, please see:
NEC Express5800/R320c-M4, R320c-E4 (Fault Tolerant servers)
http://www.nec.com/en/global/prod/express/fault_tolerant/r320c/index.html
***
---
Notes
*1) A high availability server that avoids downtime by automatically locating and isolating damaged hardware, and featuring redundant primary hardware, including CPUs, main memory and others, that run in lockstep to achieve complete redundancy within the server.
*3) Intel and Xeon are trademarks or registered trademarks of Intel Corporation in the United States and other countries.
*4) In the synchronization process of CPU/IO modules after replacement of a failed module or OS boot, a memory copy is performed to duplex memory on both CPU/IO modules. Most of the memory area can be copied without interrupting the system through the so-called brownout copy method, and just a small portion requires the system to stop. However, with Hyper-V, the system cannot use the brownout copy method. Therefore, the FT server system with Hyper-V does not respond for a longer period of time during the synchronization process of the CPU/IO modules than without Hyper-V.
---
About NEC Corporation
NEC Corporation is a leader in the integration of IT and network technologies that benefit businesses and people around the world. By providing a combination of products and solutions that cross utilize the company's experience and global resources, NEC's advanced technologies meet the complex and ever-changing needs of its customers. NEC brings more than 100 years of expertise in technological innovation to empower people, businesses and society. For more information, visit NEC at
http://www.nec.com
.
NEC is a registered trademark of NEC Corporation. All Rights Reserved. Other product or service marks mentioned herein are the trademarks of their respective owners. (C)2012 NEC Corporation.
---
NEC Press Contacts (Japan)