NEC Technical Journal
Through a well-balanced mix of technical papers, easy-to-understand articles about technological trends, and case studies, NEC Technical Journal introduces its readers to all the latest technologies, products, and solutions from the NEC Group.
Please note that it is not available in a print format.
Leveraging our know-how in both IT and networking as well as our original leading-edge AI technology, NEC has worked closely with our clients to develop innovative IoT projects that are providing a blueprint for the future. That extensive experience has enabled us to build a core suite of IT and AI systems that provide an essential foundation for any type of IoT project. We call this NEC the WISE IoT platform.
In this special issue, we will zoom in for a close-in look at the NEC the WISE IoT Platform and other IoT solutions, examining how they have been successfully implemented by a variety of different businesses in a variety of different situations.
Popular features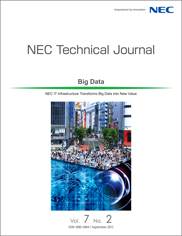 This special issue introduces NEC's information collection platforms, large-volume data processing platforms, analysis technologies, and other Big Data technologies, products and solutions that enhance the business environment of our customers with new value.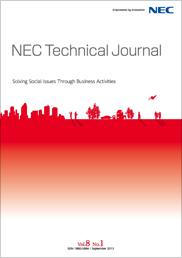 This special issue, entitled "Solving Social Issues Through Business Activities," introduces NEC's business activities, products, technologies and services in connection with our endeavors for becoming a "Social Value Innovator," based on the above 4 initiatives.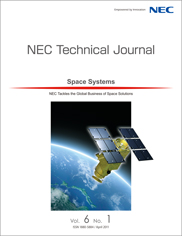 This special issue will describe our vision for NEC's space system business, our roadmap to its achievement, and details of the activities and programs that will lead us to our destination.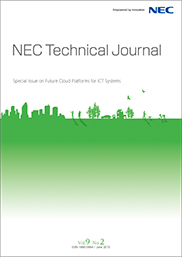 This special issue introduces "NEC Cloud IaaS," the lineup of products that comprise our services, the latest technology from our research laboratories and a few customer case studies.
Search back issues
You can use keywords to search for relevant papers in NEC Technical Journal.
Most popular searches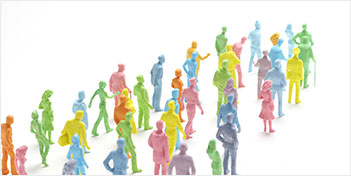 The History of NEC Technical Journal
The story of the NEC Technical Journal dates back to May 1902 when, shortly after NEC was founded, we published the first edition of its forebear, a monthly PR magazine entitled Nippon Denki Geppo (Nippon Electric Monthly).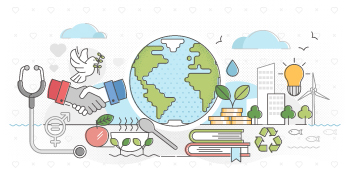 NEC Technical Journal by Theme Technologies related to the seven themes for social value creation, to which NEC is committed, are introduced through feature articles and papers in NEC Technical Journal.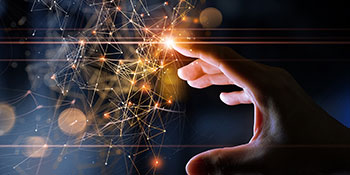 Looking Back at NEC's History
Here you can explore the history and achievements of NEC through articles that dig through past issues of NEC Technical Journal while focusing on themes that are relevant today.
Inquiries: NEC Management Partner, Ltd. (former NEC Design & Promotion, Ltd.)