NEXTAR
NEC standard satellite system NEXTAR provides world-class remote sensing capabilities at a low cost, in a short time and with high reliability.
NEC revised the system architecture in order to achieve highly integrated and open system with adopting advanced COTS technology.

NEXTAR : NEC Next Generation Star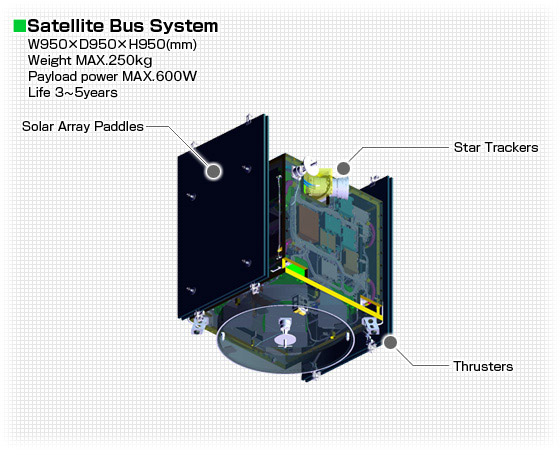 Realizing high performance satellite using NEXTAR
Modular architecture enables easy integration of various kinds of mission modules such as a high-resolution optical sensor, SAR sensor, wide-coverage optical sensor, hyper spectral sensor, and other modules for scientific missions. NEXTAR offers flexible, affordable solutions that meet each user's requirements.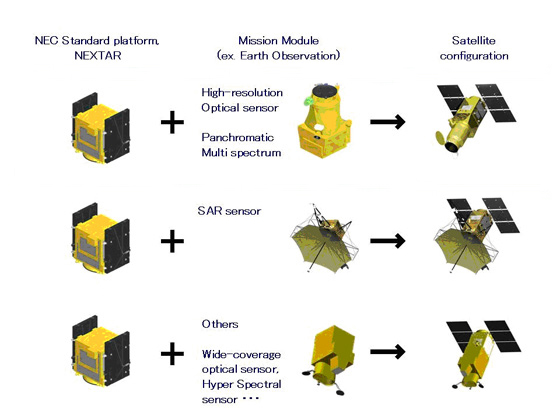 NEXTAR is a product that condenses the extensive experience in satellite system development that NEC has built up since 1970. With NEXTAR, NEC achieves a highly reliable and highly functional satellite system that can be delivered quickly, at a low cost.
Technical Data (Reference:NX-300L)
Core Bus Features
| | |
| --- | --- |
| Bus dry mass | 250 kg |
| Payload mass capability | 250 kg max. |
| Payload power supply | 600 w max. |
| Life | 5 years |
Telemetry and Command
| | |
| --- | --- |
| Communication frequency | S-band/X-band |
Mission Data Handling
| | |
| --- | --- |
| Data bus I/F | SpaceWire (IEEE 1355) |
| Data rate & storage | 800 Mbps, 120GB |
Attitude Control
| | |
| --- | --- |
| Control method | 3-axis, zero momentum |
| Control capability | ±6.6x10-2 deg |
Power
| | |
| --- | --- |
| Bus voltage | 50 V |
| Battery | Li-ion |
| Solar Array | TJ-GaAs cell |
Propulsion (option)
Structure
| | |
| --- | --- |
| Bus module dimension | W950 x D950 x H950(mm) |
| Module | Bus / Mission separation |
System Block Diagram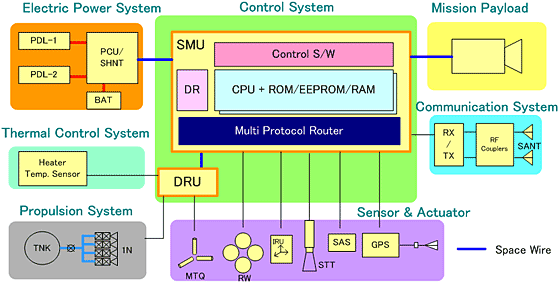 Simulation Data (Optical sensor)
NEC Heritage of SAR Technology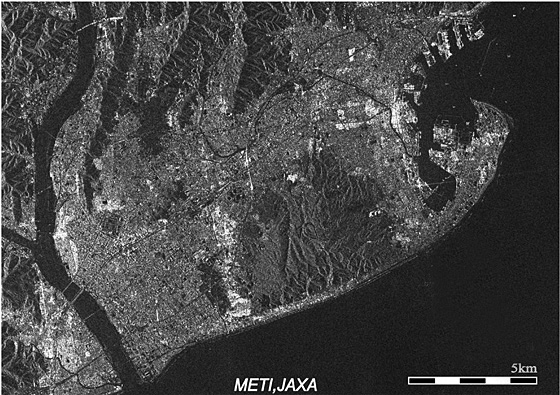 Night view around Shizuoka-city by the PALSAR