NEC Dealer Management System Solution(DMS)
NEC Dealer Management System Solution(DMS) - A cloud-based service for automotive dealers -
NEC Dealer Management System Solution is a cloud-based service for automotive dealers to help them increases their worldwide car sales.
The system helps dealers grow their global business by enabling efficient information sharing between automobile dealers and distributors.
NEC provides total support, including rollout training, a help desk to answer questions on system operation, and maintenance services.
NEC has already launched DMS in Thailand and other regions of Southeast Asia, and plans to expand into other markets in the near future.
Solving Problems Faced by Dealers and Distributors

Problems faced by dealers
・Registering vehicle and parts master data is time consuming.
・Thousands of mistakes occur in quotations and orders.
・Issuing reports for distributors is time consuming.

Problems faced by distributors
・Necessary data is often not included in reports and it takes too much time to obtain more detailed data.
・Dealers do not use a standardized DMS.
・Reports are submitted to the distributor in nonstandard formats.

NEC has solved these problems!

Why NEC?
Central Application allows sales information to be transferred between automobile dealers and distributors

The Central Application—a sales control service for enterprise customers—manages master data and allows sales information to be transferred between automobile dealers and distributors. By using this service, sales information input from multiple automobile dealers can be centrally managed on the cloud and referenced by dealers and distributors any time.

More
Easy and efficient rollout of cloud service
NEC's Dealer Management System provides a reliable cloud service platform with robust security that can be accessed easily for a monthly fee.
Dealers do not need to install servers or employ dedicated staff to operate the system, reducing equipment and maintenance costs.
Total support for rollout, operation, and process improvement
NEC does not simply install the system and leave. NEC staff provide onsite training on rolling out the system as well as technical support for operating the system and advice for improving business processes after the system is up and running.
Track Record
This service is offered in Thailand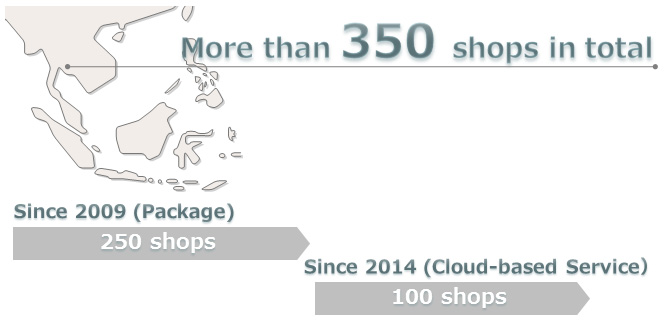 Topics