NEC Storage M710F
All flash storage that is suitable for IT environment requiring higher performance and faster responce than ever.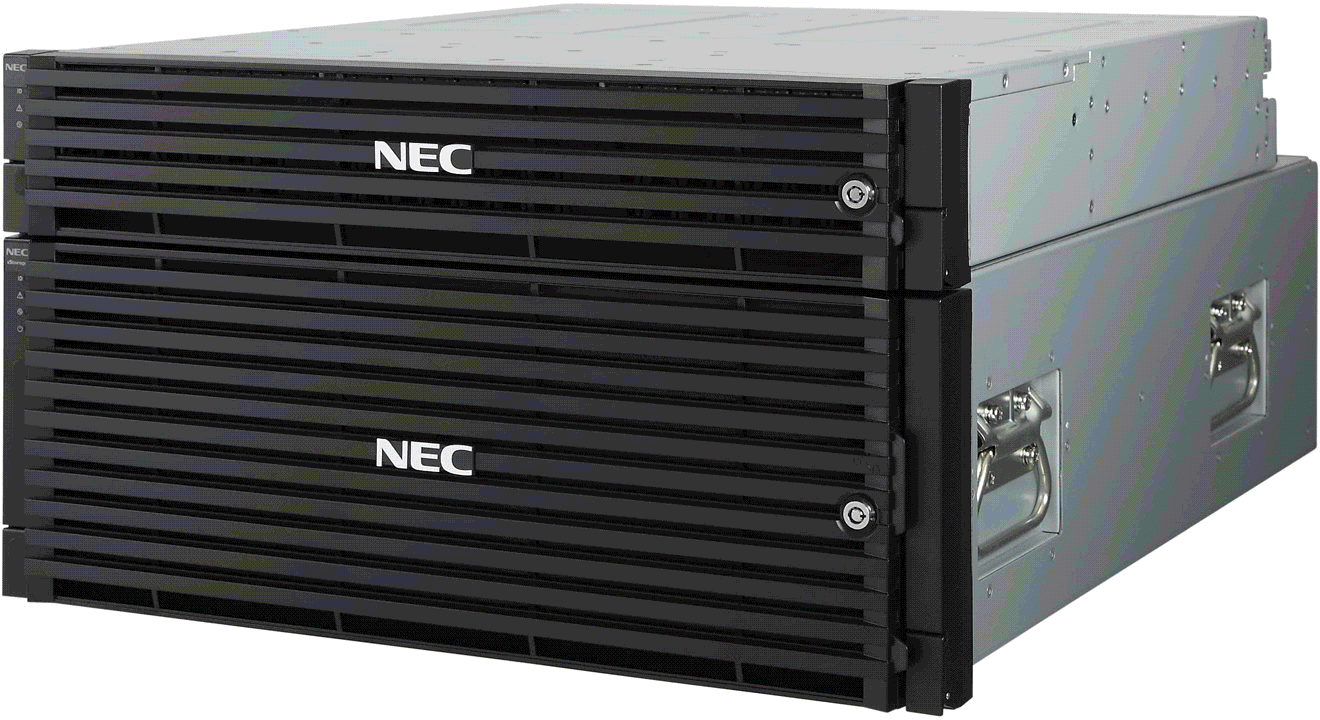 Best tuning to maximize the performance of SSD realizes fast and stable response.
Simplified management of individual Virtual Machines (VM) and Virtual Desktops (VDI) in VMware environment.
Assuring performance of tasks through automatic SLA optimization to guarantee QoS.
Expanding capacity and performance non-disruptively by simply adding drives.
Optimal capacity allocation in virtualization environment by Thin Provisioning.
Non-disruptive backup without affecting online business operations.
Security functions such as Self-Encryption Drives and WORM.

80 PLUS PLATINUM certified (power supply).
(Power supply of the Disk Enclosure is 80 PLUS GOLD certified.)
Eco Symbol Product
Eco Symbol is a self-declaration type of ISO (International Standards Organization) environmental label (Type II).
Features
All Flash Storage with NEC Storage M Series
Fast and stable performance
Best tuning to maximize the performance of SSD realizes fast and stable response. And large amount of cache memory assures high I/O performance to access the data frequently used. By these features this model achieves up to 100 times faster processing speed than the existing model (*) containing the equal number of HDDs.
* compared with the existing NEC Storage M710.
Virtualization with NEC Storage M Series
Simplified management of individual Virtual Machines (VM) and Virtual Desktops (VDI) in VMware environment
M Series supports VMware vSphere Virtual Volumes (VVOL) feature that enables storage features like backup & restore, snapshot, and Quality of Service (QoS) to be done at the VVOL level.

Assuring business performance through automatic SLA optimization
M series can control I/O flow by setting I/O threshold limits to each logical disk. Unlike many others, M Series allows both minimum and maximum thresholds to be used. It allows storage resources to be fairly allocated to normal priority applications while priority tasks preferentially acquire needed resources. M series stabilizes operations of the entire system, allowing you to meet SLAs that require guaranteed Quality of Service (QoS).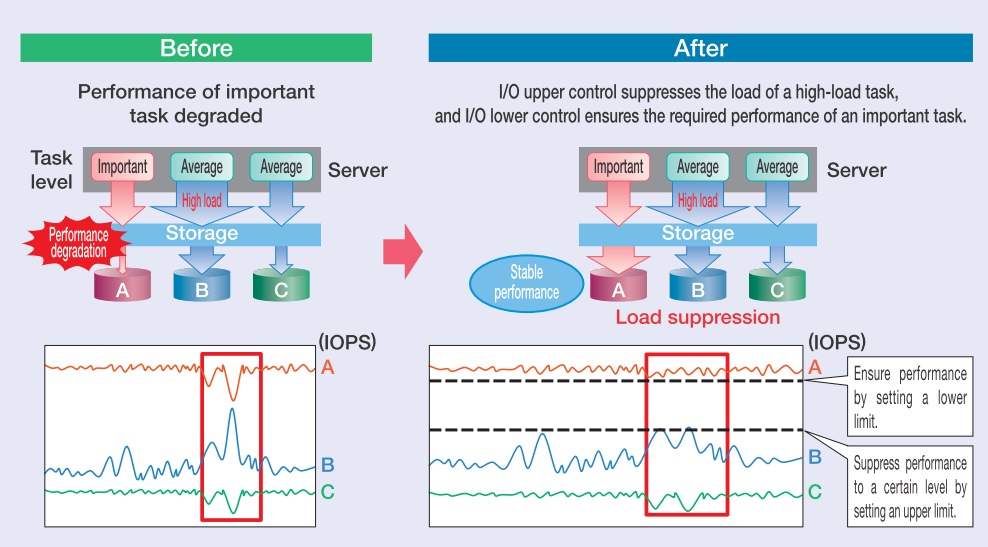 Cache partitioning to ensure stable performance in virtualization environment
By partitioning the cache memory and assigning them to the tasks, each task can use the cache memory without interfering each other.
Expanding capacity and performance by simply adding drives using Advanced Dynamic Pool
M Series offers Advanced Dynamic Pool allowing storage managers to simply increase pool capacity by non-disruptively adding drives. It also automatically optimizes data across the pool to improve performance.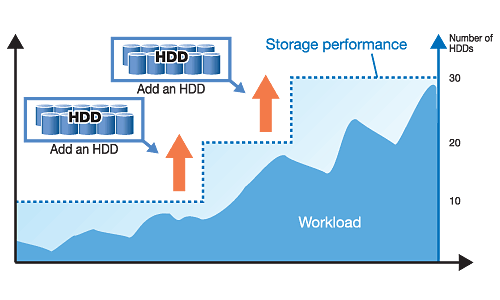 Minimize storage cost with capacity virtualization with Thin Provisioning
Thin provisioning maximizes storage investment efficiency by virtualizing logical volumes. Thin provisioning allows logical volumes to be oversubscribed, making the logical volume look as if it has more physical resources than actually in the system. When physical capacity is insufficient, new physical capacity can be non-disruptively added to the virtual volume. Thin provisioning allows lower initial investment cost and lower power cost.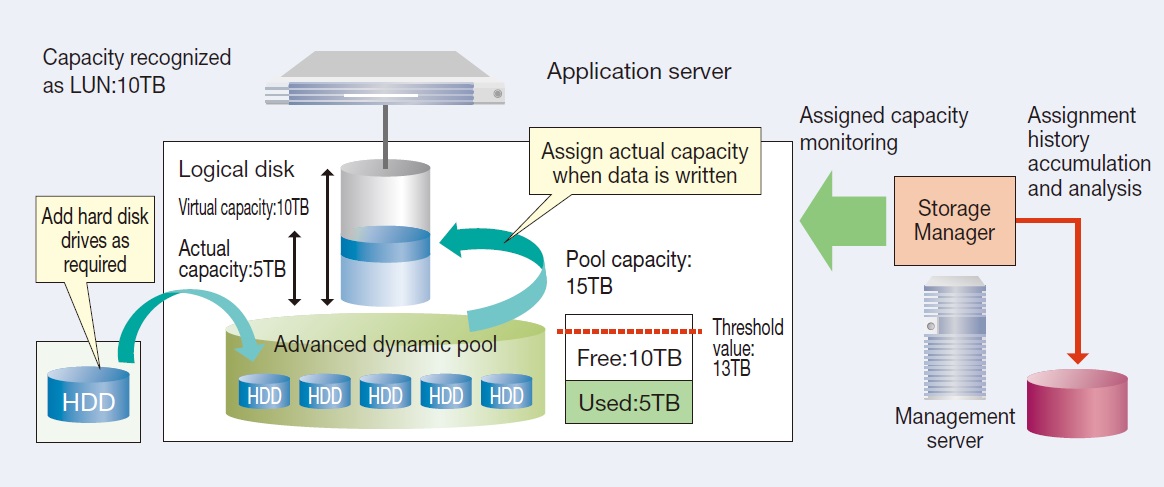 Business Continuity with NEC Storage M Series
Data backup system that does not affect online business operations
Having to stop your business volume every day to back up data is highly inefficient. M Series Disk Array provides a snapshot function to save only the data sections that have changed (update differences) and a function to completely replicate (copy) an entire data volume without disrupting operations. The replicated volume can then be used for tape backup or batch processing, or to evaluate applications using the actual data.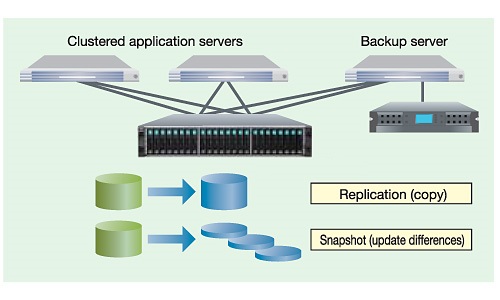 Low-cost disaster prevention and response
Constructing a backup site can cost a great deal of money and resources. M Series' Remote Data Replication (RDR) uses an IP line with iSCSI eliminating the need for an FC-IP converter. This enables development of cost-efficient disaster prevention and response measures. In addition, low-cost operation is possible due to reduced total network setup & operational cost.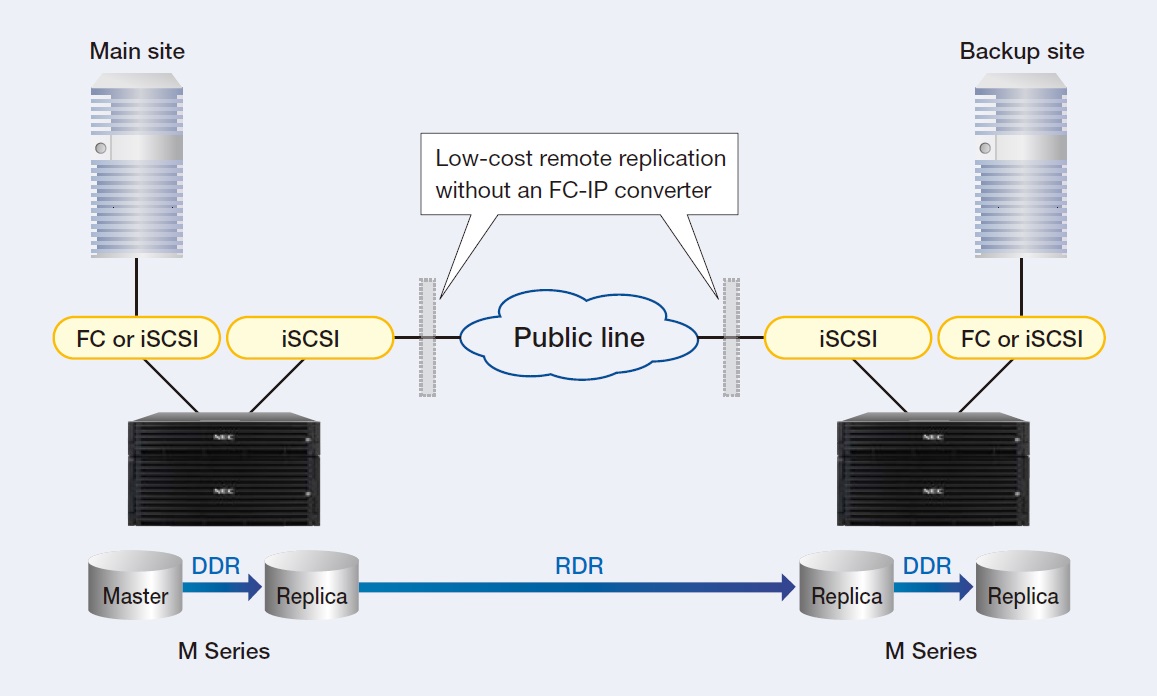 Direct backup & restore to NEC HYDRAstor (HS Series) Storage
M Series can perform direct backup & restore to NEC HYDRAstor (HS Series) Storage without an external backup server or software.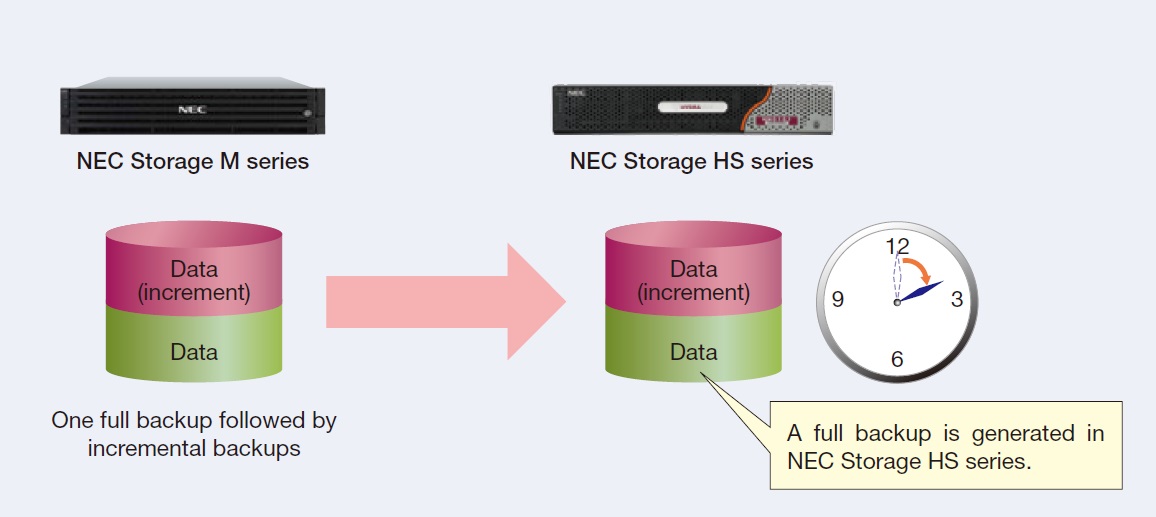 Easy Operation with NEC Storage M Series
Intuitive GUI allows even first-time users to easily manage the storage unit
Storage capacity, disk load, and operational status of each component can be checked in a visual web browser window. Navigation windows show you how to set up replication, change capacity of a pool, and respond to failures. The easy-to-understand GUI environment eliminates operational errors.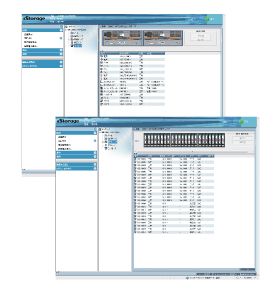 Green technology with NEC Storage M Series
Advanced power-saving design that slashes power consumption
NEC has used its state-of-the-art power-saving technologies to produce a storage device that slashes previous power consumption level to achieve one of the best power ratings in the industry. M Series Disk Array uses a power-efficient processor and autonomously controls the operating mode to reduce the power consumption of the entire system. Low-power components such as 80 PLUS Platinum certified power supply have been used to the greatest extent possible, and reduction of the number of components lowered the power consumption still further. M Series Disk Array also operates in environments with temperatures of up to 40 degrees Celsius, 104 degrees Fahrenheit reducing air-conditioning energy use.
Data protection with NEC Storage M Series
Advanced security such as data-at-rest encryption
M Series uses a Self-Encrypting Drives (SED) to encrypt data. Furthermore, M Series features a variety of other security functions including access restrictions to the volumes, write-once-read-many definitions (WORM) and prevention of erroneous operations.