Session Menu
Easy operation with a rich tool line-up
Great features of the D/E series Part 4-easy operation with a rich tool line-up
For performance optimization: NEC Storage PerformanceOptimizer (S4300 and S3300)
This product can remove disk loads (bottlenecks) where access attempts suddenly spike without stopping business operations.

For cache partitioning: NEC Storage CachePartitioning (S4300 and S3300)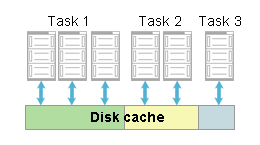 When loads are imposed on a certain task, it is possible to change load allocation to the corresponding server without stopping the operation.
Partition setting function
Configuration management function
Performance monitoring function
Data replication
NEC Storage DynamicDataReplication (S4300, S3300, S2300)
NEC Storage RemoteDataReplication (S4300, S3300)
Backup during online tasks
Parallel execution of online tasks and search tasks
Creation of an evaluation environment by using the data to be used in the actual operations
Easy operation management and control instructions
The in-chassis and remote inter-chassis replication function is installed in order to guarantee proper execution of mission critical tasks. When data is updated in a production model, data becomes updated in a replicated volume accordingly. It is also possible to have multiple volumes for this purpose.