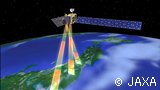 Endless journey into space: NEC's culmination of more than 50 years in space business.

Ever since NEC successfully developed Japan's first satellite, Ohsumi, launched in 1970, NEC has continued to develop converged technologies for satellite system and equipments for more than 50 years. Key examples include the weather satellites "Himawari" and broadcast satellites "Yuri" that benefit peoples' lives. Including those under development, NEC has undertaken 61 satellites. (As of 2007.)

A satellite is a large scale system consisting of some 100 thousand parts. The structure can be divided into 2 subsystems. One is the bus system with TT&C, attitude control gyroscope, power supply and thermal control. The other is the mission system, which is designed to enable satellites to achieve their missions such as broadcast and observation. NEC is developing and manufacturing these systems which are essential to satellites. Others include ground systems which are vital for reliable satellite operation and data processing, robot arms of the International Space Station, satellite-to-satellite communication system and equipment for experiments in space.

"Daichi", the Advanced Land Observing Satellite (ALOS) launched in January 2006, is the culmination of NEC's space solution technologies. It is one of the largest satellites equipped with an optical sensor and radar that allows global observation of land with high accuracy. In acknowledgement of NEC's 50 year achievements, Japan Aerospace Exploration Agency (JAXA) chose NEC to provide the total system for Daichi, including design, development, manufacture, testing and operation.

Daichi is entrusted with 4 main missions.

Mapping
Precise observation of regional land coverage
Disaster monitoring
Resource survey
Compared to previous satellites, Daichi's technological performance has been dramatically upgraded in order to address these missions.
For example, Daichi is equipped with NEC's high precision panchromatic sensor "PRISM" to observe detailed conditions of land from three directions. It operates accurately in orbit at an altitude of 700 kilometers. "PALSAR", the Synthetic Aperture Radar, enables all-weather, day-and-night observation of the earth's surface.
High-density and high-resolution data taken by Daichi is transmitted to earth at a rate of 278Msps, which is approximately 20 times better than existing systems.
"Daichi is the first satellite that succeeded to transmit data on the high frequency of Ka-Band to the earth via Japan's data-relay satellite KODAMA", says Yuji Osawa, Senior Engineer, Manager for Disaster Monitoring Satellite of JAXA.
Daichi can carry out emergency observation anywhere in the world within two days in good weather, five days in bad weather. This was proven when Daichi observed the 8.4 magnitude Indonesia's Sumatra earthquake in September 2007, five days after it occurred. Daichi photographed the diastrophism in the disaster area, and JAXA provided the data to Sentinel Asia, an international project that monitors natural disasters.
In addition, Daichi took an active part in recovery for Japan's Niigata Chuetsu Earthquake in July of 2007. By analyzing images took by Daichi and checking the diastrophism of the area, the condition of the stricken area could be monitored visually and accurately. This enabled a swift recovery and prevention of secondary damages.
As empirical studies, Daichi also conducts land area observations to grasp flora, cultivated / planted acreage and condition of floating ice, and resource survey for land covering classification.
NEC will continue to leverage its highly reliable technologies and expertise to provide satellites, space probes and other space solutions so as to contribute to society and people.